Transformation of the Day: Princess lost 79 pounds. Her family is her motivation! This proud grandmother of eight was experiencing knee pain and overall body pain. In addition, taking Prednisone was causing her to gain weight. She decided to have vertical gastric sleeve surgery to improve her health.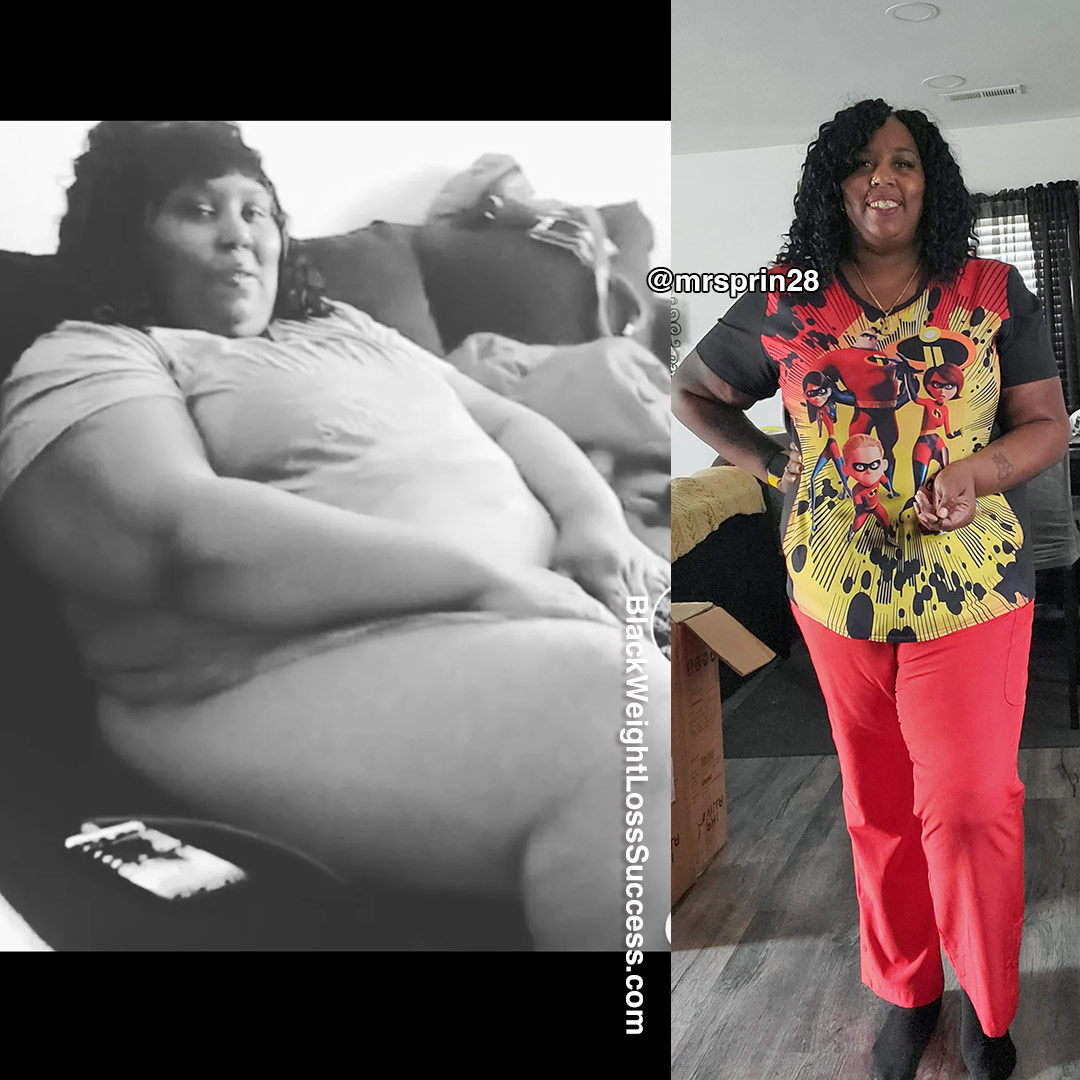 What was your motivation?
My highest weight was 343 pounds. I knew I needed to do something about it. I'm 40 something, and my body was hurting so bad I couldn't take it any longer. My husband and I brought our first house, and he was worried about us getting a home with stairs because my knees hurt so bad.
I have worked in health care for over 25 years, and most of us take care every one but ourselves. Unfortunately, I began putting on more weight due to medication for my breathing. I was taking Prednisone, which is used to treat conditions such as arthritis, blood disorders, breathing problems, severe allergies, skin diseases, cancer, eye problems, and immune system disorders. Prednisone belongs to a class of drugs known as corticosteroids. It decreases your immune system's response to various diseases to reduce symptoms such as swelling and allergic-type reactions. I was also eating poorly because I was too busy to eat right. 
My family was my motivation. I knew I wanted to live to see my grandchildren get older. We have eight beautiful grandchildren, three granddaughters, and five handsome grandsons.
How did you change your eating habits? 
On January 12, 2022, I decided to have bariatric surgery. I chose to have vertical sleeve gastrectomy done. With this surgery, the stomach is drastically reduced in size, but its function is preserved. This means the gastric sleeve results in fewer food restrictions for patients after surgery.
So I have to eat plenty of protein, but I generally can't eat much. Food was never my go-to. Before the surgery, I only ate once a day.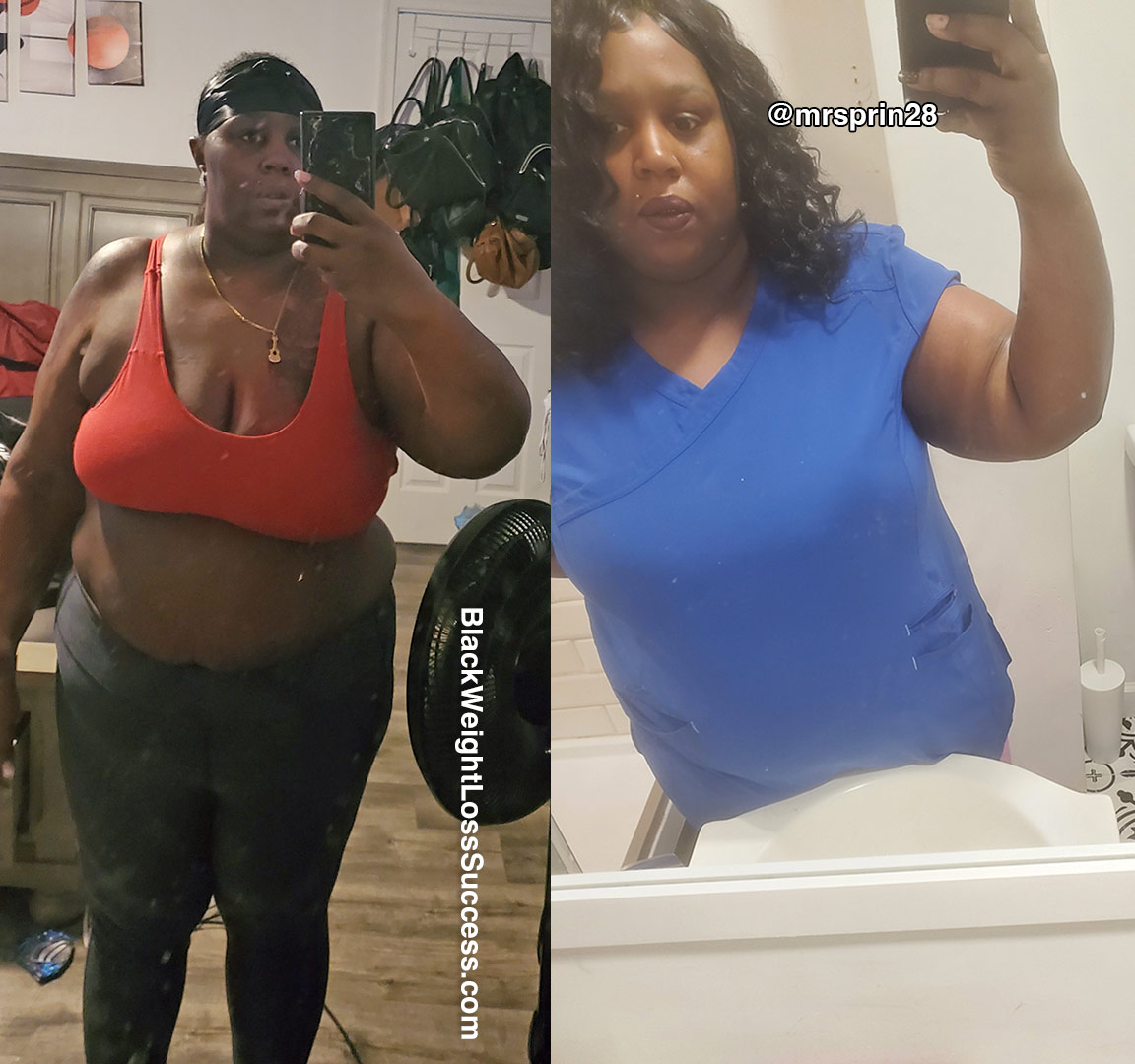 What was your starting weight?
343 pounds
What is your current weight?
264 pounds
What is your height?
I'm 5'7″.
When did you start your journey?
It began four months before my surgery. I was trying Keto, and it was working great also.
What is the biggest lesson you've learned so far?
Taking care of your body is one of the most important things you can do. Clean eating makes your body work so much better. I also work out at home six days a week.
What kinds of workouts do you do at home?
I hop on YouTube, work out, or make up my own routine. I do lots of cardio every day. I also lift 10lb weights three days a week. Whenever I feel down, I work out. I work out whenever I feel like I'm not doing my best. 
What advice would you like to give women who want to lose weight?
First, never give up on yourself and keep reminding yourself you are in a fight for your life. No matter what, keep going. Even if you keep starting over, it's never too late.
I feel so blessed the Lord has given me the strength I need to keep pushing, and I'm willing to help as many people as I can reach their goals.
Instagram. @mrsprin28
Youtube. https://youtube.com/channel/UCpagSWQr5CcgqKgiAG1yuHA