Today's weight loss success story: Trina lost over 52 pounds and has abs for days!  She is the founder of Curvy, Confident and Fit, a great Facebook community for fitness and weight loss.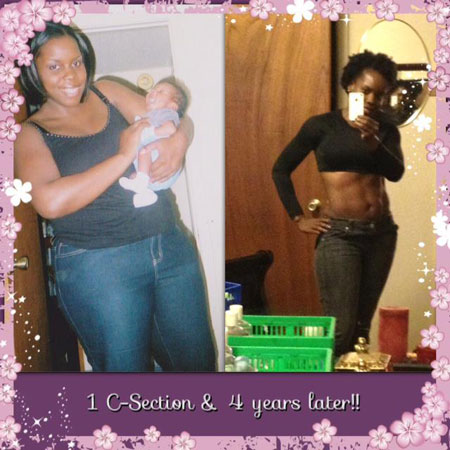 I asked her to share her weight loss journey with us:
"Hello everyone!! I wanted to share my weight loss story and more with you ladies!!
This before picture is of me two weeks after giving birth to my son by c-section four years ago and my after picture is me after changing my eating habits and working out for the lasts 13 months!!  I started Jan 2012 weighing 230 and reached my goal of 180 Jun 2012. Lost a couple more since but focusing more on inches and toning:-).
I began my journey On January 2, 2012 by the grace of God with a new mind and determination!! I had always been somewhat into fitness but I could never control my eating habits!! Through prayer and God's strength, He gave me the self-control that I needed and I immeditaley was easily able to cut out all the chips, cake, cookies, sodas, fried and sugary foods, etc and started eating more lean meats only baked, fruits, veggies, whole-grains, legumes, and also I cut out the sodas and juices! I was able to loose 50 pounds and go from my starting weight of 230 to my goal weight of 180 in the first 6 months! Once the weight came off I focus more on the toning. I cut out all the long cardio session and started doing more short intensifed workouts and focus more on toning and shaping my body. I basically use anywhere from 10-30 lbs dumbbells and do exercises like squats, lunges, deadlifts, should pressess, dips, etc. Nothing fancy:-) My cardio consist of running and spinning most of the time but always at a high intensity level as well:-) I work my core three days a week and do a variety of exercises like front and side planks, bridges, jackknives, flutter kicks, reverse crunches and the supermans to target the lower back, etc. I can tell you ladies to maintain yor midsection you MUST get your eating habits right at least 90% of the time. There are times when I notice a difference in my midsection, I don't care how hard I worked for that week, if my eating was really off my stomach was off 🙂 Anyway ladies just wanted to share and let you all know it is possible to get your body back!!