Weight Loss Story: Olivia lost 102 pounds with gastric bypass weight reduction surgery.  She went from a size 20 to a size 9.  Here is what she shared with us about her weight loss journey: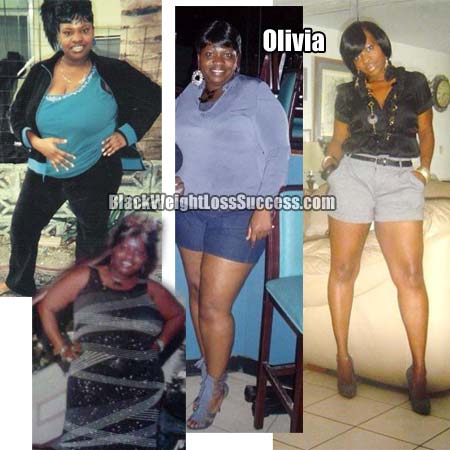 Hi my name is Olivia and I would like to share my story and pics with you.  Back in 2009, I had weight lost surgery and I lost over 100 pounds as a result. I'm so happy I did it. I'm a diva now and enjoying life.
I changed my eating habits from fast food to only cooking healthy food.  I am going to the gym at work and drinking lots of protein shakes.  Fashion and looking sexy was my motivation.
I was a size 20 in pants and weighed 257 pounds.  Now, I'm a size 9 and weight 155 pounds after having gastric bypass surgery.  I saw results right away but after a year I was at my ideal size. My advice to other women is do what is right for you never let fear get in your way of a new and healthy happier life
As I think back on my life I'm must say that I am truly blessed. I use to sit in a corner crying at night because I couldn't stop myself from eating.  God gave me the answer. He heard my cry. Today, not only I'm I a fashion diva but I am new inside and out.