Transformation of the Day: Schantel lost 47 pounds. Consistency, portion control, and having her sorors as accountability partners were all essential to her success. She is a proud member of Sigma Gamma Rho Sorority, Inc., as you can see from the tattoo. (As am I. EE-YIP!) Check out her transformation journey.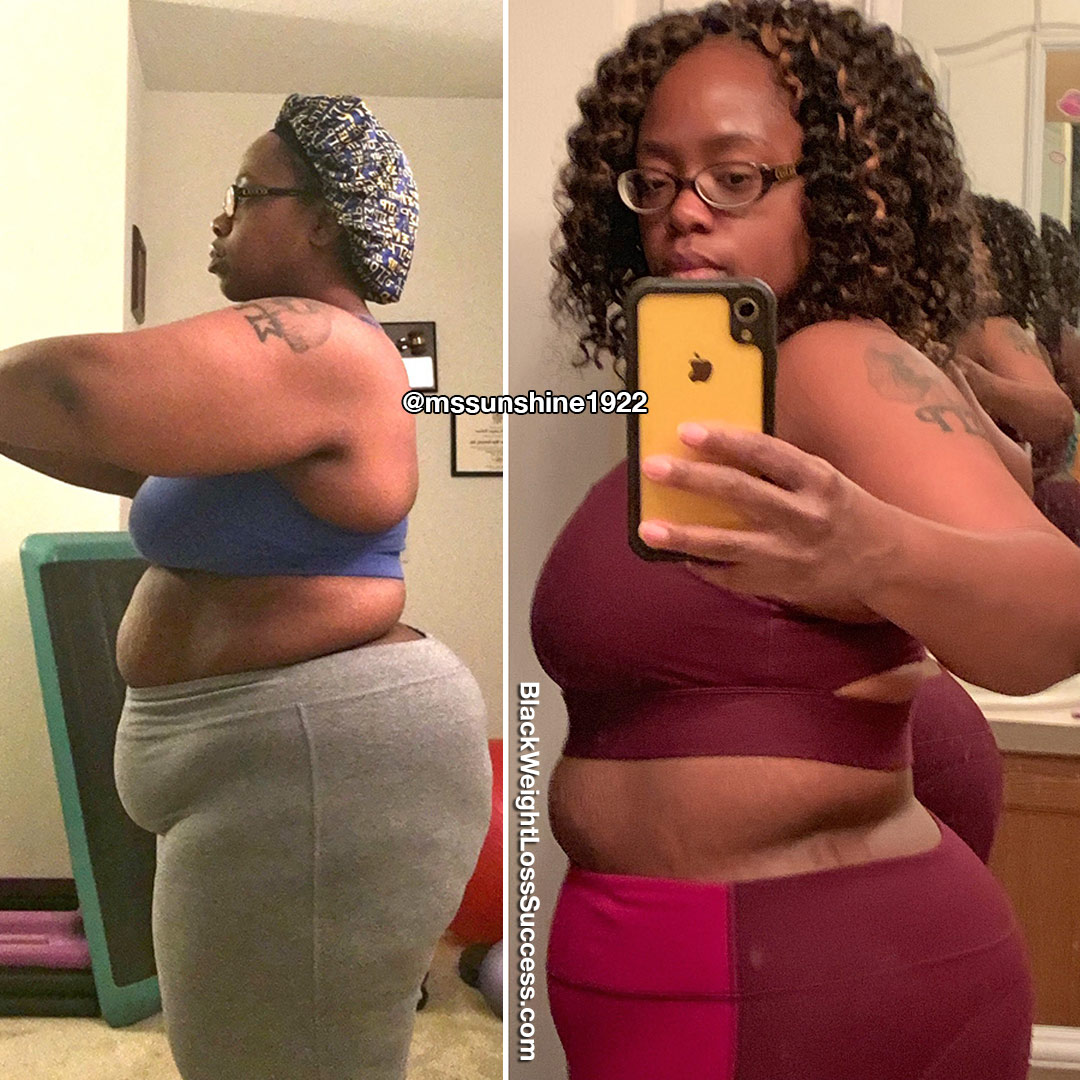 My name is Schantel M. I'm 39 years old and a proud member of Sigma Gamma Rho Sorority, Incorporated, in case it wasn't obvious.
What was your motivation? What inspired you to keep going when you wanted to give up?
My motivation was seeing myself over and over again in unflattering photos. I also wanted to reduce or eliminate the need for medication for Type 2 Diabetes, high cholesterol, and high blood pressure.
How did you change your eating habits?
I use Herbalife protein shakes for breakfast during the week, and I stopped eating pork. I also started using portion control for my other meals. I utilize a food scale along with measuring cups, and I measure everything! I eat out only once a week, and I don't deprive myself. I enjoy everything in moderation.
What did your workout routine consist of?
I work out 4-6 times per week, taking various group fitness classes at my local YMCA.
What was your starting weight? What is your current weight?
My starting weight was 242 pounds. My current weight is 195 pounds. I still would like to lose another 25 pounds.
What is your height?
5'2"
When did you start your journey? How long did your transformation take?
I've been on and off with this journey since last July. However, I didn't get serious about working out and watching what I ate until the end of May 2019 when I joined the eight weeks to healthy living class at my church.
Is weight loss surgery part of your journey?
I did not have weight loss surgery.
What is the biggest lesson you've learned?
Consistency is the key. You will have times when the scale goes in the opposite direction. You will have times when you fall off of your plan. It's all part of the process.
What advice do you have for women who want to lose weight?
Trust the process and maintain consistency. You didn't gain weight overnight, and you won't lose it overnight. Set realistic goals for yourself and get an accountability partner. Don't go through your journey alone. Having my sorority sisters workout with me has been the best part of this journey because we hold each other accountable.
Instagram: @mssunshine1922