Update Jan 2016: Christi sent in an update to let us know that she's still going strong and has lost 44 more pounds for a total of 79 pounds gone, down from 237 pounds.
Hello! I was featured back in 2014 after losing a significant amount of weight in just a 2 month time span. I wanted to update you guys and let you know that I maintained my weight up until 2 months ago. That's when I joined an outdoor fitness group and broke thru my plateau by losing an additional 8 pounds! I have also started toning. I am officially 13lbs away from my DREAM weight! The main thing I've learned through this journey is that no matter how you slice it, weight loss comes down to this simple formula: Eat Less and Exercise More! -Christi

Starting weight: 237 pounds

Current weight: 158 pounds

Goal weight: 145 pounds
Christi's Instagram: @0hS0Pretty.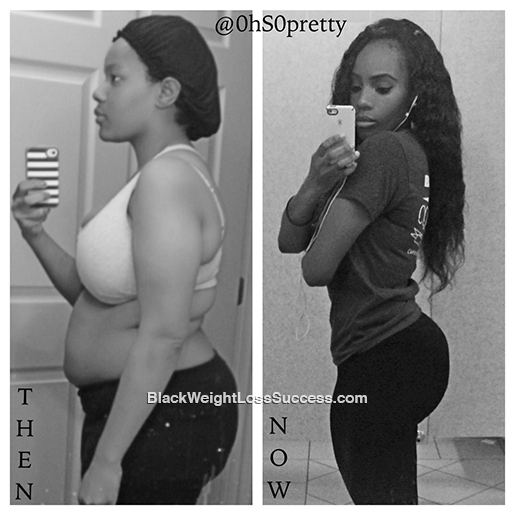 Running and cutting back on bread helped Christi J to lose 35 pounds in 2 months.  Read her story:
I'm Christi! My success story is rather Unique!! To be honest ladies, I just got FED UP. I needed a change which motivated me to lose 35 lbs in 2 MONTHS! My starting weight was 200lbs and my current (which I have maintained) is 165lbs. I love outdoor running. That's literally the only exercise I did. I plugged in my headphones and jammed to Chris Brown the entire 2 months. So, I guess I have him to thank! (JK), but it amazed me how the weight just fell off.  I started to naturally shrink my stomach within a week of getting started. It literally got to the point where I prepared a meal for myself, and would feel totally full halfway through it.
My diet remained the same, however, my daily food intake was a lot less than usual. Bread was the only food I cut back on. I think Bread ultimately made the difference. Instead of regular bacon, I ate turkey bacon. Instead of beef, I ate chicken breast. Amazingly, it all tasted delicious. I cut out all soda-pop and juice, I drank only water (sometimes with different flavors of crystal light) and low-fat skim milk. I never wanted to feel like I was punishing myself by being deprived of certain foods, so every Friday I would treat myself to pizza(To keep myself sane. lol). The very next day I got right back on it. Pretty soon, I was eating less, filling more full and naturally shrinking my stomach. On Friday (my pizza night), I found myself barely being able to eat 2 slices. I also made sure I continued running at least 4 times a week.
My advice for quick, yet HEALTHY weight loss would be to naturally "shrink" your stomach! Good Luck on your journeys!!