Transformation of the Day: Loraine lost 60 pounds. After a very challenging year, that included the break up of her marriage, the loss of her job and her brother dying from cancer, this amazing lady found the strength to turn pain into purpose. Check out how she took her life back.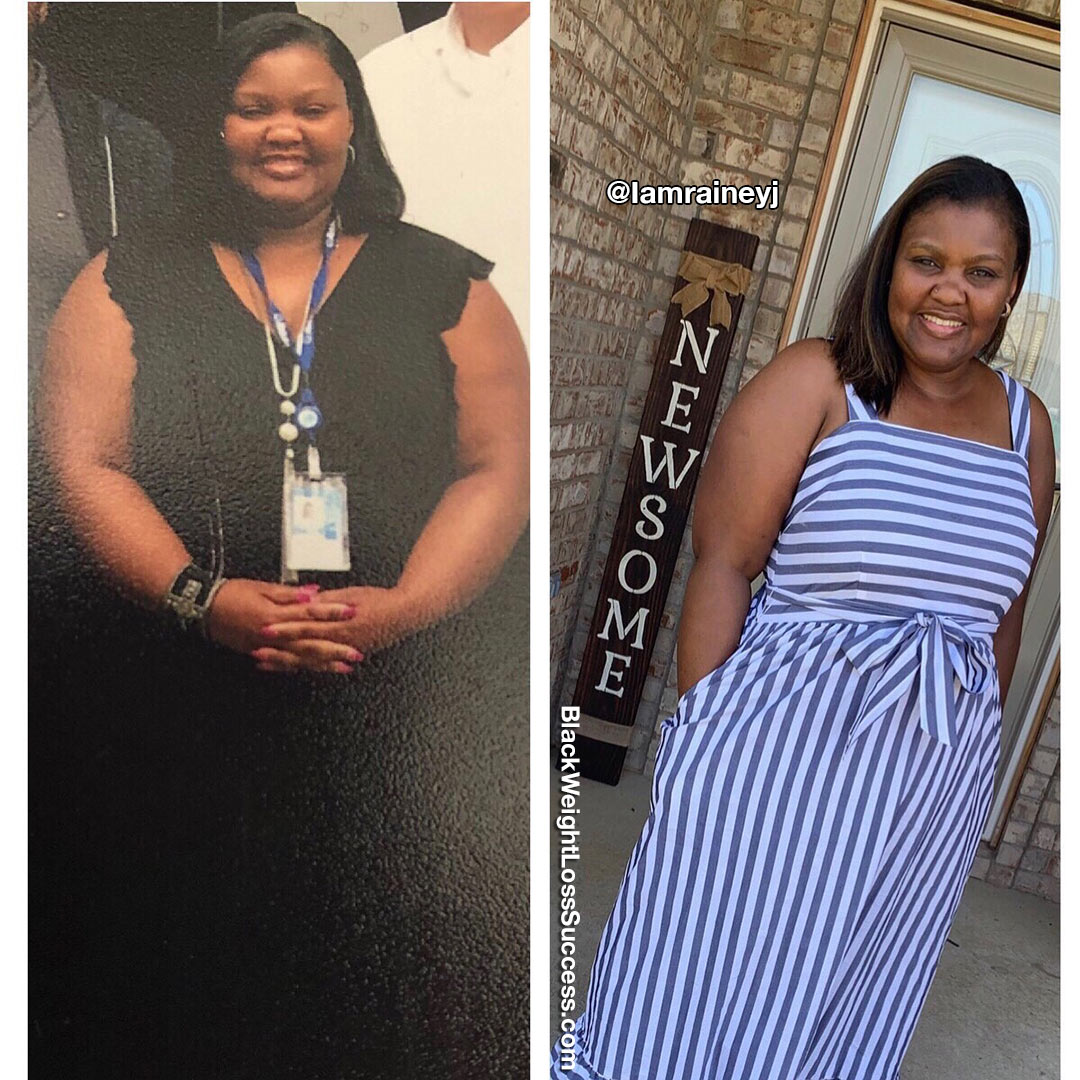 What was your motivation? What inspired you to keep going, even when you wanted to give up?
2018 was a year of many challenges. Two days after my birthday, my then-husband and I had a huge argument, and he packed up and left. The following month, I sold the house we shared and moved into my own place with my daughters. After being consistently employed for 23 years, I lost my job for the first time in my life. Then, at the end of 2018, my brother passed from cancer at the age of 48.
I was worn out and tired. I gained most of my weight during my marriage, over 80 pounds. I was simply miserable.
Facing all of these life events, I needed to take control of the things that I knew I could control. It began with my spiritual work, my healing. Part of that work was taking a good look in the mirror and deciding to use my pain for a purpose. I took charge of my life.
It was hard for me to breathe when I worked out. My asthma was out of control from the weight gain. I had pain in my hips and knees as well. After praying and doing my research, I decided to have the gastric sleeve procedure. My surgery date was April 16, 2019.
Having the sleeve is a tool. You still have to eat right and work out, or you will not get results. There is a big misconception that surgery is "the easy way out," but it absolutely is not! This journey is not easy, and I do not regret having weight loss surgery.
Since the surgery, my GERD has been completely reversed. The GERD did so much damage to my esophagus, my doctor had to stretch it out during the operation, and I had hernia repair at the same time. I don't have gastric issues anymore, and I haven't had trouble with my asthma. Surgery changed my life for the better.
What did your exercise routine look consist of?
It was difficult to work out because I was limited in the beginning. Now, I work out a least three times and week and I meet with my excellent trainer, James Rollerson of Savage Fitness in Fort Worth, Texas, once a week. I am learning to trust myself. James pushes me to go to the limit, even when I whine, complain, or roll my eyes. This is just the beginning! I look forward to the continual transformation of my body.
What was your starting weight? What is your current weight?
My highest weight was 295 pounds. My pre-surgery weight was 287 pounds, and my current weight is 235 pounds.
What is your height?
5'4″
What is the biggest lesson you've learned?
I had to learn to love me again, and it was not easy. Once I learned to love me, I was able to do the work, layers of work. It all starts mentally and spiritually. I had to learn what my triggers were and why I was always emotionally eating.

It took a lot of prayer and Jesus, that is for sure. I knew that I had to be the best version of myself for me before I could be anything to anyone else. I had to choose me, and I did.
What advice do you have for women who want to lose weight?
Just take that first baby step. If it's something as simple as drinking more water or eliminating one food that you know isn't any good for you, take that single step forward.
Everyone's journey is not the same. Some choose surgery as I did. Other people do it by changing their eating habits and exercising. The truth is that there isn't a wrong way. Figure out what is best for you and pray. I called on Jesus and all of heaven so many times during this journey.
Instagram: @Iamraineyj