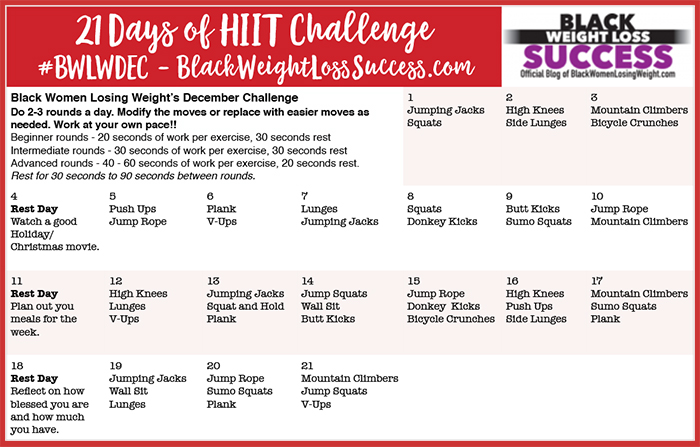 Happy Holidays! We know that this time of the year can be very busy and you may have a lot on your plate to deal with. Our 21 Days of HIIT Challenge will help you stay on track with getting in some regular exercise this month. These workouts can be done at home or in the gym, and they pack a powerful cardio punch.
Check-in Daily on our Facebook page, Instagram or Facebook group and let us know how you are doing. Connect with other BWLW Sistas! Use the hashtag:
#BWLWDec
What is HIIT? If you aren't familiar with High Intensity Interval Training, check out this article before you get started.
All you need is a jump rope and room to move. You'll find videos of all of the moves below. If you are on our mailing list, on Monday, Nov 28th you will receive the calendar via email, so check your inbox.
Work along with the calendar or make your own schedule and move the days around.
Work at your own pace. If you need more rest, take it. If you need to modify an exercise or use a lower impact move, that's fine.
Download the Workout Calendar Today!
You'll do 2 -3 rounds a day of each combination of moves. Rest for 30 seconds to 90 seconds between rounds.
Beginner rounds – 20 seconds of work per exercise, 30 seconds rest between exercises.
Intermediate rounds – 30 seconds of work per exercise, 30 seconds rest between exercises.
Advanced rounds – 40 – 60 seconds of work per exercise, 20 seconds rest between exercises.
Jump Ropes
Exercise Videos
High Knees

Mountain Climbers

Jumping Jacks

Squats

Lunges

Side Lunges

Sumo Squats

Wall Sit

Bicycle Crunches

Plank

V-Ups

Donkey Kicks

Butt Kicks

Push Ups