---
Transformation of the Day: Markita lost 93 pounds. She is an Author, Minister and Life Coach. A combination of weight loss surgery, healthier eating habits, and interval training worked for her. She says, "We have to love ourselves and GOD more than we love the foods we eat that are causing us to be sick and in pain."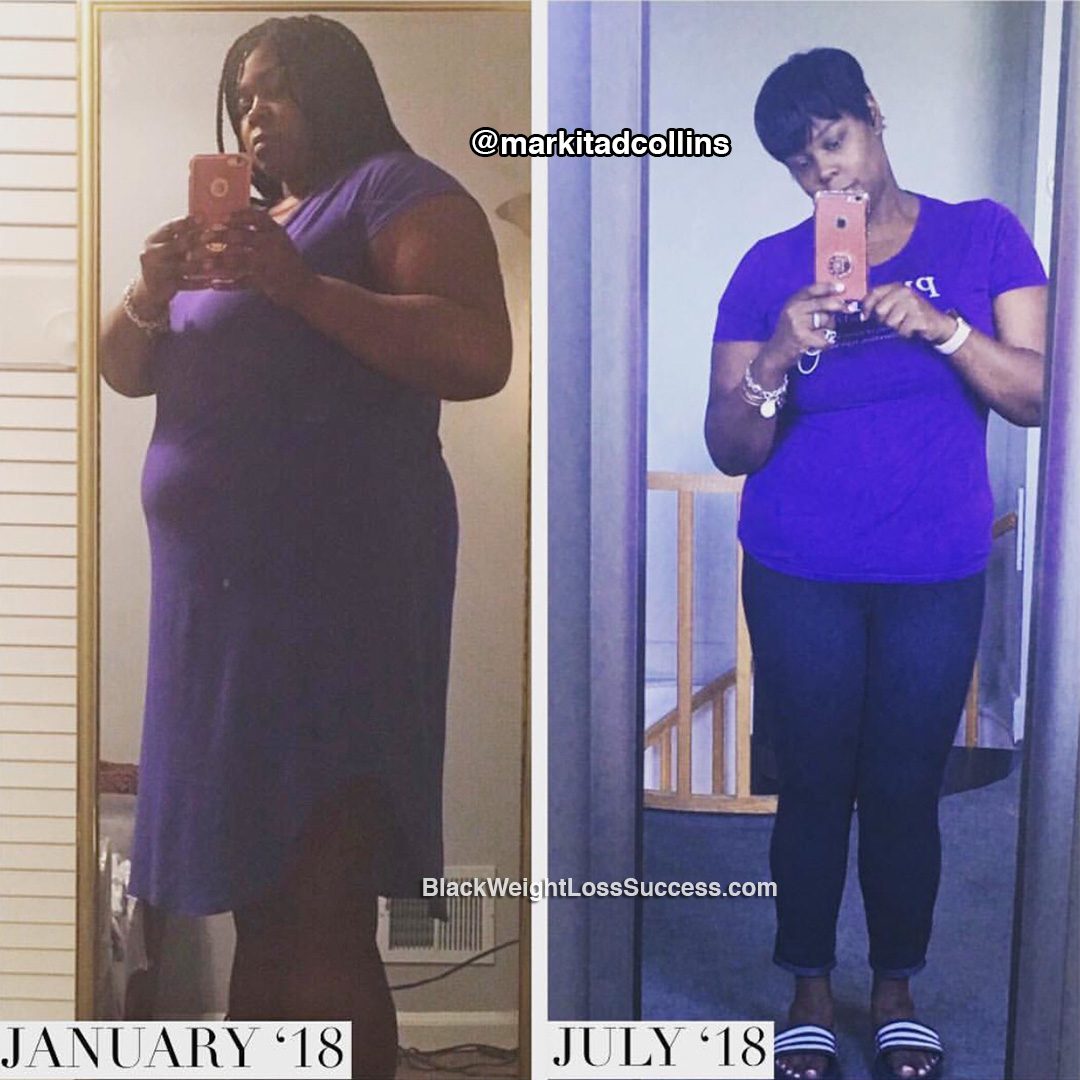 What was your motivation? What inspired you to keep going when you wanted to give up?
My motivation was simply LIFE. I wanted to enjoy my life to the fullest and stop living in the shell of fat, pain, and shame.
When did you start your journey?
I started my journey in Jan 2018. The transformation so far has taken 9 months.
I am SLEEVED. VSG weight loss surgery was my choice. I needed this tool to help me stay on track. Surgery was not a magic pill for me. It is work. It requires me to be more disciplined. I have to plan out my meals, and even I wanted to overeat I can't. It was the best decision I ever made and I have no regrets at all.
How did you change your eating habits?
I had to change my love affair with food if I genuinely wanted to rid and get the weight off of me. So, the process for me involved prayer and not buying the things that I knew I loved but were negatively affecting my health. I had no plan. I just had to stop. I drink tons of water, and I put down bread… wheat included!
What did your workout routine look like?
I walk and do HIIT (High Intensity Interval Training) 3-5 times a week.
What was your starting weight? What is your current weight?
My starting weight was 309 pounds, and my current is 216 pounds (as of my birthday on 9/6). My height is 5'7".
What is the biggest lesson you've learned?
I have learned that no two bodies are the same and I had to go at my own pace. I do not compare myself to other people.
What advice do you have for others who want to lose weight?
My advice would be to do what is best for you. We only get one body in this life. We have to love ourselves and GOD more than we love the foods we eat that are causing us to be sick and in pain. In the long run, this stuff catches up with us. I had thyroid disease, and my weight would go up. It was challenging for me to lose weight. I thought to myself, "This is your life, so just enjoy it while you can." Then, I came to myself. This was not what God intended for me. I can live and still eat well without harming myself.
Instagram: @markitadcollins
markitadcollins.com