Transformation of the Day: DeAsa lost 123 pounds. Emotional eating due to a bad marriage and family issues, led to weight gain, high blood pressure and sleep apnea. At 309 pounds, she started taking steps to change her lifestyle. Check out her transformation story.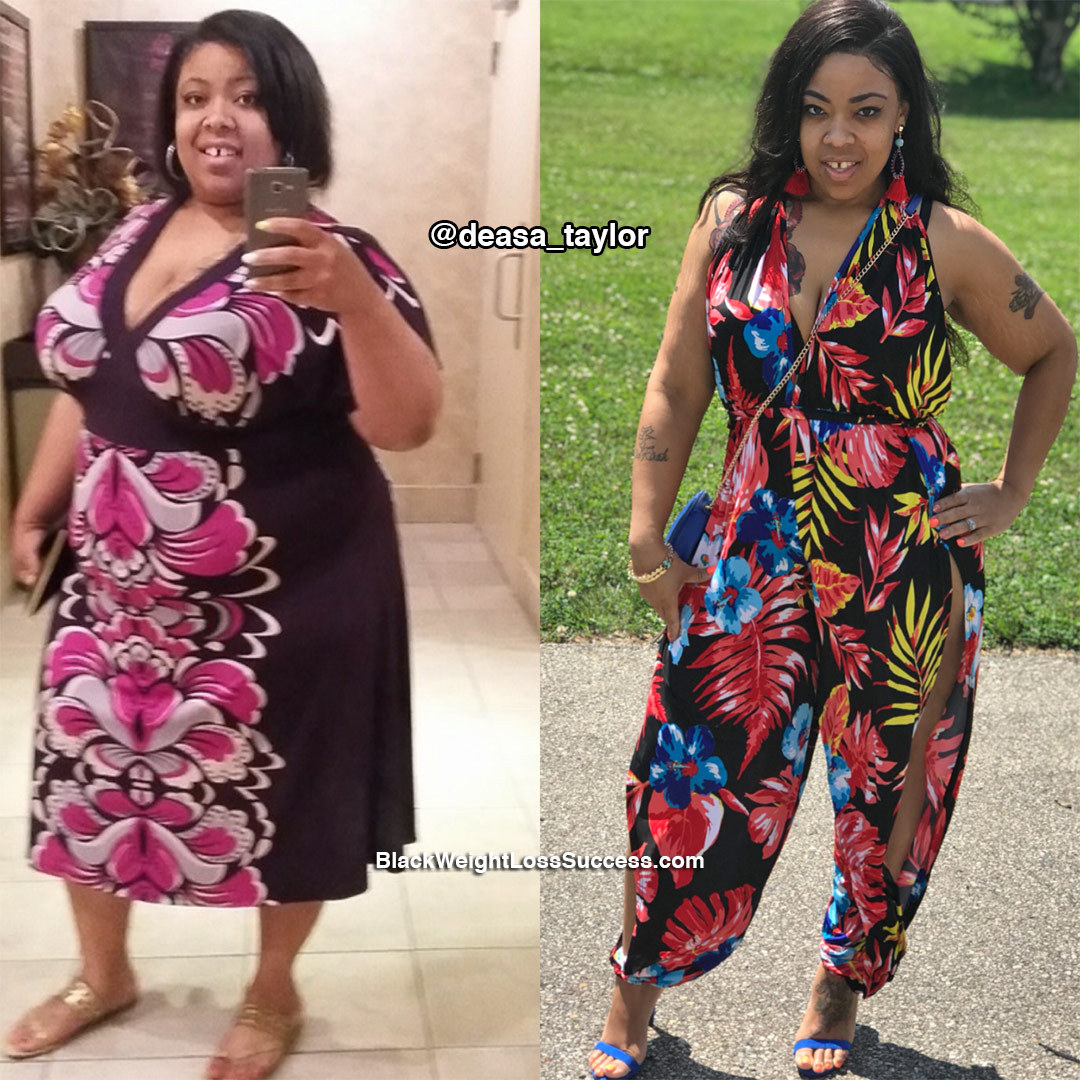 My name is DeAsa and I've lost 123 pounds. I was always an emotional eater, and I've struggled with my weight since my teenage years. Being in a bad marriage and dealing with family issues caused me to be depressed and turn to food like never before. I gained 100 pounds in a year and a half.
The extra weight was really hard on my body. I started having really bad migraines, high blood pressure and had sleep apnea, I was only 29 years old at the time. I weighed 309 pounds at 5'2″.
I started working out and trying the different diets, like the green smoothie cleanse, Paleo
diet, etc. However, I never seemed to lose more than 10 pounds. When I went to see a neurologist, they recommended weight loss surgery.
In 2015, I decided that it was time for me to take control of my life. I was motivated by my children. I was able to get out of the toxic marriage and my family issues had been resolved. I knew that God had given me so many chances that I needed to live for myself.
I had Vertical Sleeve Gastrectomy surgery on June 3rd, 2016. Within a few weeks, I saw drastic changes. I lost 26 pounds in 3 weeks. I felt better and was not using my CPap machine anymore. Eventually, I lost 100 pounds in 6 months. I was so happy when I hit Onderland, which I haven't been in since I was young girl.
I had to shift my mindset when it came to how I looked at food. I started meal prepping, which helped me not to go to drive-thru's because of convenience. I had to learn what my new stomach liked and did not like. It was an adjustment because I was used to eating whatever I wanted, but the gastric sleeve changes what you can and cannot eat. Now, I eat a high protein, low carb and low sugar diet. I drink protein shakes most of the time. I exercise 2-3 times a week. I even got a personal trainer to help with toning.
One thing that is a constant struggle for me is getting enough water each day. I have good and
bad days with my intake of fluids. Soda or any carbonated drinks are not recommended with the surgery I had. So, I haven't had a pop in 2 years.
The advice I would give to others who want to lose weight is to choose your hard. Do you want to struggle with being overweight and be a ticking time bomb (never knowing when something may happen due to your weight) or do you want to give yourself more time by putting in hard work and creating a better, healthier life. Pick a hard! Surgery was not easy and it's a life long journey, but it's been the best decision for me.
Instagram: @deasa_taylor