Monique lost 130 pounds. Like many moms, she experienced significant weight gain after pregnancy. She was also dealing with a verbally abusive husband. Check out what she shared about transforming her body and her life.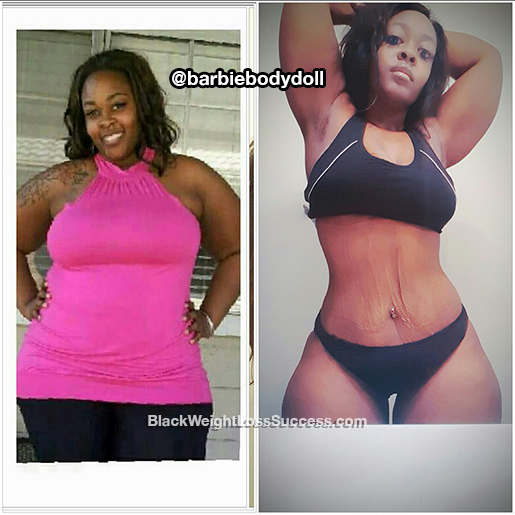 Hello, My Name is Monique. I weighed 320 pounds after my last born. That was the biggest and heaviest I have ever been in my life. I was also dealing with a very abusive husband who would call me a "fat b*tch" and tell me how no one would ever want me. I had to make a change and overcome this evil. So, I started my journey.
I have always wanted to live out my dreams of modeling. When the weight started coming off  that made me want to fulfill my dreams even more and that's what kept me going. What inspired me the most during the times when I wanted to give up was that I decided to make a change and there was no turning back for me. I just kept a positive outlook and never stopped. I just kept going.
Eating habits: I sat down and wrote a "Cold turkey list". I listed all the foods that I could eat. I also listed all the foods I liked and foods I knew I couldn't eat. I sat a date and when that date came I only ate what was on my list of healthy foods that I could eat and nothing else. That was it. There was no turning back! I only ate oatmeal, low fat yogurt, nuts, protein shakes, salads, grilled chicken, baked fish and ground turkey. I had 2 shakes a day and lots of water. The foods I absolutely cut off were;
Bread
Sugar
Soda
Rice
Sugary drinks
Fried foods
Pork
Beef
The foods that were really hard for me to cut were fried fish and coffee. OMG, I had the hardest time.
When I lost the first 50 pounds, I didn't workout during that time. I just wasn't ready. I ate very clean and I lost 8 pounds a week for 6 weeks. Then, I started wrapping my waist and waist training. After that, I started working out… all cardio. After losing 50 pounds, I did the stairs with weights everyday (40 times running up the stairs). Some days, I used the treadmill on a 15 incline for 30 minutes.
I lost 130 pounds in a year and I currently weight 190 pounds. I'm still on my journey and I will reach my goal weight of 160 pounds. My height is 5'6″. It took a year and a half to lose 130 pounds.
I'm sharing my story with others to help motivate them. I recommend that people stay focused. You must first gain control of your eating habits. You have to be ready to go COLD TURKEY.
Ladies, don't lose hope. The weight doesn't come off overnight. With patience, self control and the heart anything can be accomplished.
IG: @barbiebodydoll