Update: Portia has released 178 pounds. 
 

 

View this post on Instagram

 
---
Transformation of the Day: Portia lost 166 pounds by having VSG surgery, working out 5-6 days a week and finding healthier alternatives for her favorite foods. She knows that there is a huge misconception that bariatric surgery means that a person didn't have to work hard to lose weight. Check out her story.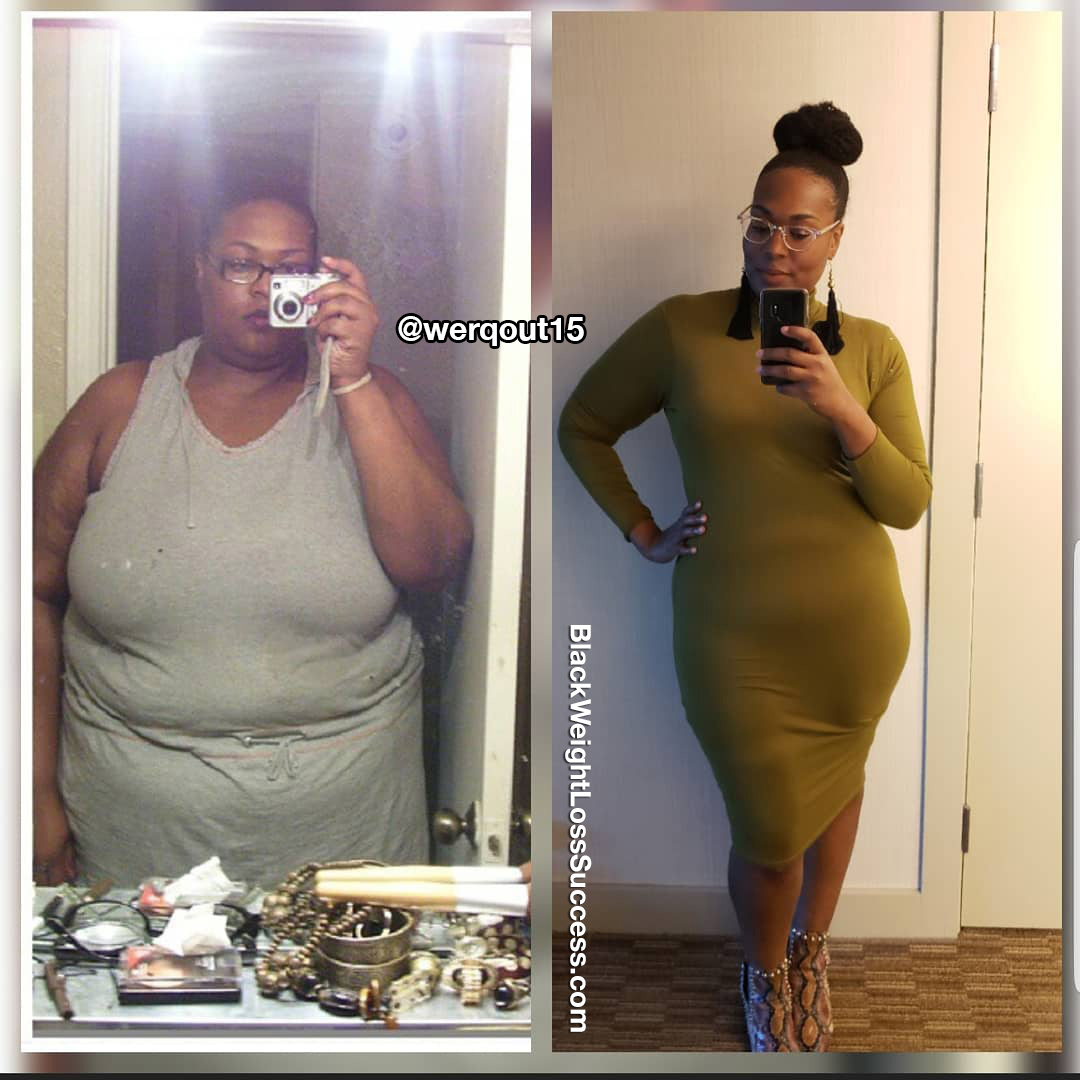 My starting weight was 411 pounds, and my current weight is 245 pounds. (height: 5'9″) I actually lost 170 pounds in 17 months with the help of VSG surgery. I worked out 5-6 days a week and changed my eating habits. I'm still not done, but I'm not where I was before.
The biggest misconception is that people who have had bariatric surgery don't have to work hard to lose weight. People think that we have it easy, but we absolutely do not. It doesn't matter what journey you take to get to your weight loss goal. All that matters is that you started your journey and you're enjoying the ride.
What inspired you to keep going, even when you wanted to give up?
My biggest motivation is looking at old pictures of myself and remembering how depressed and frustrated with myself I was. I never want to feel that way again.
Did you have to go on a pre-op diet?
Yes, I had to drink liquids for ten days. Let's just say sugar-free popsicles were my best friends because I was able to chew them, lol. I was desperate.
What was your surgery date?
My surgery date was June 8, 2017.
How did you change your eating habits after surgery?
For so long food had been my comfort buddy when I'm happy, sad, stressed or just simply bored. Having a well balanced, realistic, healthy but still enjoyable eating style was very important for me to be successful. I love to cook at home because I can control what goes into the meals and alter the ingredients to fit my lifestyle.
Simply switching or altering some of my favorite foods helped me to stay on track and not feel deprived. I did things like having a bunless burger or a turkey club wrapped in lettuce instead of bread. Replacing my rice with cauliflower rice, replacing my sweets with fruit or replacing chips with popcorn really helped me.
What did your workout routine consist of?
I work out in the gym 5-6 days a week for 1 hour to 1.5 hours. I do lots of strength training. My mom encouraged me to start running, and now I can run for 40-50 minutes without a problem. Running has become my favorite cardio to do. When I'm not in the gym, I enjoy rollerskating (great for the legs and abs) and goat yoga. I'm all about new experiences and having fun with my workouts.
What is the biggest lesson you've learned so far?
I've learned that if I'm not happy with my story, I have the power to rewrite it.
What advice do you have for other women who want to lose weight?
I read a quote that said, "I've never seen a life transformation that didn't begin with the person in question finally getting tired of their own shit." If you're tired, change it! Start right now. Stop waiting for the perfect time, for next Monday, for next Month or next year.
Enjoy your journey and don't compare yourself or your journey to other people. After all, you are your own competition. It will not be easy but I promise you it's absolutely worth it.
Instagram: @werqout15