Transformation of the Day: Shaquanna lost 107 pounds. When her weight reached 300+ lbs, she knew that it was time to make her health a priority and get back to a more active lifestyle. After speaking with her doctor about the potential health risks she faced, she opted to have the VSG procedure and totally change her lifestyle. Check out her story.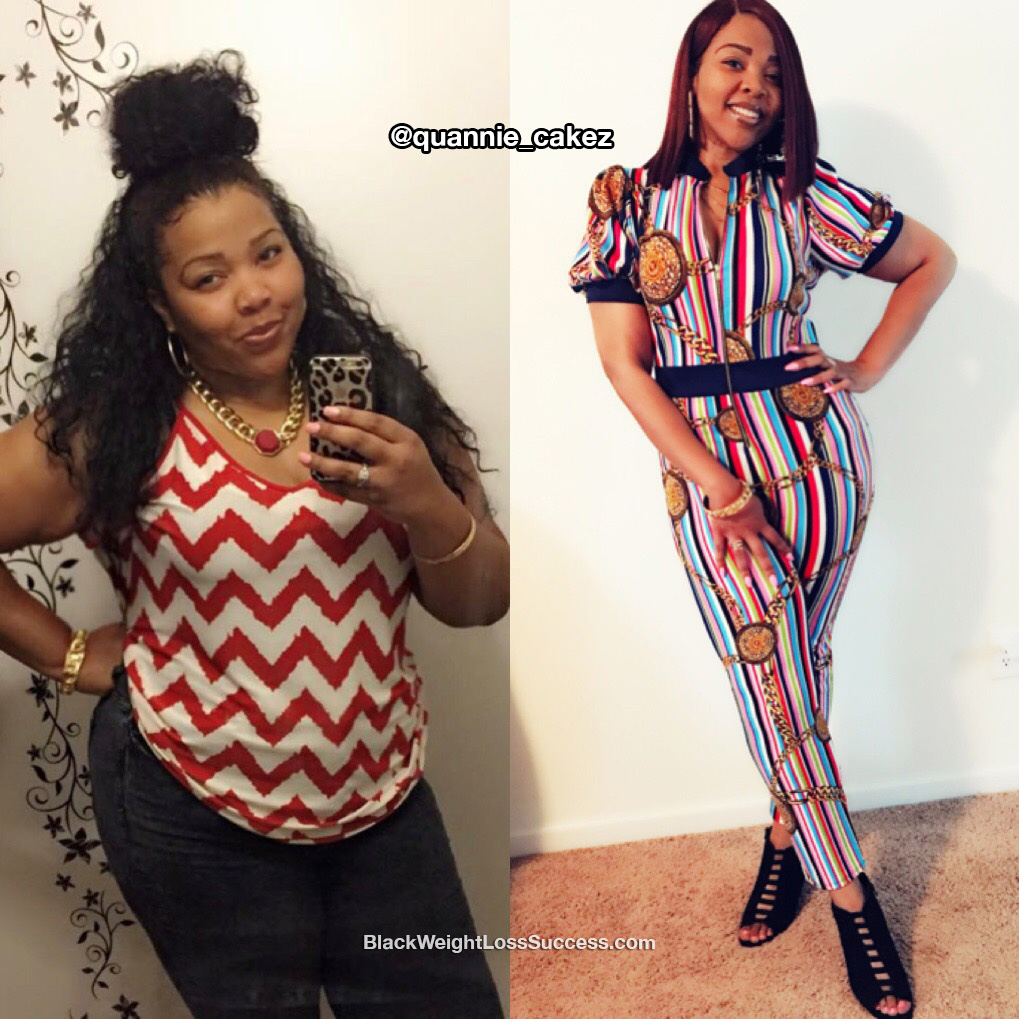 I decided to change my life when I realized that I topped the scales at 307 pounds in August 2017. Luckily, I didn't have any dangerous health conditions, like high blood pressures or diabetes (even though they run in my family). However, I did notice that I was slowing down, had fatigue and needed to get back to my active self. For years, I did things like exercising regularly, using diets like Atkins or Slim Fast, and I saw a nutritionist. The weight would fall off temporarily, but then come back with a vengeance. After a visit with my primary care physician, he made me aware of my unhealthy BMI and the dangers that I could face if I didn't change my ways. I went over several options related to weight loss with him and decided on the Vertical Gastric Sleeve procedure.
Prior to surgery, I changed my eating habits and worked out regularly because I understood this was a lifestyle change. I ost 15 pounds prior to surgery. My weight loss surgery date was December 7, 2017 and since then I've lost 107 lbs through clean eating, drinking plenty water, intaking proper vitamins and working out 4-5 times per week. Changing my eating habits and upgrading my lifestyle has made things easier. I realize this is a lifetime change and every step, even if it's small, is worth it.
How did you change your eating habits?
Before surgery, I practiced portion control by eating with smaller plates and bowls. I ate smaller frequent meals and made sure I stopped eating late at night. I also started eating more nutritious things, like natural fruits, vegetables, protein and I incorporated protein shakes as well. As time went by, I switched to low fat products and substitutes, like cooking with olive oil instead of vegetable oil. After surgery, I still ate nutritious foods and cut back on major carbs, like pasta. I no longer drink soda or eat sweets. If I do have something with sugar, it's just enough for a taste and not often.
What did your workout routine look like?
I do High intensity interval training on the elliptical, squats/lunges and resistance training with leg machines, bicep and triceps curls.
What was your starting weight? What is your current weight?
My starting weight was 307 pounds and my current weight is 200 pounds. I am 32 years old and my height is 5' 10."
What is the biggest lesson you've learned so far?
I've learned that with dedication and consistency, anything is possible. Breaking my old habits and doing research on nutrition is what pushes me because health is more than just the number on the scale. It's starts with the mindset.
What advice do you have for other women who want to lose weight?
My advice for other women is to be patient and keep faith. Know that your body is doing its work. Trust the process. If it makes it easier, surround yourself with like-minded people who will encourage you on your journey.
Instagram: @quannie_cakez