Transformation of the Day: Rashonna lost 54 pounds. Before pregnancy, her weight wasn't an issue. After pregnancy, taking birth control resulted in significant weight gain. She released the pounds by developing healthy eating habits and putting in lots of time in the gym. With time, she figured out what works for her and what doesn't.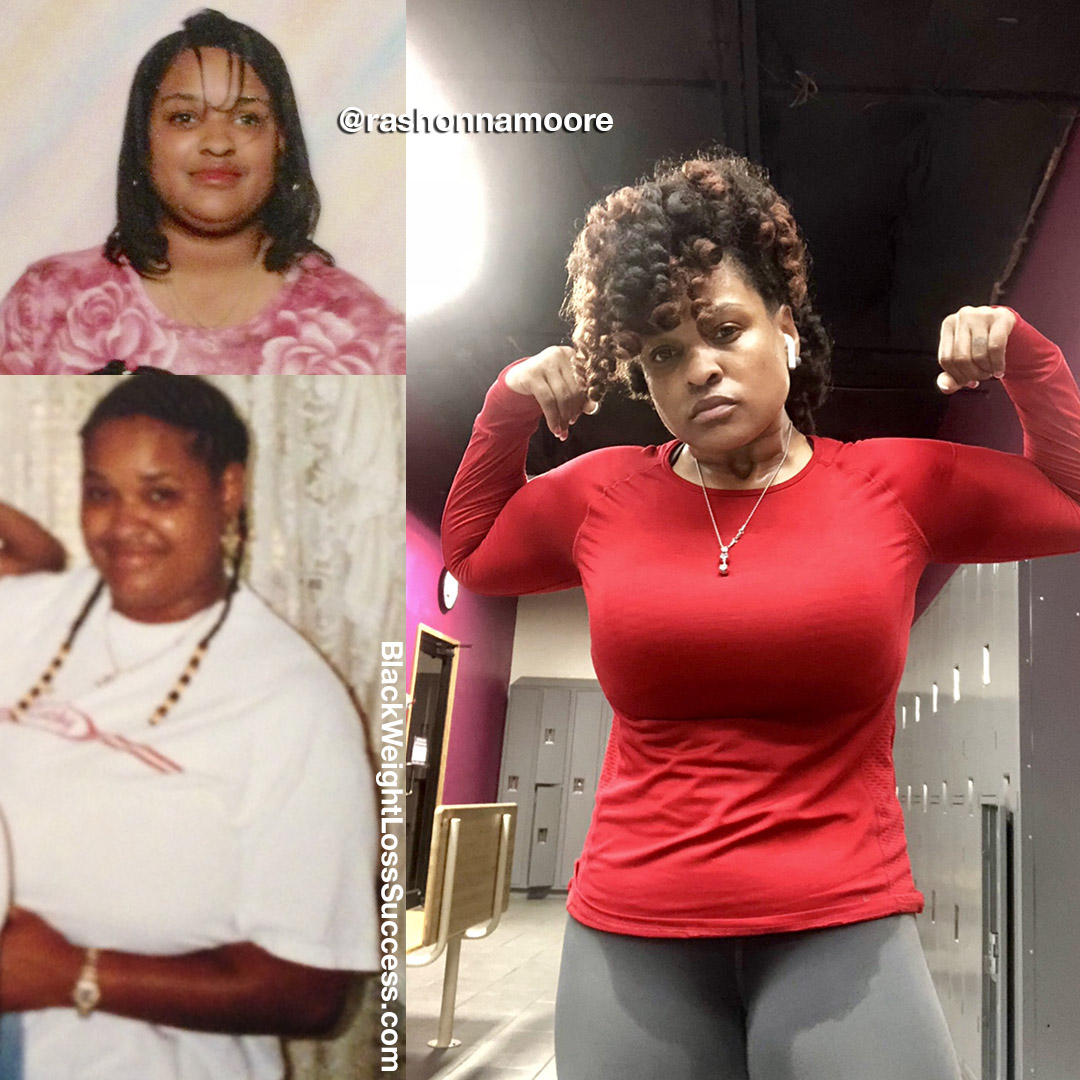 What was your motivation? What inspired you to keep going, even when you wanted to give up?
My primary motivation was that I wanted to feel better about myself. I felt like I was at an all-time low because I had never been an overweight person in my life. Even at full term pregnancy, I was 60 lbs lighter than I had gotten. Taking birth control (Depo shot) contributed to my weight gain.
My inspiration not to give up was my wedding. I didn't want to be an overweight bride who couldn't fit in a pretty, sleeveless dress.
How did you change your eating habits?
I changed my eating habits entirely around. I drank tons of water all day. Every day, I ate a green leafy meal, which was some sort of salad. I hadn't done this in years (not since I was running track in high school). In the past, I stayed clear of all veggies. Now, they became an intricate part of my life again, and eating them helped me not to crave the unhealthy foods I loved.
I cut out fast food, chips, and french fries. I also stopped adding tons of cheese to everything. My eating style wasn't based on any specific plan or diet. I just cut out unhealthy foods and added veggies & salads to my diet instead.
What did your workout routine consist of?
I began by walking on the treadmill every day at least an hour. Then, I built myself up to jogging for 15 -30 minutes of that hour. Eventually, I was able to run with variations of intensity and resistance for a whole hour. After that became a breeze, I decided to add HIIT cardio to my workout. I added aerobics, kickboxing and Zumba classes to my schedule. I worked out 5-7 days a week, but 5 was the minimum. Sometimes I did two workout sessions in a day (one early morning and one in the evening).
What was your starting weight? What is your current weight?
My starting weight was 199.8 pounds. I had gotten down to 125lbs, but that was with straight cardio and a restricted diet of veggies and salads. I wasn't lifting any weights or doing resistance training at the time. I basically became a smaller version of my fat self.
I battled with constant up and down weight fluctuations, and not being consistent. I was never eating regularly. I was actually undereating, starving myself, eating unhealthy and never drinking enough water. I realized that to achieve the results I want, I'd have to become more open to changing what I did and what I put into my body.
I had to learn how to workout properly, meal prep, eat right (balanced) and train with weights. I currently weigh 145 pounds. I still have goals to hit, so I'm still a work in progress.
What is your height?
I am 5'2 3/4″, so I bump it up to 5'3″.
When did you start your journey? How long did your transformation take?
I started my weight loss journey in August of 2004 (199.8 lbs). It took me until February 2005 (140.1 pounds) to lose almost 60 pounds.
Is weight loss surgery part of your journey?
I haven't had any surgeries at all. I got these results by just working out and changing my eating habits. Once it's all said and done, I may want to opt for getting a breast lift. The breasts take a huge hit when you are losing weight and getting toned.

What is the biggest lesson you've learned?
I've learned is that you can't spot reduce the areas on your body where you want to lose weight or tone. I also learned that proper nutrition is the biggest key to success when it comes to weight/fat loss goals (along with weight resistance training as well as cardio). I was always aiming for just cardio, and yes the pounds were coming off. However, I wasn't building a toned, lean physique with cardio alone.
What advice do you have for people who want to lose weight?
If you want to lose weight, CHANGE YOUR WAY OF THINKING. You have to be determined that you are going to make the change and re-program your mind to take steps to do so.
Instagram: @rashonnamoore