Weight Loss Success Story of the Day: Sarah lost 48 pounds.  Along with exercise and eating right, she is a fan of green smoothies for weight loss.  Here is what she shared with us: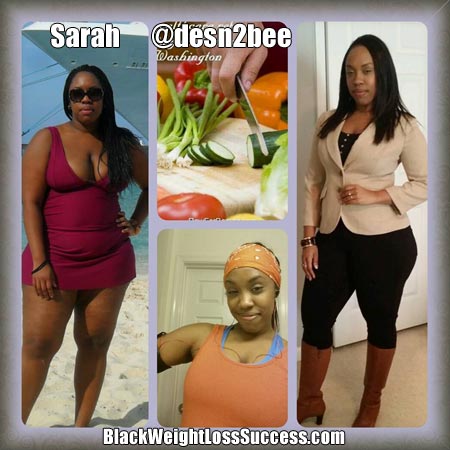 "I urge you ladies to heed the advice of consuming green smoothies. I ate at least one just about every day in 2013 along with a BALANCED clean diet and exercise. The weight melted! I do cardio, free weights, DVD..whatever! Just as long as I am moving for a minimum of 60 min per day. I was like many of you just 13 months ago, wondering if I'd be smaller and healthier again and I want to tell you that results ARE typical if you stay persistent and never give up on yourself. Decide that the crap in those convenience stores and drive thrus won't get you the healthy body you desire. You don't need shakes and pills, just clean eating and hard work. It won't be easy and quick but nothing GOOD for you ever is!!!!
Please feel free to follow me on Instagram documenting my journey! I am too a work in progress: @desn2bee. I'm also on myfitnesspal. Be blessed and stay focused, ladies! Happy New Year!