One of the biggest controversies in women's health is whether birth control causes weight gain or not.Many women complain that they've gained 5, 10 and even 20 pounds after getting on birth control medication. However, some studies seem to note that the pill and other types don't cause weight gain. So, what's going on here?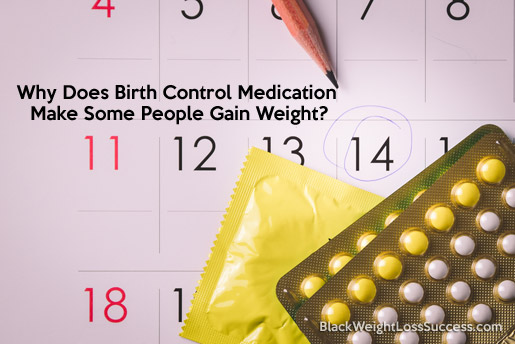 Weight Gain and Contraceptives
In an extensive study review by the Cochrane Database there were no trials that showed any significant weight gain from birth control alone. Further studies can be found that support this theory. Yet many women still claim that getting onto the pill is what caused them to gain weight.
First off, it is very important to note that when it comes to side effects of any type of medication there are averages. These average reactions apply to majority of the population but there will always be outliers. In the case of birth control medication, these outliers could very well be women who have gained weight from a pill or shot. Also, I think that women know their bodies very well and that the limited time frame used in studies may not bear out all of the information.
With that out of the way, when it comes to weight gain the average woman isn't gaining weight from just the birth control per say, but rather as a reaction to other side effects. There are 3 main side effects that could cause weight gain:
Appetite Increase
There are certain hormones that affect how hungry you feel. You might call them "hunger hormones". These include estrogen and progestogen. Both of these, when balanced correctly, will cause you to feel satiated once you've eaten enough. Unfortunately, when they are imbalanced you will feel cravings. This especially in women right before they begin their menstrual cycle. Birth control can cause a similar imbalance in these two hormones. If this happens you may eat more without realizing- thereby causing weight gain.
"The oral contraceptives that were developed in the past affected insulin resistance, and to some extent even the newer pills are able to elevate insulin levels. When these levels rise, the energy obtained from the ingested carbohydrates is distributed mainly to fat cells. As a consequence, weight loss is prevented, even when a diet is followed.

However, not all women who take birth control pills are predisposed to weight gain. This side effect of oral contraceptives is most frequently observed in women with an abnormal glucose metabolism. Insulin resistance should be analyzed if there are no other explanations for weight gain when taking birth control pills." – Fitday.com
Depression
While birth control isn't going to outright cause depression, it can cause mood swings which can exacerbate already present feelings of depression, sadness, etc. A very normal reaction of those who are feeling a bit down or depressed is often to eat calorie rich foods (emotional eating). Eating junk foods, especially sugary foods, can release dopamine in the brain which lessens the sad feelings for a very short time. It's easy to continue eating this junk food to try and feel better. Obviously, this is going to cause weight gain.
A secondary cause of weight gain relating to depression is just lack of energy or motivation. Even though getting off the couch and exercising is the last thing you feel like doing, it's important to try and do it anyways. Living a more sedentary lifestyle will cause weight gain and other health problems.
3. Estrogen affects water retention and weight overall
Depending on how much estrogen is in the medication, you may experience water weight gain.
"Estrogen balance is essential for achieving and maintaining fat loss. In men and premenopausal women, too much estrogen — a condition called estrogen dominance — causes toxic fat gain, water retention, bloating, and a host of other health and wellness issues." – Chatelaine.com
All in all, a birth control pill isn't going to cause you to suddenly gain weight unless you are in that group of people who has an adverse reaction to the drug or it causes a serious hormone imbalance. If you do find you have gained weight and it correlates to the date you began taking a contraceptive, it may be that you are experiencing one of the 3 side effects above. If so, change your lifestyle and contact your doctor, especially if you feel like you are experiencing depression.  There are lots of options for birth control out there and another brand or form of contraception my work better for you.
How to Prevent Weight Gain Associated with Contraceptives
There are a few things to keep in mind if you are concerned about gaining weight after getting onto a birth control medication.
Since synthetic hormones in birth control can cause you to feel hungry it is especially important to track how much you eat. You may be surprised to find that you are eating more than usual despite not realizing it. Write down what you eat in a journal or use a calorie tracking app like MyFitnessPal.
Limit Simple Carbohydrates and Highly Processed Foods
Highly processed foods, primarily simple carbs with few nutrients, are unhealthy and will only lead to weight gain. You may find that while on birth control you crave sweet or salty foods and fast food more often. Since depression, anxiety and other mental health-related side effects are associated with contraceptives you could very well be tempted to indulge in sugar in an effort to feel better. Make a strong effort to change your diet to healthy, whole foods.
Ensure That You Eat Enough Fiber
The average woman needs roughly 25 grams of fiber per day but only eats about 15 grams, according to medical sources. Dietary fiber is important for your digestive tract as well as your overall health and helps with weight loss/weight gain prevention. Along with eating whole foods, make sure you keep an eye on how much fiber you are getting.
Getting plenty of exercise, particularly cardio, will help you stay healthy and strong while on birth control. The American Heart Association recommends women get a total of 150 minutes of moderate exercise per week. You can break this down into five 30 minutes sessions. Alternatively you can do 75 combined minutes of vigorous exercise per week. Many good hormones you need are released after exercising, like serotonin and dopamine (more info).
Consult Your Doctor with Concerns
Every woman is an individual and can have different side effects from contraceptives. Some women have zero issues even after taking a pill for years. Others may experience significant mood swings, depression and anxiety after just a few months. It cannot be stressed enough that if you feel unusual you should speak with your doctor. Often times it's as easy as switching to a different type of birth control for your issues to be resolved.
Birth control, whether it's an oral contraceptive or a shot, can really benefit women by giving them peace of mind when it comes to a having a healthy sex life. If you feel like you need to be on birth control, make an appointment with your physician to discuss your options.