What a difference 20 pounds can make.  Shaunte's success story is just an example of how much change and greater wellness can come from losing 20+ pounds.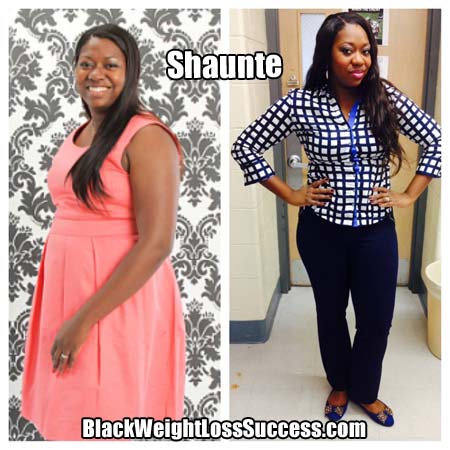 What was your motivation?
"My motivation was my son who suffers from sickle cell disease. He has to lead a very healthy lifestyle to suppress symptoms of a crisis. I wanted to stop getting fast food for dinner and get him more fruits and vegetables. I was also motivated by my Varsity girls soccer team where I'm the head coach. I wanted to eat healthier and live healthier to be an example that says that they could do what I do, not just do what I say."
How did you change your eating habits?
"I stated having a meal replacement shake for breakfast and lunch. I also eat 3 healthy protein snacks a day and a well balanced dinner of healthy carbs, protein and vegetables."
What did your workout routines look like?
"I get up every morning a 4 am for cardio. I worked out in the afternoons doing the "100 workouts" with my soccer team."
What was your starting weight? What is your current weight?
"My starting weight was 216 pounds and my current weight is 193 pounds."
How long did your transformation take?
"6 weeks."
What advice to you have for others who want to lose weight?
"Make sure that you are mentally ready to stay the path. Cut away the obvious food no-no's and be committed to some real constructive "Me" time. Life will still go on while on your weight loss journey, so be careful not to emotionally eat during a trial. It will pass and you will still want to reach your weight loss goal."
Shaunte has also gotten results with waist training, like one of our fav weight loss success stories.