Transformation of the Day: Chelsea lost 50+ pounds with healthy food and exercise. As she did the work of transforming her lifestyle, she felt happier and healthier, which motivated her to keep going. Tracking her daily calories and daily water intake was key to success, along with cultivating a new, positive mindset.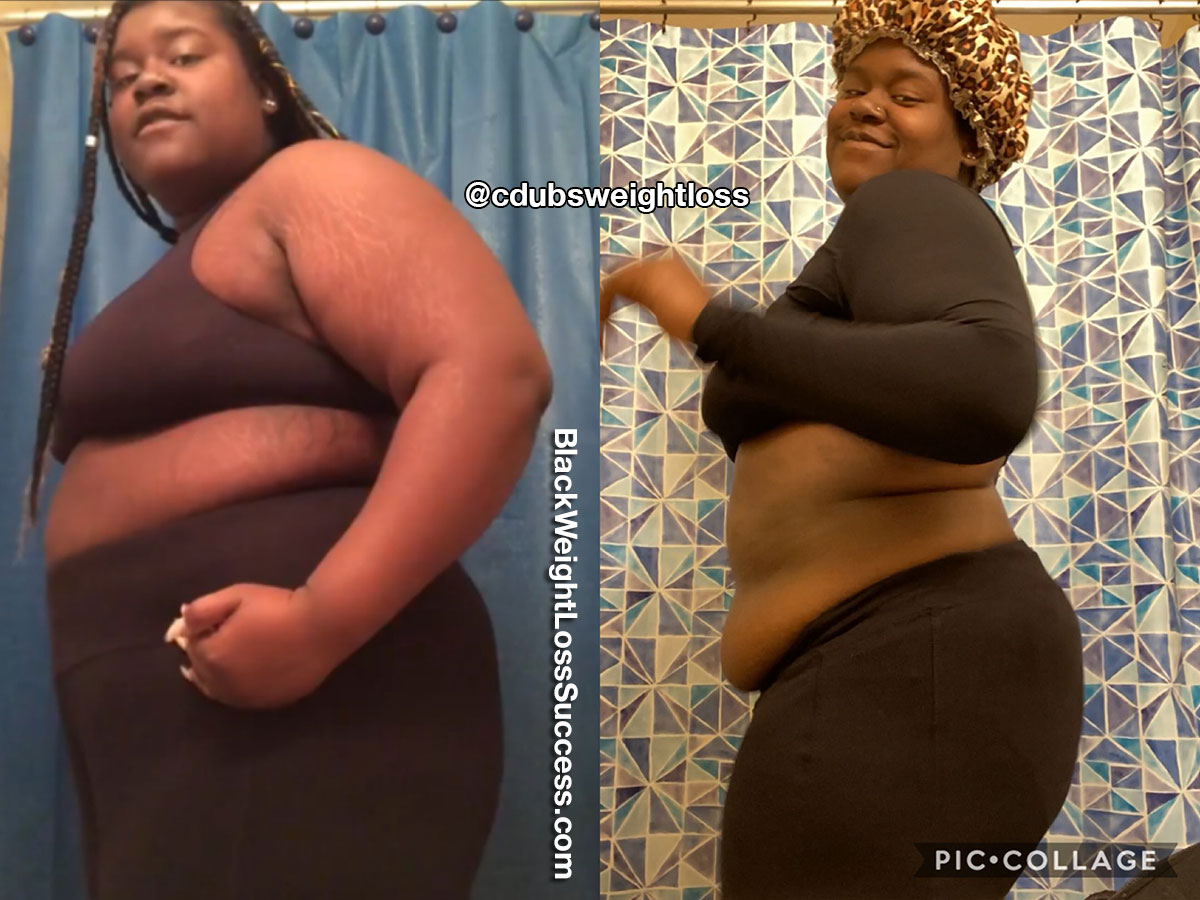 I am 22 years old, and I have been on my weight loss journey for about a year now. My highest weight was 330 pounds. My weight is currently in the 270s. I have dedicated my life to eating healthier and working out more. I hope to one day touch the lives of people who have similar journeys.
I work out about four days a week. I eat a lot more vegetables and proteins than I did before, and it shows. I also have focused on my calorie intake and water intake. I have truly seen a difference, and I feel so much better. I'm healthier, learning to love myself unconditionally, and working hard to pass insight to others.
What inspired you to keep going, even when you wanted to give up?
Honestly, my happiness is what kept me going. As the days went on, I felt lighter, I felt like I had more life, and I felt like life had a whole new meaning to it.
Did you use a specific diet plan, method, or program?
I did not use a specific diet plan. Instead, I just focused on my calorie intake and how much water I was drinking. I tried to keep my daily calorie count between 1500-2000.
What did your workout routine consist of? 
For my basic workouts, I would walk 2 miles and do 25 stairs. I would also do jumping jacks, squash, punching gloves, etc.
 

 

View this post on Instagram

 
What is your height?
I am 5'6".
When did you start your journey?
I started my journey in 2019.
Is weight loss surgery part of your journey? 
Not at the moment. Maybe one day I'll get rich and get a little BBL or Tummy Tuck, but right now, I'm as happy as can be! 
What is the biggest lesson you've learned so far?
I learned to stop worrying about the numbers and the scale. Instead, I focus on my overall mental progress and living positively. They all go hand in hand. Once you master peace, you master yourself.
What advice would you like to share with women who want to lose weight?
Do it for you! You are the only person who can get through the process and progress. You cannot rely on others to hold you accountable. Make sure you are really ready and don't rush yourself or push too hard.
Instagram: @cdubsweightloss