Transformation of the Day: Christian lost 80 pounds. Her turning point came when she was faced with having to increase her clothing size because size 16 clothes no longer fit. She decided to make some serious changes and commit to a healthy new lifestyle. Now, she is a trainer and a fitness instructor. Check out her amazing transformation.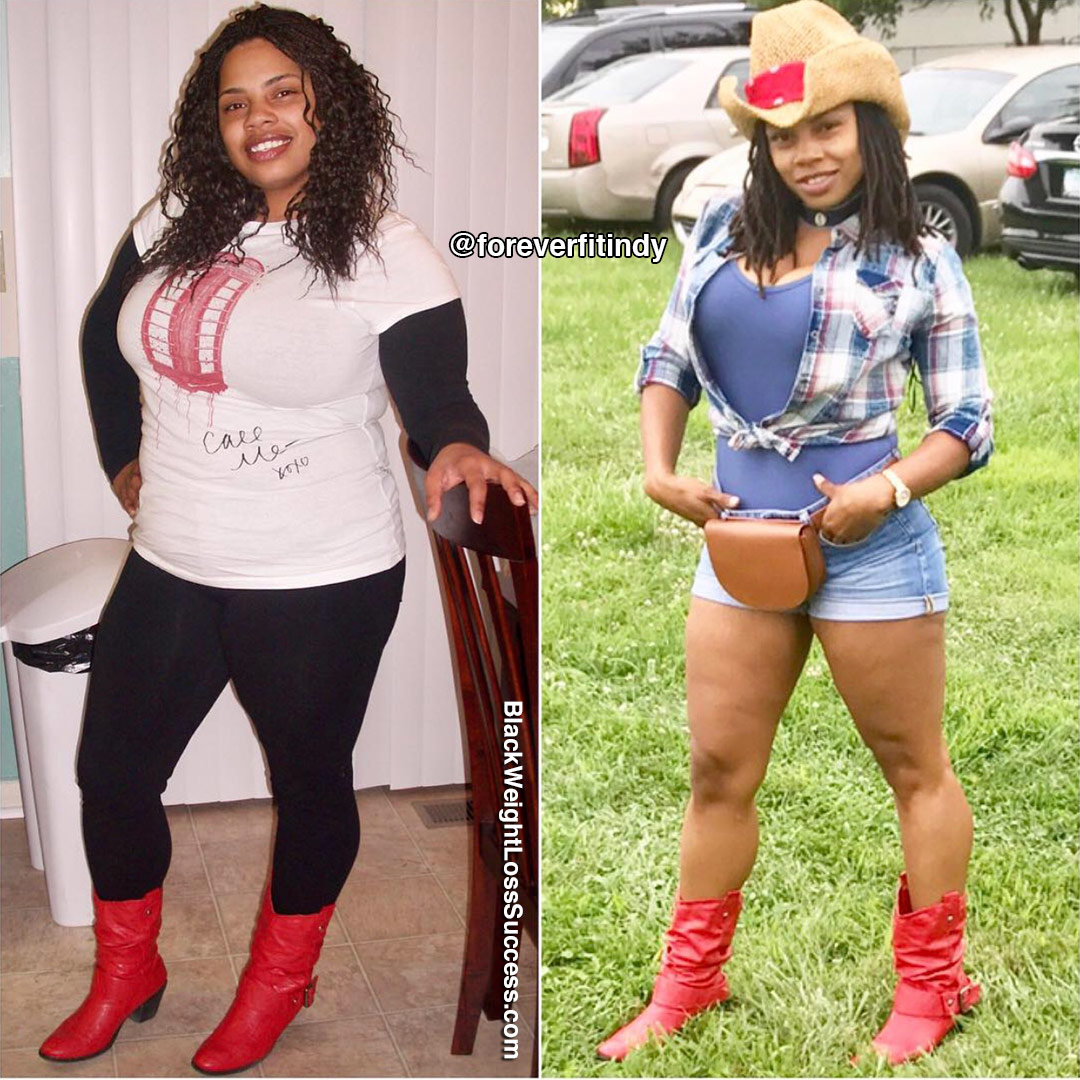 My motivation came the moment I went from a clothing size 16 to a size 18. I had been wearing a size 16 for THEE longest time. When I went shopping those size 16 progressed to me needing a size 18. At that moment, I told myself that I was going to make a change. I set out with a goal to lose 20 pounds. I went hard, staying very consistent for 6 months. At the end of the 6 months, I'd lost 60 lbs by changing my eating habits, exercising and being more active.
After the initial weight loss of 60 pounds, I switched up my workout style from strictly cardio to toning and strength training. I lost an additional 20 pounds for a total weight loss of 80+ pounds. I achieved that success by attending one-hour fitness classes 3-4 times a week at my local gym. These classes focused on strength training (using light weights and repetition) and aerobics.
What inspired you to keep going, even when you wanted to give up?
I can honestly say that I have NEVER wanted to give up. However, what inspired me to keep going were the consistent results I was seeing and the compliments I was receiving. Each week, I lost 2-3 pounds, and I wanted to continue the trend that I was seeing. I would challenge myself. If I saw that I only lost 2 pounds one week, I would challenge myself to add more effort the following week to try to beat my previous week's weight loss.
I motivated my family to get fit and started a family biggest loser challenge. I helped them adapt to a healthier and more fit lifestyle. Not only did I have to keep going for myself but I was motivating them to get and stay on track, so that served as encouragement whenever I felt like I wanted to give up.
I became so passionate about fitness and healthier living that I made a professional career of it. In 2017, I became a group fitness instructor/personal trainer and started my own fitness business. Having so many people around me who are looking to me for motivation, I continue to strive while helping others. I will always maintain a fit lifestyle.
How did you change your eating habits?
At the start of my six-month journey, I changed some very basic habits. I switched from buying whole Vitamin D milk to 2% milk. I stopped buying white bread and switched to whole wheat bread. Any meats that I ate were changed to turkey; i.e., from ground beef to ground turkey, from pork chops to turkey chops, pork sausage to turkey sausage, etc.
I started to bake foods instead of frying. If I did fry, I would use wheat flour and olive oil in place of the vegetable oil. I ate a lot of grapefruit and yogurt as well. I also purchased a blender and a juicer. I made meal replacement smoothies and homemade fresh juices from raw whole vegetables and fruit.
I did not use any specific diet programs. Just changed habits and put a lot of hard work and determination toward staying on track with my health and fitness goals.
What did your workout routine consist of?
For 6 months, I did a lot of cardio. My main routine was walking/jogging/light running on the treadmill. At the beginning of the 6 months, I would walk for 20 minutes. By the end of the 6 months, I had made it up to 60 minutes. My treadmill was positioned in front of the television, so I would watch TV programs or movies and just forget about the time.
Some days I would squeeze 2 workouts in. I would work out on the treadmill in the morning before work and then again in the evening after work. I did this about 5 days a week. On my lunch break at work, I would find an empty hallway and just power walk. If the weather permitted, I would walk the campus of my workplace outdoors. I would also opt to take the stairs over the elevator and just take advantage of any opportunity to get and stay moving.
After the initial weight loss of 60 pounds, I switched my workout style to focus on toning and strength training. I started to attend fitness classes at my local gym that used light weights and concentrated on building muscle. I would attend those one-hour classes 3-4 times a week.
What was your starting weight? What is your current weight?
My starting weight was 215 pounds. My current weight is 135 pounds. My height is 5' 2".
When did you start your journey?
I started my weight loss journey in October 2008. By April 2009, I'd lost 60 lbs. Weight loss surgery was not part of my journey.
What is the biggest lesson you've learned?
The biggest lesson I have learned is you cannot wait for anyone and sometimes you have to go at it alone. Through hard work and dedication, you can reach and maintain your goals. Don't stop! Keep on going no matter what! You have to make the time and not make excuses.
What advice do you have for people who want to lose weight?
My advice: Start NOW! Don't wait and don't make excuses. You will feel better, and you will thank yourself. If you have a bad day/week, shake it off and go harder the next workout. Never ever give up!
Instagram: @foreverfitindy