Weight Loss Transformation of the Day: Lateefah lost 106 pounds.  She embraced exercise, eating a more plant-based diet and green smoothies.  Check out what she shared with us about her weight loss journey…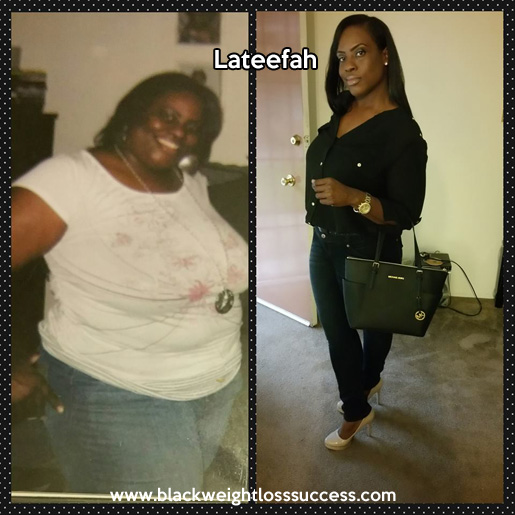 Hello! My is Lateefah I would love to share my story. I've lost 106 lbs through diet and exercise. It took about a year and a half. I'm still pushing for 20 more lbs. I took it serious and wanted to show people that it's possible to lose weight without surgery. I went on a strict diet of only water, unlimited fruit and veggies and fish for my meat. I also do green smoothies. I'm in the gym 7 days a week at this point. I feel amazing. I went from a size 20 to a size 10 and I'm Loving it!
I was inspired to keep going from my results. Even if it was 2 or 3 pounds a week I felt like it was progress. I also was on high blood pressure medicine and wanted off. Those two things alone were my motivation.  I also wanted to be around for my 16 yr old daughter and I knew that if I didn't change my health would only get worse.
I totally stopped eating fast food. I began with making green smoothies and cooking all my meals. Then eventually, I went to vegetarian lifestyle. I started in the gym maybe 2 to 3 times a week doing only cardio, then things moved up to me working out with a trainer 5 times a week.  The workouts were intense, 1 hour of cardio and 1 hour of strength training. I love the elliptical machine and cycling classes. I love this lifestyle so much that I'm doing cardio EVERYDAY and weight training a couple of times a week.
My beginning weight was 286 pounds and now I'm at 180 pounds. I'm 5'5″ in height and still pushing for 25 to 30 more pounds gone. I originally wanted the gastic sleeve surgery but my Doctor wouldn't allow me to get it so I knew then I had to get serious if wanted to get healthy. I would tell anyone who looks at themselves and think it's impossible to lose a lot of weight naturally that they are so wrong. With a fed up mind, hard work and discipline the sky is the limit. You will hit bumps in the road, but if you trust the process and are true to journey, the weight will fall off like crazy.