Nov 2016 – Naledi has kept off over 80 pounds for over 3 years and is now focused on toning, weight training and HIIT. She's also sharing her nutrition knowledge online to inspire others. Check out her update and what she has shared with us over the years about her transformation.
Just reaching out to give you my update and the joys of living healthy. I have manage to keep of my weight for 3 years now and it's been a living testimony. I'm focused on toning now and doing a lot of Les Mills weight training and HIIT. I've created a Facebook group were I post my daily meals, from breakfast, snacks, lunch, dinner and meal replacement alternatives. No short cuts or fad diets. Just authentic home cooked meals that I create daily to share my passion and help the community as a whole. – Naledi (aka. Ledi Tangs)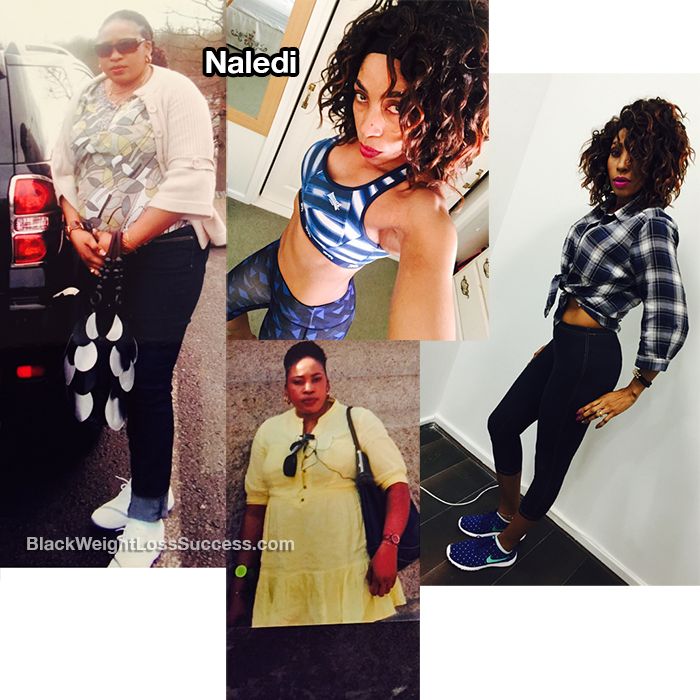 Feb 2016 – It's been 3 years since we featured Naledi's weight loss journey. She's kept off the 89.9 pounds and is working on toning and definition with weight training and Les Mills classes.
Hello, I'm back with an update. You featured my weight loss journey in 2013 and I want to share what I have been up to. I started weight lifting with the goal of developing more shape and definition. I've been doing Les Mills classes 2-3 times a week now. It's been such a rewarding journey and so pleased to share with friends here on the BWLW group to motivate someone. I do Body Pump, which involves weight lifting and attacking every part of your body. I also do Body Attack, which is a cardio class of 1 hour of intense exercise (similar to Insanity). You literally burn 400-500 calories if you give it your best. My pecs are progressing massively. It's been 7 months since I started the classes. I have maintained my weight but my dress size has dropped from an 8 to a 6. I am living a dream and I'm more confident. I hope this inspires a sister out there.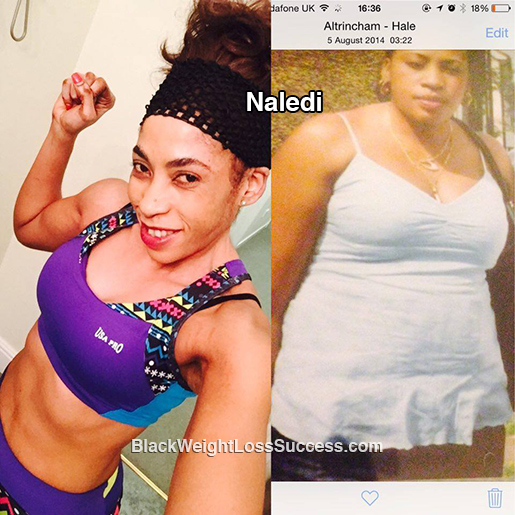 Nov 2103 – Today's weight loss success story: Our sista from the United Kingdom Naledi lost 39kg and went from a size 22 to a size 8.  That's 89.9 pounds!  She did it by eating right and exercising to avoid the risk of diabetes.  Here is what she shared with us:
"My story begins like this… I gained weight via not eating properly and not exercising. Started feeling unwell and went to see my doctor. My family has a history of diabetes and have lost all my beloved ones from my father's side including my Dad who passed away in 2004 due to the disease. I was affected by the death of my father and when I went for the check up to see if I was prone to the disease fortunately the result was negative. I weighed 102 kg (224.8 pounds) by that time in 2011 and was told by my doctor that I was overweight, obese and prone to having a heart attack if I did not reduce my weight (regardless of being diabetes free). My dress size was 22. I now weigh 63kg (138.8 pounds) and wear a size 8.  I started my weight loss journey from March 2011 to October 2012. Since then never looked back and have maintained my weight till today.
Motivation: I was shaken and started feeling tired when I was at work.  I could hardly use the stairs and dependant on the lift (elevator) all the time. I was referred to a dietitian to discuss healthy eating options before any medication was given to me to see if I was willing and determined to lose the weight. I valued my life and wanted to live and not die young. I was upset that food made me like this and that sooner or later my whole life will come to a close due to food and not looking after myself. I went home depressed and just the thought of it all.  I knew that I would have to develop self control and change the way I look at food because what it was doing to me had such a terrible effect. I waited for the appointment date and went to my first visit to start putting a plan in place in terms of what to eat, what not to eat,  exercise, etc. Upon living the hospital, I just told myself that I will conquer and defeat the food battle. I started by doing my own research into what has helped other people in a similar situation as I was. It was not an easy journey in the beginning to cut down on bread, cakes, portion sizes… let alone the bad habits in general that lead to weight gain. I Started my own diet of consuming not more than 1,500 calories a day. I was drinking 2 litres of water and no more drinks with acid. Fortunately, I had no issues with alcohol because I never drake at all.
I joined the gym and started with the treadmill just to get my heart rate up and my body used to exercising slow but sure. I ate alot of vegetables, salad,fruit and cut down all starch foods completely. I also became very creative and made my own made home smoothies of which I had most of the time for lunch. My favourite was the green smoothie that consisted of kale, spinach, melon, apple, pear, few leaves of spinach, 2 x tablespoon natural yoghurt and 1/4 cup water just to give my smoothies flavour. I detoxed using lemon and fresh pepper mint leaves soaked in water. I also ate small portions of food, stopped snacking and started eating at the right times. I was also getting enough sleep and snacking a lot on nuts. I ate white meat more than I did with red meat. I replaced red meat with a lot of roasted peanuts without salt. No milk or sugar in my tea. I started drinking herbal teas and hot water with lemon before and after every meal. I stopped eating heavy meals if i got home after 7pm. Will power and determination made my life so easy. I started feeling more lighter each day and introduced other exercises; bicycle ride, spinning classes twice a week, swimming, power walking and started out door jogging.
I made this a lifestyle more than a punishment and my results were so positive that within 6 months of healthy eating, exercising and commitment, I lost 30kg. I was so pleased and kept pushing. My weight was lost in 3 stages as per the pictures. My dress size dropped to 14 and lastly size 8 which took me 1 year and 7 months to get to my target weight. I am now into horse riding, which is one of my favourite hobbies almost every weekend. I do a lot of outdoor jogging, zumba class once a week and presently lift weights to build my six pack. With the right attitude no gimmicks, no eating behind closed doors, not quitting and perseverance, you can do it and achieve whatever you want in life. Whenever you feel like giving up, ask yourself the reason that you started the journey and why you want to add more years to your life. I did it and am very positive that you can do it without surgery but willpower and become a conqueror. They say "No pain, no gain." Once you are on top of the game nothing will beat that spirit of being a goal getter. Never, never give up. The harder you work, the better the results are. A key fact is to keep up with healthy eating and exercise. Make it a lifestyle rather than a diet. By so doing you are looking at it in a more positive way rather than feeling deprived of certain foods. Moderation is the key.  All the best in your journey.  I'm more than happy to motivate others in any way possible with regards to sharing meal ideas, what other shakes I made or ways that could make one change their life."