Transformation of the Day: Pilar lost 44 pounds. As she figured out what worked for her, having a great support system and focusing on self-care were key. During this journey, she became a Yogi, and she found that cooking helps her stay on track with her nutrition goals.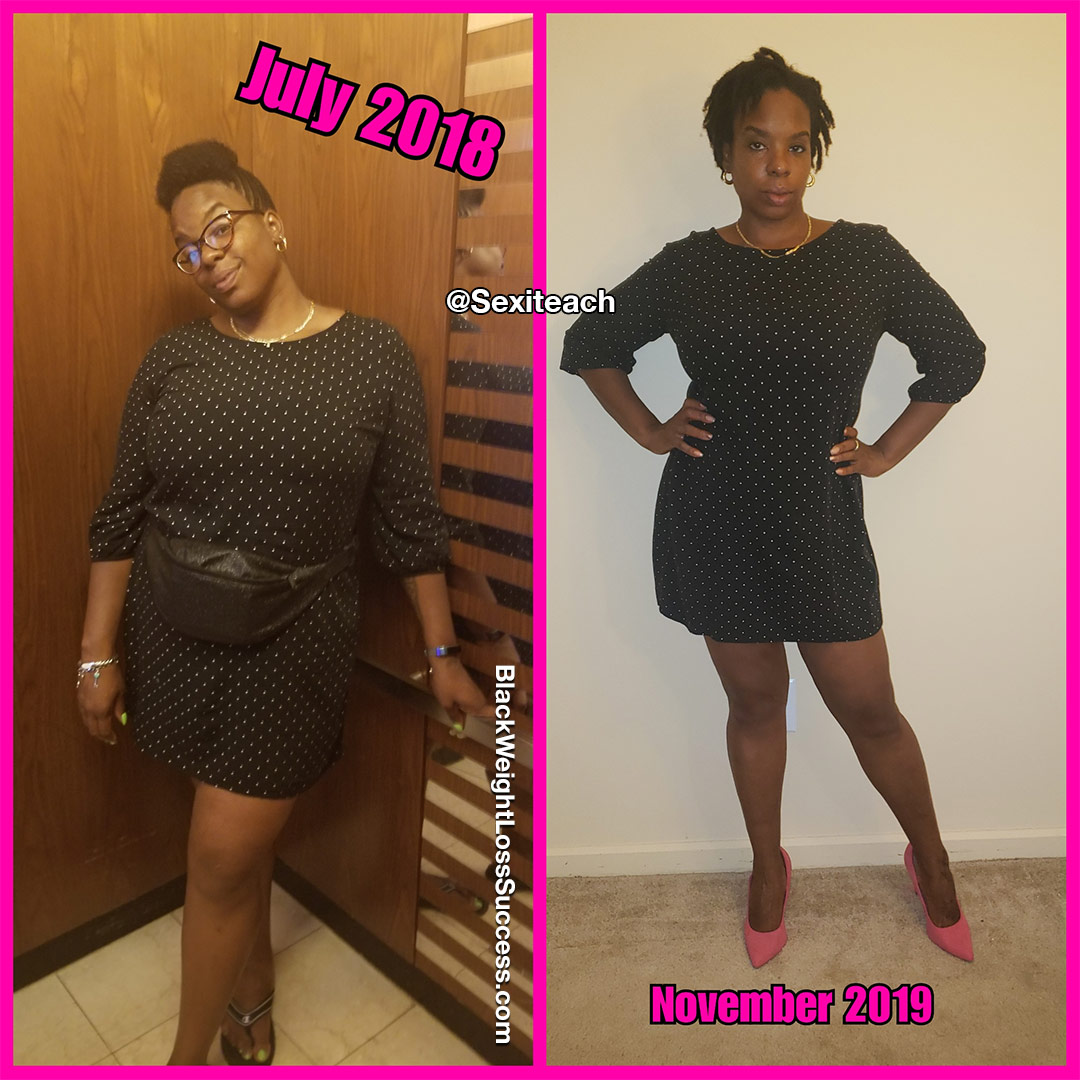 What was your motivation?
My motivation was to feel good; inside and out. Working out has become therapeutic. It's devotion to self-care, both physical and emotional. It made me realize that "losing weight" was more than numbers on a scale. It relates DIRECTLY to how you feel.
What inspired you when you wanted to give up?
I have a great support system. They keep me going when I want to be inconsistent. My sons are active, and it feels good to do things with them. My students also inspire me. They are always complimenting me. Sometimes on this journey, you don't notice the results, so it's encouraging to be acknowledged for your hard work.
How did you change your eating habits?
I stopped eating things I didn't enjoy. I ate for pleasure instead. Your body knows good food when it gets it. I grew up not eating beef or pork. Eventually, I grew tired of chicken. I have always loved fish, so becoming a pescatarian came easily for me. I also stopped eating canned food.
I cook more now (check out my food page: @goodeatswithmsp). A well-formed habit will eventually become a lifestyle. I needed nutrients that I wasn't getting because of health issues. Cooking helped me take control of my intake.
Cleansing is also an essential part of weight loss or weight loss plateauing. Our bodies need to be cleansed. At My Wellness Solution ( @mwshealth) in Harlem, I participate in something called, "Operation Cleanse", a program that jumps starts your body into healthy food absorption.
What does your workout routine consist of?
I go to @SpinCity_wittbiggkd (a sauna cycling class) twice a week led by the best trainer ever, @BiggKD. Thanks to my bestie, I am a yogi now! Bikram once a week is great for alignment and toning. Also, I train in the gym once a week. My goal is consistency. This is the best way to really see and maintain results. And get some sleep!
What was your starting weight? What is your current weight?
August 2018: 243 pounds
November 2019: 199 pounds
I am still a work in progress, but this journey has made me more goal-oriented. Even when I can't see the progress, and I can feel it. The decision to make these habits my life was really the tipping point. But my weight has been a lifetime journey.
When I was a little girl, my mother, my sister and I were always on "diets" because we struggled with weight issues. There was always the implicit feeling of, "I should be smaller. I should be this or that." This journey has taught me that I should be me! I am strong and beautiful. Being my healthiest self is a unique success that has brought me to this goal. We hear about things are "good for us," but are those things universal? Because of my health issues, what is healthy for me is not healthy for everyone.
There have been ups and downs on this journey, but it feels good because it is about self-discovery. I remember to love myself. I stay consistent with research on healthy eating habits for someone with my body type and health issues. I establish consistent routines around food and set small goals to keep myself consistent.
It's empowering, and it is transformative. I have taken control of my body, mind, and spirit. All of these things work in agreement.
Is weight loss surgery part of your journey?
Surgery was not part of my journey, but again, my habits of health are not everyone's. Some sisters feel that surgery is a valuable option, and that's ok too.
What is the biggest lesson you've learned?
I learned many important lessons. I learned that I am worthy and worth the work. If I can do this, I feel like I can do anything. I am grateful for the support system I have. I learned that the village of people who love you and who you love is sacred.
What advice do you have for others who want to lose weight?
Make sure you have a support system and be real with them about your goals. Having love around you is imperative because you are going to shift your life into a goal-oriented mindset.

Also, you have to appreciate the small victories. Celebrate them, and let yourself be celebrated.

Don't treat yourself poorly. If you have cravings or if you slip, get up and get back on track. Focus on consistency. You can do this. You just have to DO it.

Stay in constant prayer (Romans 12:12)
Instagram: @Sexiteach