Transformation of the Day: Shannon lost 57 pounds. She was faced with several health issues, including high blood pressure, pre-diabetes, and PCOS. By leaning on her faith, her brother's memory, and self-determination, she put in the work to discover a mix of fitness and nutrition that works for her.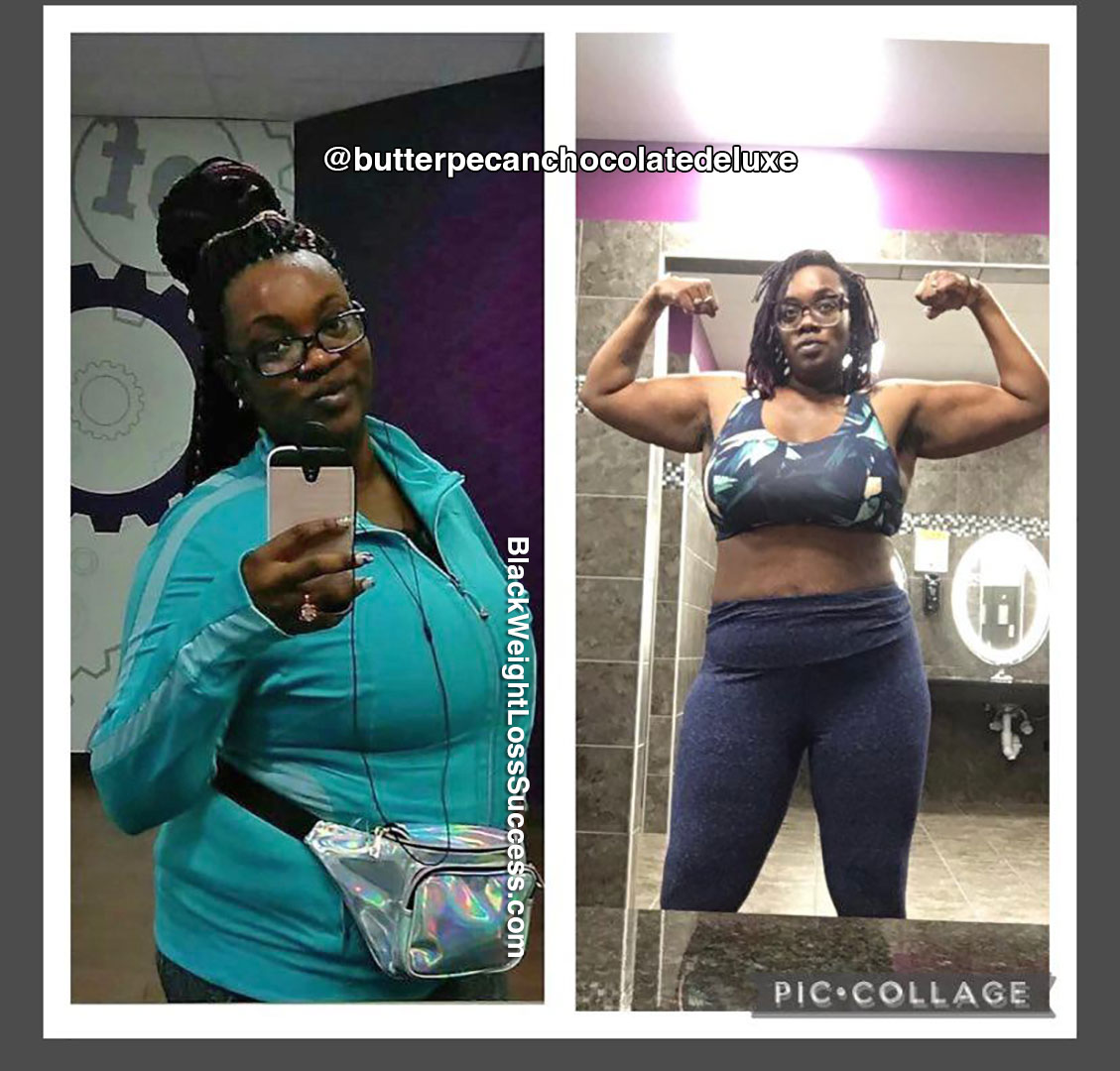 What was your motivation?
So I "restarted "my journey last June when I hit my highest weight of 287 pounds. At the time, I was faced with many health issues, like high blood pressure, pre-diabetes, and PCOS. 
After pulling myself from a deep dark depression, I began walking my dog at least 1 mile a day. Then, one mile turned into 2…  
So far, I've lost between 55-65 pounds since last June (it fluctuates). I currently weigh 230 pounds. I never had a number goal in mind. I just wanted to be healthier overall and come off of blood pressure medication.
Changing my eating habits and staying consistent hasn't been easy, but I am determined to remain disciplined. I am inspired to keep going when I think of all my loved ones who have left this realm prematurely due to health problems that may have been avoided. 
One of my big brothers was a competitive bodybuilder. He never drank or smoked. However, He ended up passing from a rare form of bone cancer. He is my Angel trainer. When I'm down or don't want to work out, I think of him and how proud he'd be of me for choosing to honor myself and recommit myself to this journey. 
How did you change your eating habits?
I cut out all fast foods. I also cut back on sodium and sugar, as well as carbs. (I cut out pork years ago.) I incorporated way more fruits and veggies in my daily meals/smoothies. I aim to drink 64+oz of water a day. Sometimes I use Premier Protein shakes and Slim-Fast keto meal replacement shakes. 
Tell us about your workout routine. 
Once the weather became colder, I started going to the gym 3-5x a week. I use the treadmill for 30 mins to an hour, use the elliptical (every few days), lift weights, and do some at-home calisthenics as well. 
What is your height?
I am 5'8″.
What's the biggest lesson you're learned so far?
One of the biggest lessons I've learned thus far is to trust God, yourself, and your path! Don't get discouraged when the scale doesn't show you what you want to see. Instead, re-evaluate what you've been eating or drinking. 
I want to be an inspiration to myself and other women. I want to show people that no matter what, with God and a belief in yourself, you can do anything!! Naturally!!
Is weight loss surgery part of your journey?
No, Weight loss surgery was not a thought in my mind. I wanted to feel every bit of this!
At my heaviest, I was so heavy and depressed! I didn't see a way out, but one day I felt God tell me if I'd just take the first step, he would carry me the rest of the way. My story is still being played out.
If I can be of any help or assistance to anyone, please don't hesitate to message me.
Instagram: @butterpecanchocolatedeluxe