Weight Loss Story of the Day: 
Ace lost 107 pounds
with weight loss surgery.  She was having difficulty breathing and suffering from knee pain that hindered her ability to exercise.  At 234 pounds and 5'3″, she decided to opt for gastric sleeve bariatric surgery.  Read her story below to find out more about her journey.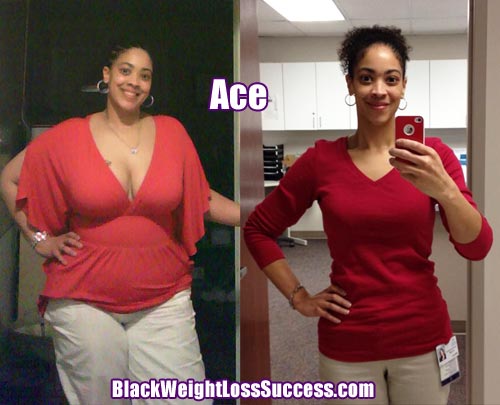 "My name is Ace. A year and a half ago I made a decision that cheanged my life. I decided to have bariatric weight loss surgery. I was 34 years old and weighed 234 lbs at 5 foot, 3 inches tall. I worked in health care so I was always on my feet. I had a knee problems that led me to a orthopedic doctor who said that I needed to loose weight to relieve some of the pressure off my knee. However, I couldn't exercise due to the pain. A good friend of mine mentioned bariatric surgery. She had it done a few years prior. The rest is history!
I went from getting short of breath climbing a flight of stairs, constantly tired, constantly eating fast food, sweets and drinking pop to working out 6 days a week! No longer drinking pop or juice! No longer eating pork or red meat, or fast food or sweets! I have an amazing amout of energy. I am active. I feel wonderful. I love the way clothes fit. I went from a size 22 at 234 pounds with a BMI of 41.4 to a size 4 at 127 pounds with a BMI of 22.5. Finally I LOVE ME."
What was your motivation?
"I was tired of the knee pain and being short of breath all the time."
How did you change your eating habits?
"I went from snacking all the time on unhealthy things to eating 5 small healthy meals a day that were high in protein."
What did your workout routines look like?
"Mon – Fri, In the am I do crunches, squats and a few weights. After dinner I walk/run on my treadmill and do additional crunches, squats and weights."
What was your starting weight and your current weight?
"Starting weight prior to surgery was 234lbs. My heaviest was 256lbs. I currently weigh 127lbs."
How long did your transformation take?
"I had surgery December 2012. It's been a year and a half."
What advice to you have for others who want to lose weight?
"You can do it if you want to. You have to really want it. Make small goals. Take it day by day and appreciate every bit of progress that you make! Nothing tastes as good as healthy feels!!"