Transformation of the Day: Ashley lost 103 pounds. Having to take Metformin for pre-diabetes and dreaming of being a healthy, happy mom in the future were this young lady's main motivations. She has changed her life by using weight loss surgery to change her eating habits and by finding a form of exercise that she loves.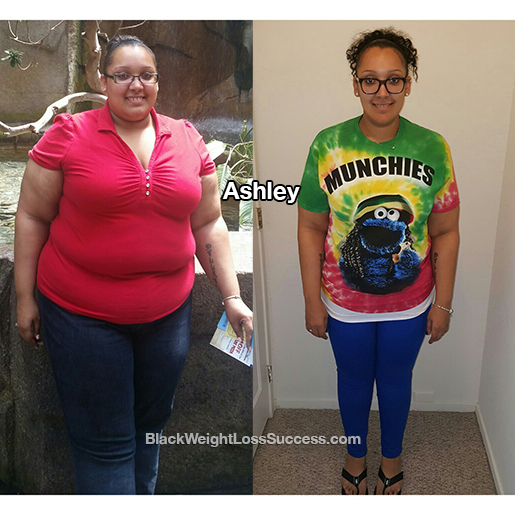 Hello, My name is Ashley and I'm a 27 year old from Michigan. I've been struggling with my weight for many, many years. I tried tons of diets and pills, but nothing seemed to work. My weight loss journey began on July 15, 2015; the first day of my new adventure. I had the Sleeve Gastrectomy procedure done. My weight at the time of surgery was 328 pounds and as of two days ago I weigh 225 pounds at 5'5″. 103 pounds gone forever! I am beyond thankful, just wish that I would've done it sooner. What really made me decide to go with the surgery was two main factors. First, I was pre-diabetic and had been on Metformin for a little over 2 years. Secondly, I really want to have children in the near future. I couldn't imagine getting pregnant at almost 330 pounds.
My biggest inspiration has been my boyfriend, Justin, and family. They've always encouraged me to keep going, no matter how slow I'm going, just as long as I'm moving upward. One of my closest friends, Charrena, has also helped me along my journey. She actually had the same surgery two weeks after me, so we've been each others backbone.
I joined the Powerhouse Gym that's close to my house and I love their Body Pump class; which is focused on weight lifting. My new job has made it a little difficult for me to work out, but I try to go to the gym at least 2 times per week. I found that exercise classes actually work better for me than other activities I could be doing in the gym. They help me get more results.
Having surgery actually FORCED me to change my eating habits. They took away 85% of my stomach, so I'm only able to eat very small portions which is very helpful when it comes to calorie and portion control. I gave up all fast food and carbonated beverages. I actually fell in love with yogurt because that's a food that isn't heavy on my stomach and I'm still able to get at least 12g of protein in the portion sizes I'm working with. Since my stomach is very small. I'm only able to eat 3 to 4 ounces of food at a time. I make sure that I consume about 75-90g of protein per day and drink tons of water.
If anyone is considering bariatric surgery, I say GO FOR IT!! I don't regret my decision one bit. I'm more happy and healthy now than I've ever been in my adult years.
Instagram: @bestofbothworldz89