Update: Shout to Tamara! We featured her back in 2015. Since then, she was hit by a car, fractured both ankles, has endured multiple surgeries and regained 40 pounds. She wrote in and shared with us how she got back on track.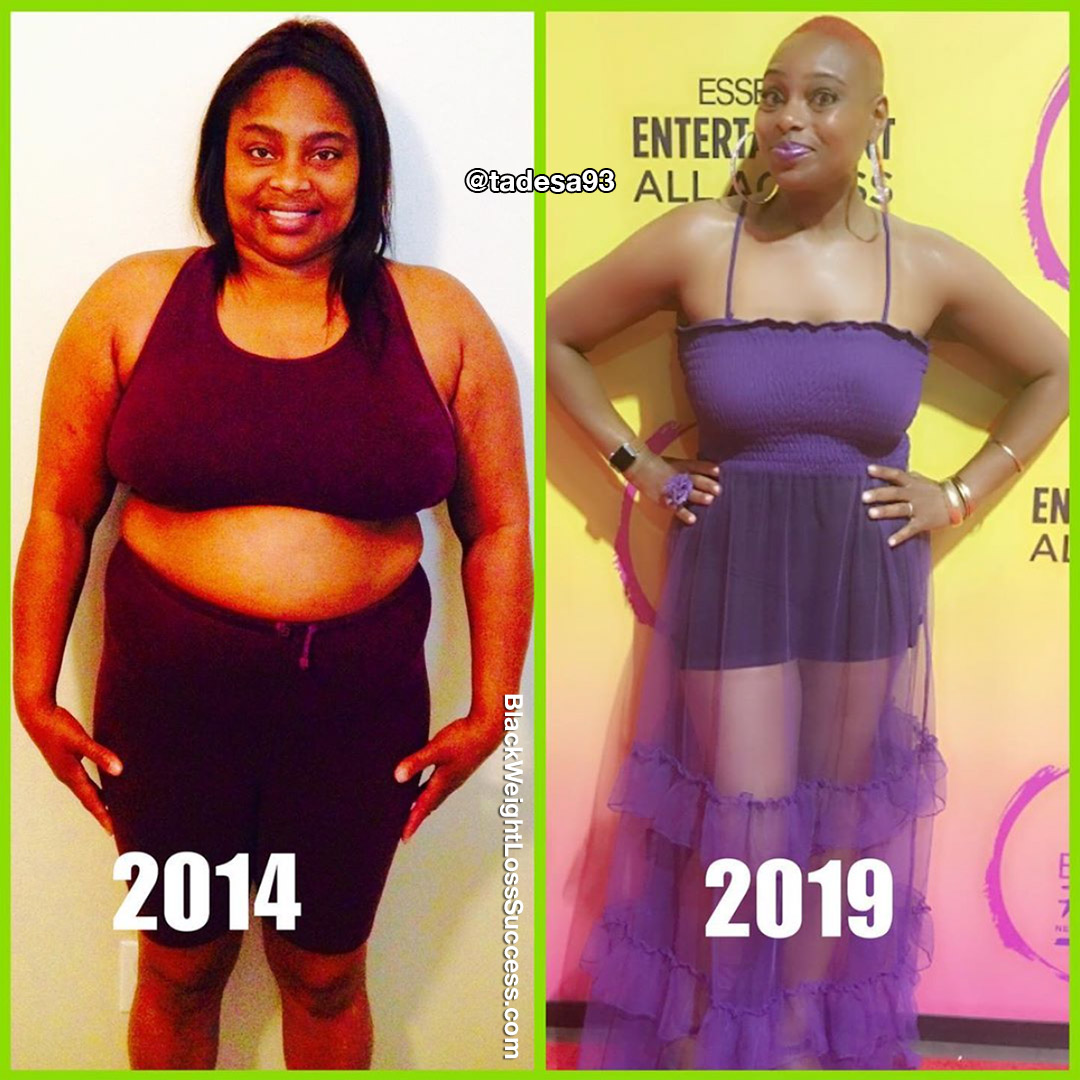 I am so happy to talk about my journey on Black Woman Losing Weight. My transformation was posted back in December 2015. I had the gastric sleeve and became a long-distance runner during that time. Little did I know that I would be hit by a car in California in February 2016. That changed everything.
I was in therapy from March 2016 to November 2016. Then I fractured both ankles February 2017. I was in bed off and on with back surgeries to ankle surgeries for about two years. I took every type of pain medication, but the pain would not go away. I went into a deep depression because of this. I gained 40 lbs back from eating and drinking whatever I desired during this time.
I took my life back in October 2018. I made it out through faith and the desire to find something bigger than myself. I changed my thoughts, which is the only way you will lose weight and keep it off. Today I don't take any medication, and I weigh 170 pounds. I've kept off a total of 145 pounds through struggles, life's disappointment, and tragedies because of my thoughts, and a strong will to keep this weight off. I have seen a lot of black people die due to the complications of obesity. God said that I shall live and not die, but I have to be the one to do the work!
---
Transformation of the Day: Tamara lost 105 pounds. She was suffering with her weight and high blood pressure. Her beloved aunt, who passed from diabetes complications, gave her the inspiration to start her journey. After having the gastric sleeve procedure, the weight started coming off, but she learned that surgery is a tool, but not something you can rely on alone for transforming your body and your lifestyle. Here is what she shared with us about the actions she took…
In 2009, my Aunt Alice died from complications from diabetes due to obesity. I loved my Auntie and we were like twins. We had so many things in common. I found this out visiting her during her dialysis treatments on my way to work. We would have long talks about everything. I could see her dying. They cut off her first leg above the knee, then the second leg shortly after. It went down hill from there. She told me one day while waiting for a doctor's appointment, "T, don't be like me." When my aunt transitioned to a better place, I tried everything. The weight came off somewhat and then it would find me again. Years passed and I just couldn't get the weight off.
In 2013, I was up to 274 pounds. I kept going to the doctor to get my blood pressure pills changed. Several times, my blood pressure would go down a little bit but it would still be high. I also suffered from chronic back pain and the pain pills were not helping.
In March 2014, I had gastric sleeve weight loss surgery, which was the best option for me… or so I thought. I was 274 lbs and with the sleeve I went down to 210 lbs. Then, I plateaued. I decided that I really need to take advantage of the benefits of having the surgery instead of just depending on it. I changed my diet and learned to eat every two hours. I started to walk and then my walking turned into running. I love running. I have been in several marathons and have started strength training.
I'm currently weigh 169 pounds (height: 5 "7 1/2"), but I have lost up to 110lbs. I feel great, no longer have to take blood pressure pills and now longer have back pain. I try to motivate others and tell my story to help someone. It's a domino effect! I've never been this small, so I am still getting use to the new me.
I changed my eating habits by reading my weight.com articles. I added more protein and ate less carbs. That means I actually listen to what the nutritionist. She told me that about 95% of the post weight loss surgery patients don't listen. I eat small meals or snacks ever 2 hours. I keep snacks in my car and purse to cut out any excuses to get something bad from the gas station or a food mart. When I started to overcome my weight loss plateau, I worked out for 30 minutes, 6 days a week. Now, that I'm maintaining my weight, I've added more strength training and I workout 4 times a week. I find ways to burn calories and I park far away from where I'm going. I don't emerge myself into work potlucks. I also find active outings to participate in.
My advice for others: Do not listen to anyone but your inner voice. People will tell you what they think you should do and most of the time it's not the right advice for you. When you start working out, never compare yourself with others! Do you boo! Keep it moving!
Instagram: @tadesa93