Weight Loss Transformation of the Day: Elisha lost 125 pounds with weight loss surgery. After being molested as a child she used food for comfort and weight as a shield of protection.  Later, she would be diagnosed with stomach cancer. Despite all of this, she found the power to change her life to be healthier for her family and to be free from the extra pounds.  Check out her emotional weight loss story…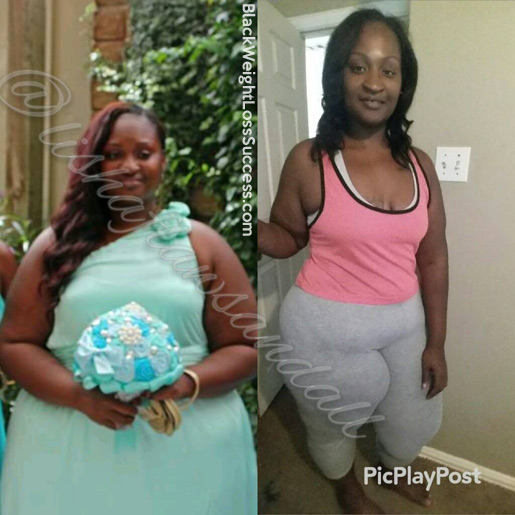 Hello, my name is Elisha Fant and I would like to share my weight loss story. I've been obese my whole life. Growing up, I was always the biggest child in school. I was bullied and teased about my weight as well. My mother went to jail when I was 8 or 9 years old and then I was molested several times. Thus, I became very depressed. I began to use food to comfort me and felt that If I continued to gain weight then nobody would want to violate me anymore. Also, it was hard childhood for me because I didn't have many friends. I was very lonely and food was the only thing that I felt had never let me down.
Fast forward to 2005, I meet my husband who showed me what it felt like to be loved. We later had kids and my weight just kept creeping up. As my kids began to walk and run, I could no longer keep up. In 2008, I joined a gym and began to workout. I enjoyed working out, however I never changed my eating habits. A co-worker of mine told me about a diet pill called Phentermine. I tried it and lost about 65 pounds. Once I stopped taking it, I became pregnant again and gained all the weight back..and then some. After many failed "lose weigh quick" schemes in 2012, I was diagnosed with stage 1 stomach cancer. My doctor blamed it on my weight and poor eating habits. I then promised myself that I would take control of my life and loose the weight for good.
After speaking to a family member about weight loss surgery, I decided to have the Gastric Sleeve procedure. I was approved in 2013 through my insurance company, however being that my previous medical problems were not taken care of no doctor wanted to operate on me. That took me into a stage of anger and depression and my weight went up from 317 pounds to 392 pounds. At 5'8″, that was just too must weight to be carrying around. I was devastated and I no longer wanted to live. I remember going to Six Flags and not being able to ride the kiddie ride with my son because I could fit. I felt like I failed my child. Later that evening I remember having the discussion with my husband about going to Mexico to have the operation done. He supported me but was very concerned about me going there.
Eventually, I found a doctor in the US who was willing to help me get my life in order. In April of 2015, I had the Gastric Sleeve weight loss surgery done. My starting weight was 392 pounds and as of today I weigh 267 pounds. I can say that weight loss surgery was not the easy way out. It is just a tool that was given to me to utilize. I currently eat a low carb diet and I still workout 5-6 days a week, doing an hour of cardio and 45 min of weight training. If I hadn't changed my lifestyle and my mind about how I viewed food, I wouldn't be where I am today. My journey is not over. I plan to lose 72 more pounds and then maintain that weight. Losing weight is hard but being fat and out of shape is even harder. Today, I'm in a much better place and I know that if i continue at the rate I'm going I will soon be where I need to be.
Instagram: @lishaflawsandall (inactive)