Weight Loss Story of the Day: Naajma lost 110 pounds!  She had the gastric sleeve weight loss procedure, but she wants you to know that surgery is not a quick and easy fix.  She's had to work out hard and change her eating habits.  Read more about her transformation…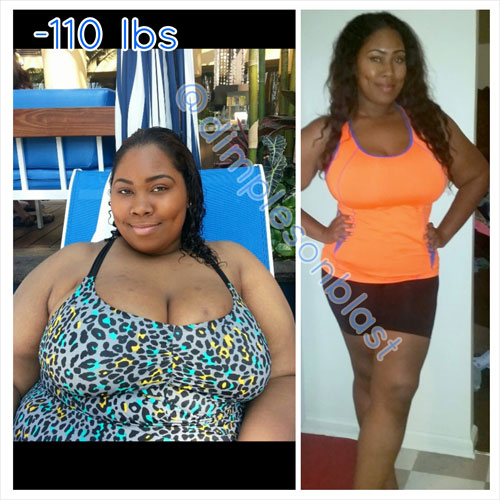 Hello, my name is Naajma. I'm a 27 yr old mom of 2 and I have lost 110 lbs. The picture on the left was in January 2013 and I was at 338 lbs. I decided I couldn't live like this anymore. I spoke with my friend who had decided to undergo gastric sleeve surgery. I know surgery is taboo for a lot of people but I needed a boost. I found that in addition to the surgery I needed to work out religiously and eat healthy choices in order to lose weight. Surgery Is NOT An Easy fix. You will not lose weight if you don't live a healthy lifestyle. I tried it, lol! I hope to get to my goal weight of 198 pounds soon (height: 5'7″)!
My motivation was my children. I wanted to run and play with them. I couldn't keep saying mommy was tired. I've seen so many women without excuses take control of their lives physically, and I knew it was time for me to do the same. Before surgery, I cut all sodas, juices, etc. With that, I dropped 20 lbs in the 2 weeks prior by that alone. After having the gastric sleeve surgery, I focused on eating protein rich foods. At the height of my weight loss, I worked out 4 or 5 times a week. Running on the track is my favorite form of exercise. I also do squats and lift hand weights while catching my favorite TV shows. Lol. My advice to any other ladies who are on the path of losing weight is to not give up. It takes dedication and willpower but it can be done! I have started a Facebook group called Black girls get sleeved too. It is dedicated to black women who have had weight loss surgery or are thinking about it.
Instagram: @dimplesonblast