Transformation of the Day: Ayana lost 30 pounds and gained lean muscle. She didn't let stress, weight gain or high blood pressure stop her. This health educator recently took the stage in her first NPC Figure show where she placed 5th in two categories. Check out her journey.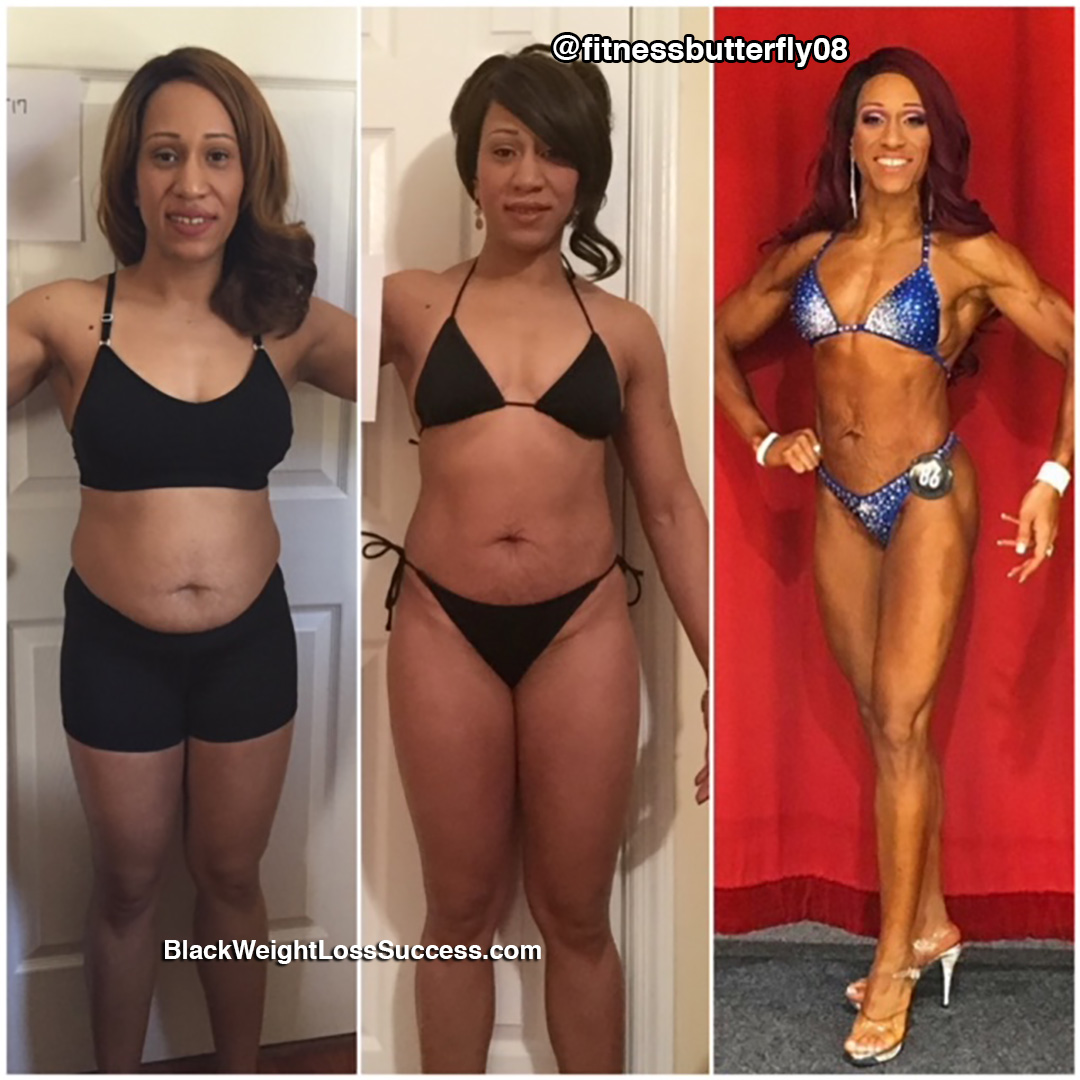 Age: 42
Height: 5'3"
Years bodybuilding: 1.5 years
Beginning Weight: 3/21/2015 – 150 lbs
Stage Weight: 7/7/2018 – 119.4 lbs
Body fat as of 6/30/2018: 10.1% (via BodPod)
I'm a 42 year-old mother of a 22 year-old son and 14 year old daughter. I'm a health educator and have been working in the health care field for the past 20 years. After a three year transformation journey, going through many ups and downs (from under eating to overeating, getting re-married, moving, and starting a new job after 11 years), I finally made my way to the stage on Saturday, 7/7/18 and competed in my first NPC Figure show in White Plains, NY. I placed 5th in Novice and 40 & over. I was pleased with my placing because it was my first time
stepping on stage.
How did you begin your transformation journey?
I've always been an athlete. I ran track competitively in Junior High School, High School and some of my time in college, specializing in the 55, 100, and 200 meter dash. After having children, I worked out here and there but nothing serious. I remember a friend telling me in my 20s, that I should compete in a show because of my athleticism and the amount of muscle I naturally carry. I thought to myself, "no way" and tucked that thought in the back of mind.
In 2010, I was incidentally diagnosed with hypertension and was placed on blood pressure medications due to stress, weight gain and eating processed foods high in sodium. My readings ranged from 140/100 – 150/120. Over the years, I tried to get my health in order but everything I did was a short-term fix.
Fast forward to 2016, I became a member of Bodybuilding.com and started doing the various challenges they offered (250K, Still In it to Win It '17, etc.). Using their Bodyspace app to track and log my workouts motivated me, but I still fell short and didn't finish the challenges. The consistency and drive just wasn't there.
In July 2017,  I decided to seek the help of a personal trainer who helped me with my nutrition and training for a while. After all these years, I learned that I was under eating and lacked protein. From that point, I started to build a good foundation and relationship with food, gaining healthy weight, and lifting heavy to build muscle.
In 2018, once again I decided to enter the 250K challenge using the 12 week Lee Labrada program on the Bodyspace app. This time around I was going to complete the program in its entirety. While I did not win, I made the best transformation I could in 12 weeks and was very proud of my accomplishments. It was from that point on, I knew I was ready to compete. On 7/7/2018, I stepped on stage in the best shape of my life and will not stop there.
How did you change your eating habits?
I started to track my calories, macros, and overall food intake via My FitnessPal. It kept me accountable and aware of what I was putting into my body. I realized I needed to increase my protein. I also needed to increase my water intake to 64 oz to 1 gallon a day, and eat 5 to 6 small meals a day. I stopped eating 100 calorie snacks and replaced them with whole foods.
Bodybuilding.com was also instrumental in my transformation journey. It's where I learned what bikini, figure, and physique competitors consumed on a daily basis. I developed my meal plans based off of articles that inspired me and tweaked them as I went along. After the 250K challenge ended, in April of 2018, I enlisted the services of competition prep coach, Steve Poynter at Fitness Poynters, to help me reach the next level of leanness and step on stage. Through Steve, I was better able to understand how to utilize my protein, carbs, and healthy fats when lifting weights. Although my eating habits have changed, I still indulge in the foods I like from time-to-time when not on competition prep (Oreo cookies, french fries, nachos, carrot, red velvet, and cheesecake). Everything in moderation.
What did your workout routine look like?
For the last 1.5 years, I've been working out consistently for 5 to 6 days a week. Weight training for 45 minutes to 1 hour followed by post-cardio ranging from 15 – 25 minutes. Post-cardio usually consists of the stair master, bike or elliptical. Leading up competition, fasted cardio is
incorporated for greater fat burn.
What is the biggest lesson you've learned so far?
The biggest lesson I've learned during my transformation is that you can do anything you put your mind to. Your mind tells your body what to do, not the other way around. I've attempted this journey many times before and did not succeed. Through perseverance, I finally did it. Just be consistent, trust the process, and believe in yourself. Be your own cheerleader.
What are your future plans?
I plan to compete in another bodybuilding show to end the 2018 season and study to become a certified personal trainer. I want to help other women reach their fitness and nutrition goals.
What advice would you like to share?
For anyone thinking about competing or weight loss in general, I can say that it's a life changing experience. Know that you can do it if you put your mind to it. The possibilities are endless. Also, NUTRITION is key; there's no way around it. You learn a lot about yourself and how your body
works. You learn who's really on your support team too.
It takes a lot of dedication, patience, and time. Results do not happen overnight. With the right guidance and support system by your side, anything is possible.
Instagram: @fitnessbutterfly08