Weight Loss Story of the Day: Roxanne lost 111 pounds in 11 months.  She is a survivor of childhood sexual abuse that is deeply connected to her weight gain.  She was able to not just lose weight but do the emotional and spiritual work that she needed to do to reclaim her self worth.  Read her inspirational story and check out her before and after photos below: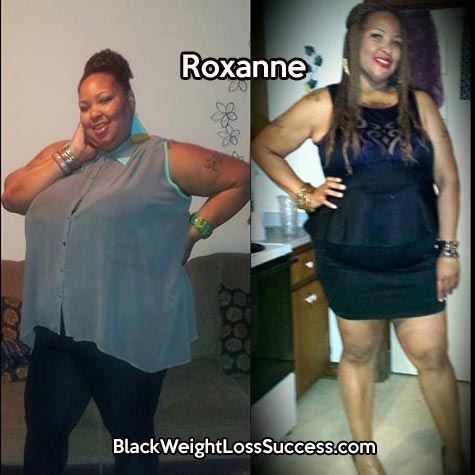 "Starting at the age of seven I was sexually abused by my step father. As I looked at childhood pictures that's when I noticed that the weight began to pile on. You see, whenever these horrific acts would take place, my step father would give me food as a 'reward' and for any young child cakes, fast food and snacks are some of the best rewards to have. I had developed a technique in my mind that would allow me to leave my physical body and to think on all the 'junk' I was going to purchase and or receive once the act was over. This is where my relationship towards food began. I made food my comfort and over years I gained more and more weight.
On May 25, 2013 I started my weight loss journey at 388 pounds. I was having a daily devotion time and God began to speak to me.  I made the decision to journal my weight loss on Facebook (the good, the bad and the ugly) because it held me accountable for my outcome and I knew that others were watching and I refused to let them down. I began walking 1 mile, five to six times a week. I started drinking protein shakes and limited my food intake by counting calories. I began eating six small meals a day every three hours to avoid being hungry. I gave up red meat, fast food, fried foods, and drank only water. I would plan my meals in advance and I always kept healthy snacks in my car and purse for 'emergencies'. I also drank lots and lots of water.Eventually, I added water aerobics, Zumba, kickboxing, weight lifting and jogging to my routine and I continued working out at least six times per week.  Two things that really worked for me was making exercise a hobby as opposed to making it a task and reminding myself that this is a lifestyle change, not a diet. Diets are temporary but a lifestyle change is forever.
In addition to me losing physical weight, I began a healing process which started from the inside out. I had to learn how to put myself first and I had to learn how to forgive myself and those that hurt me. My journey and my transformation was more spiritual than anything else. There was a 'deconstruction' process that had to take place before I could 'reconstruct' my thinking process. I was always told how pretty I was so I had good self-esteem but NO self-worth which onset SO MANY other issues in my life. My life was not an easy life by far but I am living proof that with faith, determination, consistency and hard work- ANYTHING IS POSSIBLE.
As of today I have lost 111 pounds (in 11 months) and gained my life back!!!! I have learned to love ME-flaws and all.  I've learned to take hold of the inner-strength that already existed on the inside of me.  You see, when your mind is in bondage, it prevents you from doing even the simplest tasks. This has been eleven months of the most sweat, tears, transparency, commitment, dedication, perseverance and consistency that I EVER endured in my life!! God holds my hand and I have allowed Him to lead the way after 37 years!!!!! God changed me. He changed my way of thinking. Made me believe in myself. He gave me hope and I finally believed in myself enough to recognize where my pain originated from and to know that I, Roxanne, was worth finally living my best life. I was successful only because I chose to give God all my pain, hurt, despair & weariness.  God gave me beauty for my ashes. Peace for my depression and hope for my pain. I had to be a role model for my three beautiful children so they could understand the power of believing in yourself. My journey isn't solely about weight loss.That's just the manifestation of it. It is about literally being healed from the inside out and allowing God the opportunity to do something great and different ONLY for His glory. I am living proof that God has the power to change your life COMPLETELY if you allow Him to do so. I'm not done yet (39 more pounds to go) but I can see the light & it's shining brighter than I could have ever imagine. If I can do it YOU CAN TOO!!! Thanks for allowing me to share.
Love, Roxanne"