Transformation of the Day: Kenyatta lost 49 pounds. Intermittent fasting, walking and weight lifting worked for her. During her journey, this mom learned that mindset is just as important as exercise and eating right. Check out her story.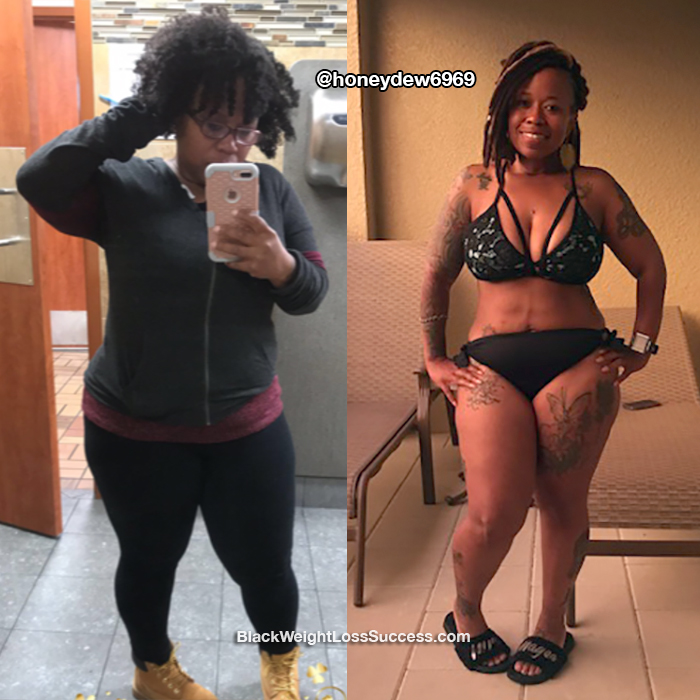 I'm a 38 year old wife and mom of 3 girls. Being able to play around and do things with my daughters is what keeps me motivated. I remember one day we were playing ring around the Rosie. Once we got to the part that says "We all fall down.", I went down and came right back up. My daughter was shocked, lol.  She said, "Mama I didn't think you would get up that quick with no help. Haha."
I started changing my eating habits in July 2017 when I decided that the weight needed to go. I went to the doctor and received a prescription for Adipex [an appetite suppressant], which I knew wasn't good for me. At the same time, I knew it worked.  I started taking Adipex in July but  I had to stop shortly after, because I didn't like how made me feel.  I continued to change eating habits, but the weight still wasn't moving.
In October 2017, I started doing something called intermittent fasting. It has really been a game changer for me. Along with fasting, I'm counting calories and increasing my water intake. I work out 5 days a week. My workouts consist of walking at least 3 miles in my neighborhood and lifting weights at home.
My starting weight was 187 pounds and now I weigh 138 pounds. My height is 4'9″. (Oh… and I've had no weight loss surgeries.)
I've learned that this process is a mind thing. You have to be ready and focused to get it done.  It's not easy to start, but once you've finally had enough and you are determined… you can do anything.
My advice: You have to start somewhere. Make little changes, take short walks… eventually you will get it. Keep pushing.
Instagram: @honeydew6969