Transformation of the Day: Monique lost 41 pounds. She started gaining weight in her 30s. Having decided that she didn't want to face the unhealthy side effects of carrying a lot of excess weight, she started her transformation in 2014 with help of a great coach. Despite some ups and downs over the years, she has not given up.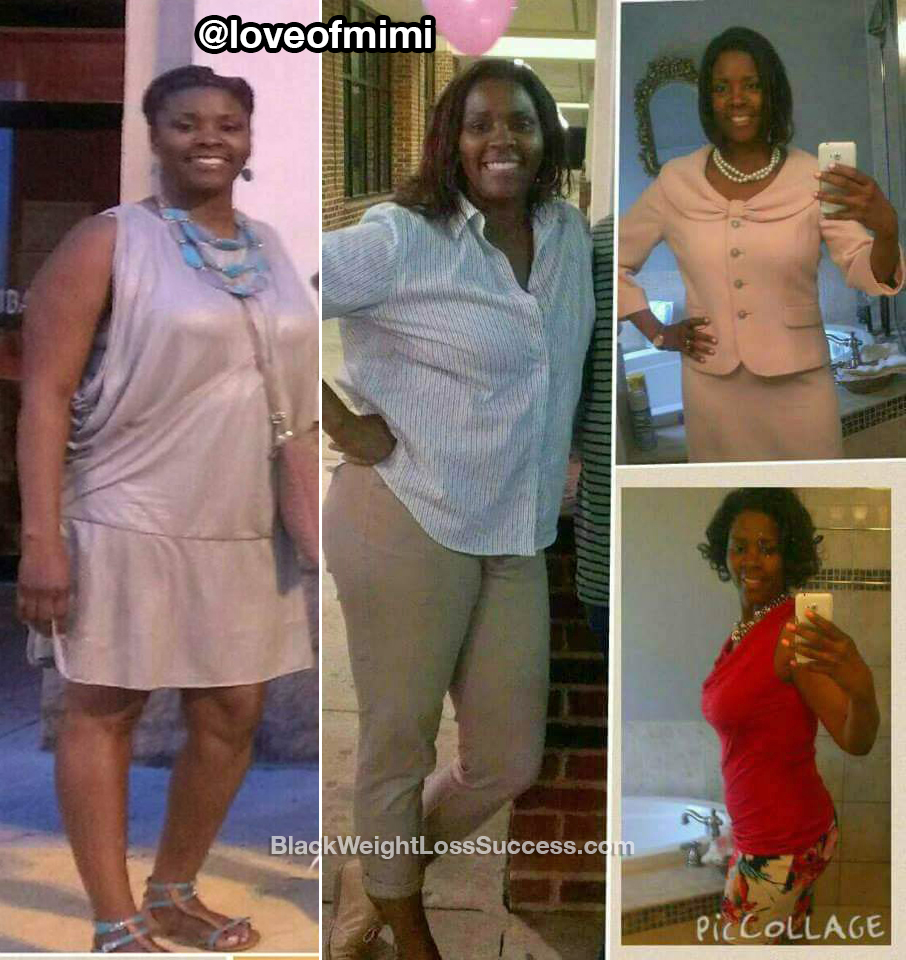 Obesity runs in my family, but I had always been unusually small. Then, I began gaining weight in my 30s. When I started this journey in 2014, I weighed 203 pounds (height: 5'9″). I got down to 162 pounds following a diet plan designed by The Diet Doctor, Terry Starks. The biggest lesson I learned was that my body could no longer accept the unhealthy eating habits I had picked up over the years.
Terry Starks put me on a specific 5 meal a day plan. My food was seasoned only with Mrs. Dash and I drank a bottle of water with each meal. I didn't have to decide what to eat or choose between foods, because it was all laid out in the plan. Terry would often remind me that if it wasn't on my list, then I couldn't have it.
At the time, I didn't even know you could purchase fresh ground chicken, but it was on my list. I found was a regular item in the meat department and it grilled it like would use regular ground beef. Didn't taste bad at all. I stopped eating fried foods and even learned to cook egg whites in the microwave. I gave up soft drinks during the 5-week program as well.
During the times that I wanted to give up and eat what I was accustomed to, I thought about how I just didn't want to get larger than I already was. I also didn't I want to inherit the unhealthy side effects that carrying a lot of excess weight can bring.
I started every day off with a 30 minutes of fasted cardio before I ate anything. I also mixed jumping jacks, jump rope and kicks into my workout on some mornings. I exercised on the elliptical machine and on the floor.
Also, after the 5 weeks were up, I started drinking Diet Coke again. However, at the beginning of 2017 I chose soft drinks as my sacrificial offering for the new year and lent season. I have given it up completely now, due to the carbonation and sugars.
I started in 2014 with the 5-week program. After I completed that, I decided to follow a more concentrated plan for an additional 8-weeks. After while, I started getting comfortable and fell off the program, gained some of the weight back, but later refocused again.
My advice to others: Learn to prepare your own food at home and do something physical each day. You just can't eat heavy every day or frequent buffet bars. Get a balanced low fat and low sodium meal on your plate, eat in small portions, eat often, and concentrate on the healthy food groups. Drink plenty of water and watch the weight and rolls of fat just roll off.
Instagram: @loveofmimi