Transformation of the Day: Nikki lost 54 pounds. After the breakup of a long term relationship left her angry, it was time to turn her attention to something productive. She decided to lose weight by understanding that 80% of the equation is what we eat. With at home workout programs and the help of a great personal trainer, she was able to transform her body and her eating habits. Here is what she share with us…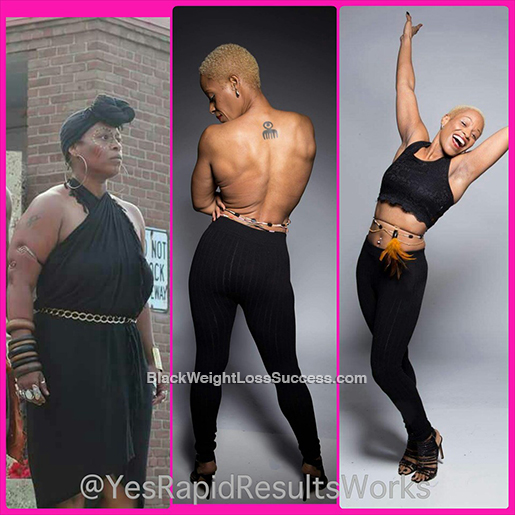 My motivation to lose weight:  In November 2014, I ended a 3 year relationship and was very angry about the situation and how it ended. It took a toll on me in that I was bitterly angry.  One evening as I lay in bed I heard a voice say to me, "Lose Weight!" I thought, "Ok." Then, I heard, "If you want to lose weight, obey the rules. 80% is diet and the rest is exercise."  I woke up the next morning and got right to it.
I had a workout DVD called 90 Day Supreme. It was a 90 day workout, including weights and some cardio. I began this program and modified my eating. I was so proud when I completed the 90 day cycle, then I repeated it. After 2 rounds of that program I started Insanity. This was in May 2015.
Later, a friend told me about a personal trainer, Tanya Rankin-Richardson, who had a food program called Rapid Results. I knew who she was and when I spoke to her she suggested I try her personal training program. It took me about 3 months to make that choice, but I did.   It was the best decision I believe I ever made. Up until that point the only thing that inspired me was myself. I could not stop and would not stop! When, I began working with Tanya, however, her spirit became my inspiration. She just has a fire that screams, "You can do it."
Initially, I changed my eating habits by cutting out sugar (except for Saturday's, which was my "cheat day."). Also, initially, Mon-Fri, I would eat vegan meals and on the weekends I would eat meat. I ate a lot of veggies and tried different things, like protein drinks. I had a lot of success and some setbacks, but I kept on going. During one of my setbacks, I saw immediate bloating in my face and I pulled a muscle in my hip. I didn't exercise for a week, so I didn't eat any sugar, oil, butter, carbs or anything white while I couldn't workout and saw immediate results. When I began training with Tanya, I pretty much kept that diet because I liked it and I got used to it. I did start eating carbs again as she instructed me to, but a minimal amount. I just figured out what worked for me.
Again, I worked out with the 90 day Supreme workout twice, Insanity (which was a tad too insane for me) and, occasionally, I would get info from the BWLW Facebook page and do some of those routines. Now, I personally train with Tanya Rankin-Richardson 4 days a week and do cardio 3 days a week. I take Xtreme Hip Hop with Phil Weeden, Owner of Naturally Gifted Fitness Center in Cleveland, Ohio. That cardio has helped tremendously and it is so fun!
My starting weight was 186 pounds and my current weight is 132 pounds.  I am 5'4″ tall.  It took a total of 1 year and 1 month to lose the weight. I began around Nov/Dec 2014 until Jan 2016 and I'm still going.
My advice: More than anything, KNOW THAT YOU CAN DO IT!!!  Find what works for you and, yes, obey the rules. You will see progress. It may take time, but that's the beauty of it. Taking time gives you time to change your mind and in changing your mind you can change your habits. Nothing permanent happens overnight, but it happens. I told myself everyday (and I still do), "Never give up." and in never giving up you will succeed!  As well, I found a passion I didn't know I had.
Now, I am a certified Rapid Results instructor (certified by Tanya Rankin-Richardson and Rapid Results, created by her).
Instagram: @rapidresultsnl (inactive)