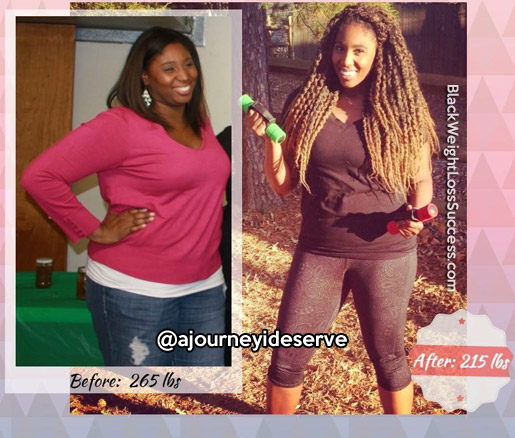 Update: We featured Kiah's amazing story a year ago. She's maintained her weight loss and dropped 8 more pounds. "I am down a total of 55lbs and have about 50 more to lose. I'm off my medication and losing weight naturally with PCOS. I've lost more inches than anything! I'm also teaming up with doctors
and specialists to spread awareness about PCOS in hopes of finding a cure. The biggest changes that have helped me lose weight and keep it off is my willingness to keep working out. Even when I don't always make the healthiest choices, getting adequate exercise is vital for continued success. I still don't drink sodas and do my best to stay away from processed and chemical based foods. I continue to workout out at least 3 times weekly for 45-60 minutes. Here are some new before and after photos that I hope inspire more women. Thank you again for sharing my story. It is most definitely a journey. Steady wins the race!"
I want women with PCOS to know this….Fact: Women with #PCOS who exercise 30 minutes a day can lower insulin levels and take inches off their waist. A recent study has shown that PCOS women did not see weight-loss on the scale, but lab testing showed improvement in insulin sensitivity and waist size. I am proof that you can still become healthier and smaller even when the scale doesn't move. I'm down 5 dress sizes and my PCOS symptoms have reduced significantly.  For more information on the importance of exercise for PCOS go to www.pcosnutrition.com
Here are some new before and after photos that I hope inspire more women. Thank you again for sharing my story. It is most definitely a journey. Steady wins the race!" www.facebook.com/AjourneyIdeserve
Oct 2014 – Weight Loss Story of the Day: Kiah lost 47 pounds.  She was diagnosed with PCOS and experienced a number of symptoms including weight gain. She has worked to get her PCOS under control and change her life.  Here is more info about her journey…
I have always struggled with my weight. I've gone from the college athlete playing basketball on a daily basis to an emotional eater adding unhealthy weight. My fitness and health experiences are broad spectrum. Recently,I was diagnosed with PCOS. I gained 95 pounds and went up 9 dress sizes in 11 months, losing a bit of myself in the process.  I felt so alone and lost due to excessive facial hair, rapid weight gain, heart complications, and mood swings. I am currently on Metformin for PCOS, however that alone was still not enough to get the "old me" back. I had to fight for her and even though I did not always know how I would succeed, I was certain that I was going to succeed. Today, I am happy to say that I have lost 47 lbs and counting! Changing my eating habits and working out is a must for me to win against PCOS. I am sharing my journey to healthy living in hopes of helping my friends and family.
We all know it begins with a choice, a commitment to oneself to break bad habits and embrace good ones. We also know that the choice must be made daily, hourly; from 5 am alarm clocks to turning away carrot cake and doughnuts at work. My commitment is not just about losing weight, but starting a new lifestyle that includes better food, more activity, more joy, feeling healthy and happy. I am committed to caring for me because I deserve a joyful life.
My initial weight loss commitment was a struggle. I would exercise hard before going to work. I was feeling like I had accomplished a great deal only to see little to no weight loss (my starting weight for this journey was 265 lbs.). Weeks went by and only a few pounds to show for all my effort. Needless to say, I was discouraged feeling like perhaps the whole idea and effort put forth was pointless. I knew something wasn't right as I had lost weight before using the tools that I had gained from all those years in athletics, yet I had no answers. Fortunately, I gained health insurance (finally) and made an appointment to see a doctor. I was diagnosed with PCOS or Polycystic Ovary Syndrome; a disease in which women's hormones are imbalanced causing unwanted changes in the way women look. Overtime, it can lead to serious health problems, including heart disease and diabetes, due to weight gain. I am now on medication for the PCOS and with my doctor's blessing I've recommitted to my goals.
I exercise at least 4 days a week and eat healthy foods once foreign to me – eggplant, brussel sprouts, and asparagus; in additional to healthier meats, no soda, more water, and no meals after 8 pm.  I also chose to commit to the Dr. Oz two week cleanse diet during my journey with great success – 11.7 lbs. in ten days.
It has taken me about 8 months to lose 47 lbs. Its a journey my friends and I hope other women are inspired by mine. This is my journey. Everyone deserves to be healthy and happy…inspiration comes from a myriad of sources. Perhaps my successes, struggles, insights and support will inspire others. For workouts, motivation, and inspiration go to www.facebook.com/AjourneyIdeserve
Instagram: @ajourneyideserve