Transformation of the Day: Shermaine lost 103 pounds this year with healthy eating habits and at-home workouts. Her motivation was ignited during a trip to Universal Studios, where she was unable to ride some of the rides due to her weight. Check out how she took action to change her life.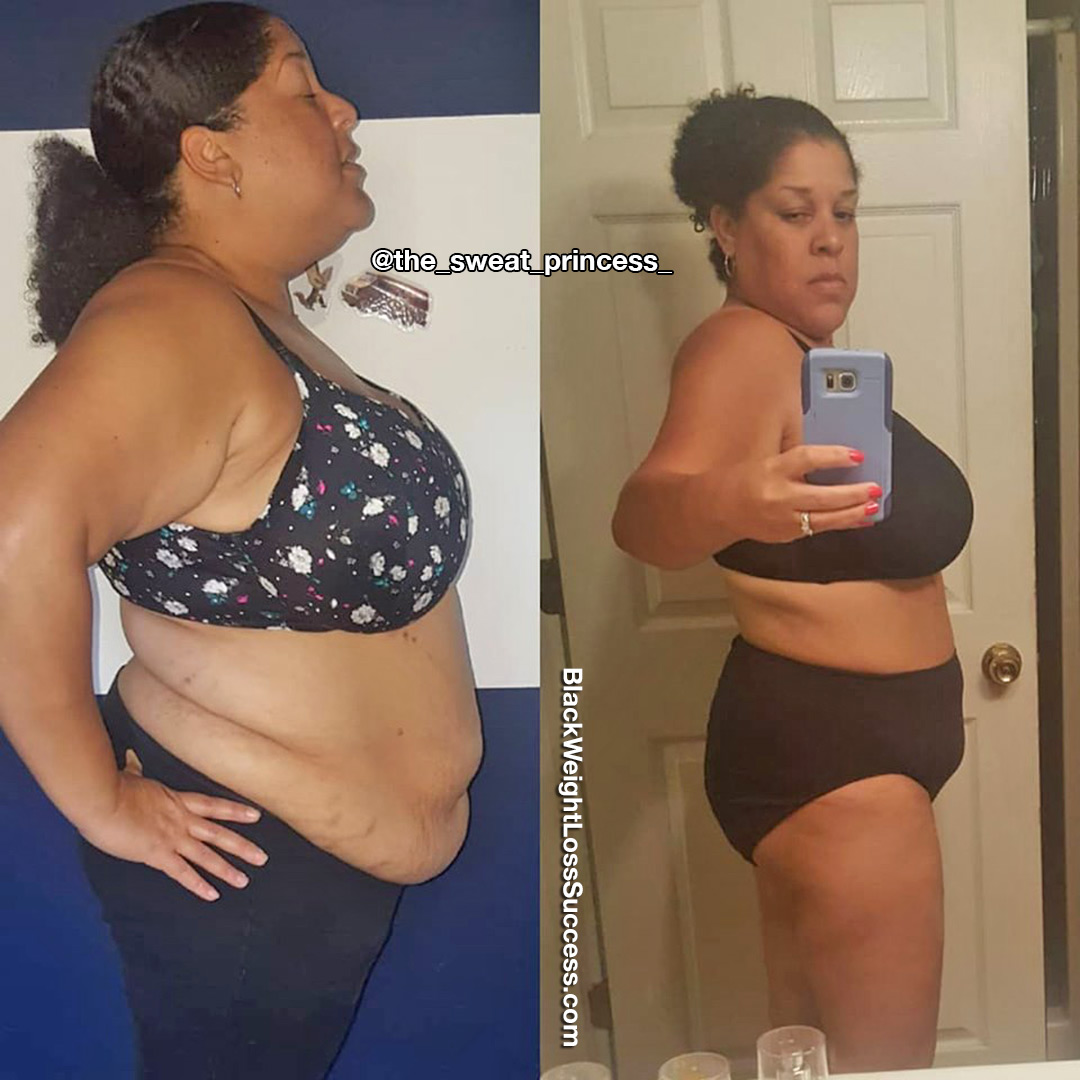 What was your motivation?
My motivation was ignited when I went to Universal Studios Orlando with my family for Thanksgiving in 2018. I was utterly embarrassed when I was not able to ride some of the rides. My weight was a safety concern due to not being able to fasten the safety harnesses and seat belts. When I came home, I immediately started looking at weight loss stories on BWLW and Instagram for motivation.
What inspired you to keep going when you wanted to give up?
As part of my internet search for weight loss success stories, I came across two girls who were once at my current weight at the time. They had lost 100+ pounds in less than a year. I thought to myself, "This can totally be done." These two beauties did it, and they experienced everything that I was experiencing. The best part is that they did it in less than a year. I wanted to see if this could really be done.
How did you change your eating habits?
I did some research on the Keto diet. I watched a ton of Dr. Berg's videos on YouTube, and I bought the book, "The Complete Ketogenic Guide for Beginners."
I gave up sugar, sodas, Milkduds, sweets, fast food, pasta, rice, and white flour. I increased my water intake, lowered my carbs, and made sure to include veggies in my meals (especially green veggies) as much as I possibly could. At about the six-month mark of eating Keto, I began to intermittent fast unintentionally. IF came into my routine because I wasn't hungry, and I didn't really have cravings anyway.
What did your workout routine consist of?
I had a gym membership, but I got annoyed with always having to wait for the machines. Then, my favorite Zumba instructor broke her toe and was gone for six months. That was an indication to me that my weight loss journey was just that, MINE! So, I started doing workouts online with Popsugar Fitness on YouTube. Next, my obsession with Jillian Michaels began. I started with Jillian Michaels' "Ripped in 30 and 90-day Body Revolution". I have gone on to buy several others. I workout now between four to five days a week, which includes strength training and two days of HIIT Cardio.
Starting weight/Current weight
My starting weight as of January 2019 was 298 pounds. My current weight as of November 2019 is195 pounds. I'M IN ONEDERLAND!
What is your height?
5'7″
Was weight loss surgery part of your journey?
I did this with no surgery and no pills. I strictly changed my diet and
exercise routine. I'm patient with myself and have to work at this every day. I'm still on this journey, but thank GOD I'm not where I used to be!
What is the biggest lesson you've learned?
My biggest lesson is that falling in love with myself was the best thing that I could have ever done. I became selfish this year because I realized at the rate that I was going, I wouldn't have any more of myself to give away. I want to be able to enjoy being 40, 50, 60, and 70. It's okay to love ME.
What advice do you have for women who want to lose weight?
Stop procrastinating. Stop overthinking. Just pick a random day to start instead of waiting for the holidays to pass, or for Monday to come. Just start! Love yourself enough to start!

Pinterest is an excellent place to find recipes and meal prep ideas.

Be patient with yourself, and don't look for the quick fix. Rome wasn't built in a day, and neither were you.

Don't beat yourself up when you fall off track. Get back up and keep going – even if it's all in the same day. If your car had one flat tire, would you flatten the other three because of the one flat? No, so don't do that to your body.

Celebrate the small victories with something else other than a "cheat day" or food.
Instagram @the_sweat_princess_ 
Facebook: Sweat Princess