Today's featured weight loss story: Sky lost 36 pounds.  She was suffering from psoriasis and had just been diagnosed with diabetes when she began her journey. Here is what she shared with us: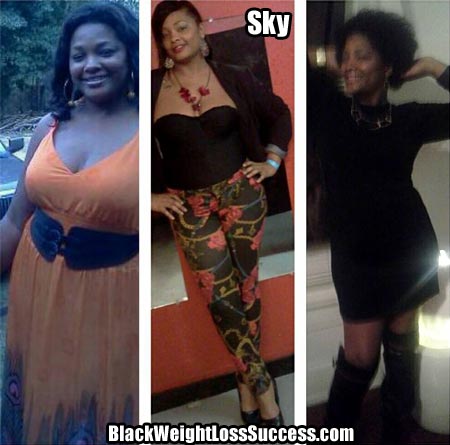 "Okay, here is my story: After giving birth to my son three years ago, I could not get my weight below 250 pounds to save my life. I was diagnosed with psoriasis (a deficiency that causes scaly dry skin on my arms and legs). I think the psoriasis came from the Mirena IUD, but that's another story. At any rate the doctor ran some test and found that I also suffer from Type 2 Diabetes. Most family on my Dad's side has gone blind, lost limbs, and even died from Diabetes. After that visit I had to get serious about losing this weight.  From 2012 to 2013, I went from 250 to 214 pounds.
How am I doing it? Well, I have a regiment that I follow. I have replaced most of my meals with fresh fruits and vegetables. I drink a warm glass of water with fresh squeezed lemon EVERY MORNING. In the afternoon I eat light and take a couple of shots of Apple Cider Vinegar with the Mother.  I try to stay away from sugary stuff..I make my own juice and eat fruit most of the time. I rotate my workouts between Dancing with the Stars Latina Version (great for the core and cardio) and the ab challenge.
I have to thank my girls in @Southern Girls Lose Weight Too for their support and motivation! Taniqua NeNe Howard, Tanesha Johnson, Rashaunda Jarmon, Kea Bradshaw…love you ladies!"