Transformation of the Day: Taria lost 86 pounds. Health was her motivation. She was tired of suffering from very high blood pressure and anemia. She cut back on carbs, cut back on meat and worked with a trainer. The key to her success was consistency. Check out her journey.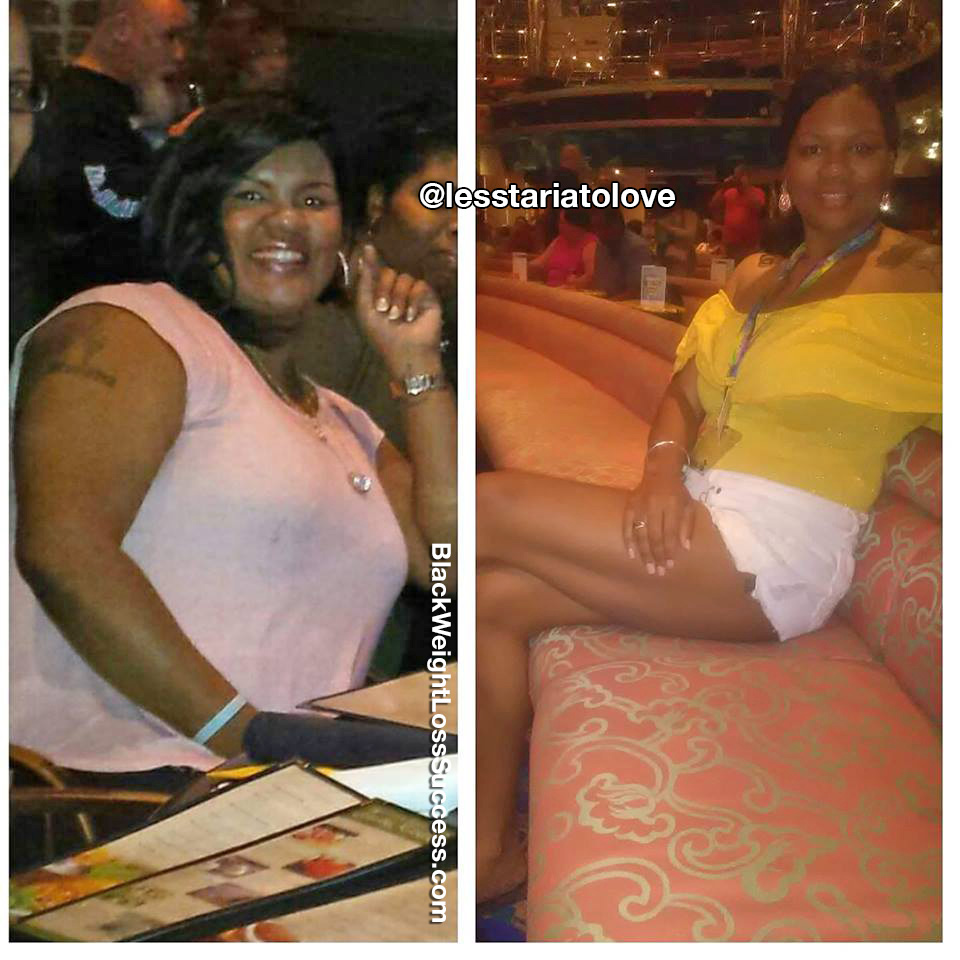 What was your motivation? What inspired you to keep going, even when you wanted to give up?
My blood pressure and a hormonal imbalance are what motivated me! I hated every time I would go to the doctor's office. I would be told, "We have to look at options to get your blood pressure under control."(It's a silent killer) On average, my blood pressure would be in the 190s and up over the 100s and up. Also, my menstrual cycles would last for days!!! This caused me to become anemic because of all the blood loss. Eventually, I had to get a blood transfusion. ENOUGH was enough. I was tired of trying to quick fad diets. On Jan 2, 2017, I decided to start a lifestyle transformation!
How did you change your eating habits?
I cut back on my carb intake in the beginning. Then, I cut back on meat. I've never been a soda girl, so that wasn't much of a problem.
What did your workout routine consist of?
For the first year, all I did was walk…nothing extra. Then, I found an amazing trainer who took into consideration that because I was anemic my oxygen levels were low so working out was a challenge that I had to overcome daily. Now, I work out 4-6 times a week. I'm actually becoming addicted to working out, lol.
What was your starting weight? What is your current weight?
My starting weight was 267-270 pounds. Today, my weight is 184 pounds.
What is your height?
5'10"
Is weight loss surgery part of your journey?
No surgery!
What is the biggest lesson you've learned so far?
Just like anything else in life, CONSISTENCY is the KEY. It's ok if you fall off. The main thing is to get back on and keep pushing!
Also, I was confusing my beauty with my health. I trained myself to think, "Yes, I weigh 267+ lbs but I'm still pretty." A pretty face with blood pressure at 190s/100s and up, a pretty face with hormonal issues because of weight, a pretty face that couldn't walk a flight of stairs without feeling like I died…  I had to realize that beauty and health are NOT the same.
What advice do you have for people who want to lose weight?
So many people will say, "I can't pay for a trainer.", but you can spend hundreds of dollars on medication for conditions that can be controlled with fitness and diet alone. (Or, we spend nearly $100 on food each week that is killing us!)
Also, having someone to push you is good, whether it be a trainer, a spouse or friend. Having someone in your corner to push you is good! That is why I love the Black Women Losing Weight page. It was a motivation for me!
Yes, this journey was hard, but anything worth having can be hard! Your body will thank you! Take it day by day. Set small, realistic goals and when you reach one of those goals, set another. Don't try to rush the process. Just stay consistent, and everything will come into place.
Instagram: @lesstariatolove