Great Transformation: Tashonda lost 55 pounds. An embarrassing wake up call at the doctor's office motivated her to change her lifestyle. An office weight loss challenge gave her the jumpstart she needed lose the pounds. Here is what she shared with us about her journey…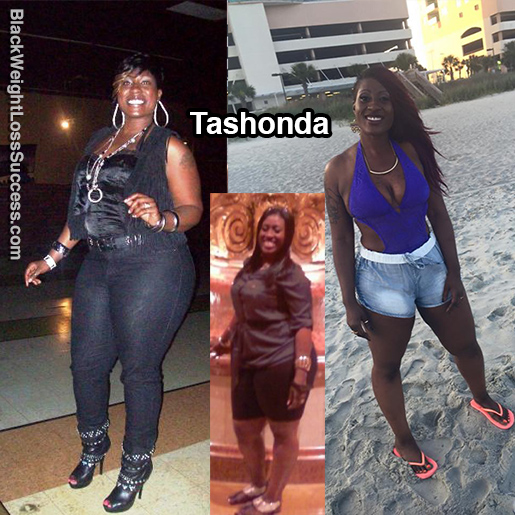 Motivation: I began to have knee and lower back problems. The physician indicated to me flat out that it was my weight. I was embarrassed and made sure he was never able to say that again.
Inspiration: My inspiration was a 8 week weight challenge with co-workers.  There were weekly weigh-ins and if you gained you had to pay 1 dollar for every pound gained. The fun, competitive nature of the weight loss challenge was right up my alley. Whoever lost the most weight won.  I won the competition and the money!
Eating Habits: I used portion control and I always look for the healthy alternative. I found myself scouring the menu for the items with the least amount of calories and got a little annoyed with restaurants that didn't provide nutrition information. For those restaurants, I relied on my app. I stopped eating on the go and I plan ahead. I reduced my intake of sugary snacks and forced myself to eat lunch. In management, it's easy to get caught up in never ending meetings and long hours. I made it my mission to get out of that building daily and take a full hour lunch.
Exercise: In the beginning, I worked out 7 days a week after work, sometimes working 12 hour shifts. Initially, I did mostly cardio, walk/run combos. Now, I'm in the matinee phase, where I do a 45 minute run at most. Weight training is my passion these days.
My initial goal was to just be able to run 10 minutes straight on treadmill. Now, my goal is to run my 1st marathon. My beginning weight was 230 pounds and my current weight is 175 pounds.
Her website: TailleFineshapewear.com