Today's weight loss success story:  Trayce lost 100 pounds with clean eating and exercise.  This mom of 3 has been inspired to become a fitness instructor and wants to help other moms get healthy. (See her update below.  She is now down 137 pounds)
"I've lost 100 lbs through clean eating and exercise. Im a Celebrity Hairstylist who is now studying to be a fitness instructor. I love my new life! Im also a mom of 3 and a wife.
I totally changed my eating. I hired a nutritionist to teach me how to read labels and understand food better. I worked out 3 times a week in the beginning. Then, after 50 lbs off, I started going twice a day sometimes. My transformation has taken 2 years and I'm still going. My motivation has been wanting to be the best me I could. I lost the excuse of "its baby weight". I'm 34.  At age 29-30 my husband use to have to push me out of bed and help me up the stairs because my back hurt so bad. I was in and out of the hospital with anxiety attacks. I was just too young to be that miserable. I was an athlete and model prior to my 3 kids (12,9,7).  I wanted my life back and I got it. Now I'm training to be a fitness instructor to help overweight moms. I love how GOD has used my journey to help others."
Check out her Facebook page.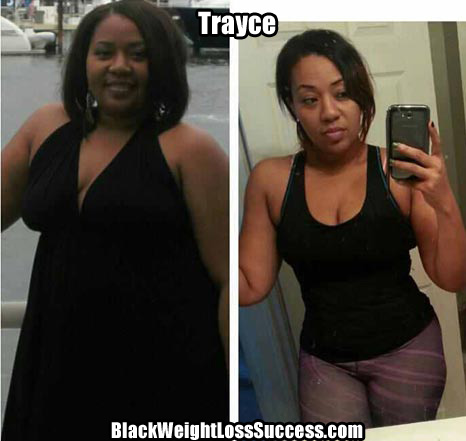 Updated (Nov 2013) – Trayce is now down 137 pounds: "I did it again!!! People still cant believe that I'm doing it the real way! I'm now done. I've been on tv and my photos circulated everywhere. I need the right platform to help others which is why I keep coming back but I'm not half my weight. Praise god it can be done!"