Here is an update of a previous post on Erica's weight loss journey.  She is down a total of 37 pounds and her boyfriend Bishop is her personal trainer.  I love that!! Here is what she shared with us:
You featured my progress on Valentine's Day this year and I had mentioned that I wasn't done yet. Well my official one-year weight loss journey came to an end on June 3. My boyfriend/trainer and I celebrated with a professional photo shoot while vacationing in Vegas during the week of June 3. I have also attached a public note detailing my stats and what they all mean and what this journey has taught me. The stats are important because they show where I started on June 3, 2012 to May 28, 2013.
Stats: June 3, 2012, Sept 1, 2012, May 28, 2013 
Weight: 175.0 157.6 138.0




Waist: 34.0 29.8 27.0




Hips: 44.0 40.0 36.8




Thighs: 26.0 23.0 21.5




Arms (both): 13.0 11.5 (stopped measuring)




Body Fat: 42.4% 35.0% 19.0%!!!! 




(Final goal: 16%)

Starting pants/dress/shirt size: 13, x-large, large/x-large 




Ending pants size: 4/5




Starting dress size: 13/14, large, x-large 




Ending dress size: SMALL




Starting shirt size: large/x-large 




Ending shirt size: SMALL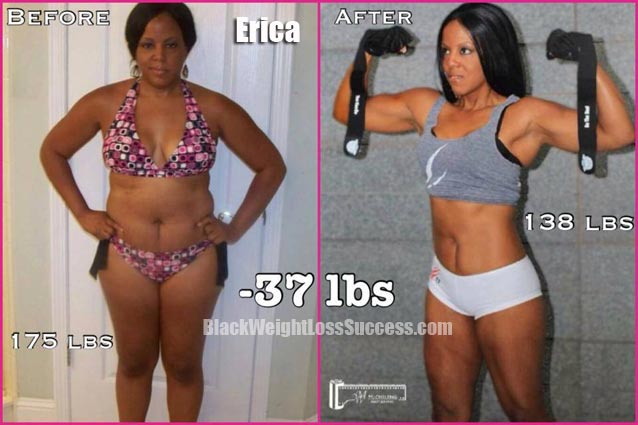 I began my fitness journey weighing 175 lbs. with 73 lbs. of my body's weight being FAT! I lost 47 POUNDS OF THAT FAT.  Now, I GAINED 10 POUNDS OF MUSCLE! The addition of muscle fibers helped to burn some of that fat. ***UPDATE: current weight is 133!!*** My ultimate goal is to achieve my racing weight (I run 5ks, 10ks, and hope to run my first 1/2 marathon in March 2014) of 125 pounds with maintenance between 125 to 135.
What I have learned from this one-year journey:
I was in denial about how big I was. Even at my heaviest of 175 pounds, and wearing a size 13, I was still in denial. I carried the extra pounds well, so I guess it didn't really bother me as much.  That was until I saw myself in pictures from our cruise in April 2012. Everything changed from that moment. I saw rolls and muffin tops I had never seen that on me before. That was my dose of reality… wake-up call… lightening bulb flashing. I knew something had to give. All I wanted, at that point, was to simply lose 20 pounds. Little did I know what was in store for me for a whole year later!
It is very important to know what I am eating,what I subject my body to. I truly cherish my body and want to live a long and healthy life. I developed a whole lot of discipline from day one. I gave up a lot of favorite foods and went cold turkey on 85% processed foods, frozen meals, boxed meals, fast food, sodas, juices/sugary drinks, Starbucks, cold cuts, hot dogs, chips, cookies, cakes, pies, red meat, pork, most ground beef (on the rare occasion I will do 93/7 extra lean), non-organic chicken, white sugar, white pasta, breads, ALL FRIED FOODS, etc. For me, I learned what I had to do to make this journey successful and went in full force with no excuses. Portion sizes can make or break you, too. I weigh, count and measure EVERYTHING according to the serving size on the package!!!!
Yes, there were many failures just as there were many successes. There were many injuries that caused me to slow it up big time: knees (from the Insanity and P90x programs), right shoulder blade/rotator cuff (from lifting weights), left elbow (from lifting weights), etc. That's part of the process of learning to create and maintain a healthy & fit lifestyle. This is something I can carry with me forever and not just for 8 weeks or so. Yes, I treat myself. Bishop (my boyfriend) and I go out once a week… and sometimes twice in a week. But we plan ahead 99% of the time. Other times, we just let it ride because the rest of the time we do eat healthy.
My boyfriend finished out the last 6 months of this journey with me. He was working behind the scenes for the first 6 months because he wanted the focus on me.
I also must note that, although he could have set me up on a plan to lose the weight in 3 months, that was not the goal of this journey. The goal was to create a healthy lifestyle that I could maintain for the rest of my life. There was no rush to lose the weight as there was (and still is) so much to learn and do the right way.  It is also VERY important to note that this is a lifestyle, not a fad. There is so much to learn (I am STILL learning) and it is impossible to learn everything in just 3 months.
We work out 4-6 days a week and take rest days AT LEAST 1-2 days a week. People think they HAVE to work out every single day but, in all honesty, they are causing more harm than good by NOT allowing their body to rest and recover. We run 1-2 times a week, hit the elliptical twice a week, do HIIT programs several days a week, and strength training several days a week.