Our featured weight loss story of the day: Bre lost 45 pounds this year.  However, she wrote us to share a timeline of her whole weight loss journey.  It's a reminder that weight loss takes time and that change doesn't happen overnight.  Check it out.
Lets run down the last 5 years quickly.
– In 2007, I had a stressful job and though I was having a heart attack.
– In 2009, I l ost my job and didn't recover at all due to the recession.
– From 2010 to 2012,  I had went from a 26 to a 22 but was stuck there weight wise.
– In 2013,  I just got pissed off.  Seriously, everything was piling on me.  Stress + Weight = disaster.
So, here is what happened to set me free. I watched a YouTube documentary with my husband who is a diabetic called "Simply Raw" about a group of diabetics going raw for 30 Days.  It talked about clean eating all the way on a raw vegan diet (aka. being a raw foodist).
Then, the next month, Black Women Losing Weight did the monthly challenge of Vegan/Vegetarian eating.  That was right up my ally. So,  I threw myself in nothing but fruits, veggies, lean meat (fish or chicken) and water/ 100 juices for the first 2 weeks. Then no meat or juice just water for 4 weeks. I went over the challenge time line. I was amazed to see 20 pounds gone in a month.  I wanted more but decided to add protein back (clean fish no catfish, crabs, shrimp, etc and chicken).  No short cuts. I dont eat BS until my cheat day which is between the 15-18 of the month.  On day I have a ice cream cone or a 25 cent bag of chips. Thats it.
My start weight in May 2013 was like 275 pounds.  I am now 230 pounds.  My heaviest weight, without pregnancy was 340 pounds.
I do the Beachbody Challege, which is better known for Insanity, P90X etc. I fell in love with another program, Les Mills Combat. It's High Interval Training which burns fat and calories as well as adds weight for muscle tone and build. I routinely do this while running 10 miles a week. i just chose any day and say "Ok, do I have my 10?" I look at MapRun, which is a free app with Android and go running. I usually do this about 3 miles, 3 times a week.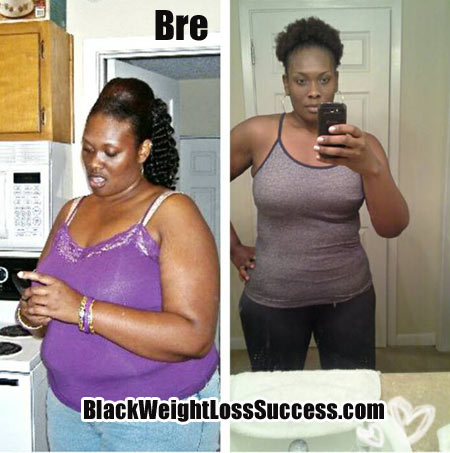 Review…
My Motivation: Pissed off with Life (Too Stressed)
Routine : Les Mills Combat 5 times a week. Running 3 times a week (minimum of 10 miles a week)
Eating routine: Fruits , veggies, lean clean meats (selective – no bottom feeders *catfish, shrimp, etc*, fish and chicken), Water (add lemon, mint, fruit), 100% juices. One cheat day a month..mine is usually on the 18th.
Total time for full transformation : May 2013 – August 2013
Photos: Before photo is from 2009 and the after photo is from 2013.