Shout out to the amazing Caroline Jhingory! This woman released 150+ pounds and has kept it off for almost 20 years. Her story inspires us and lets us know that long term success is possible.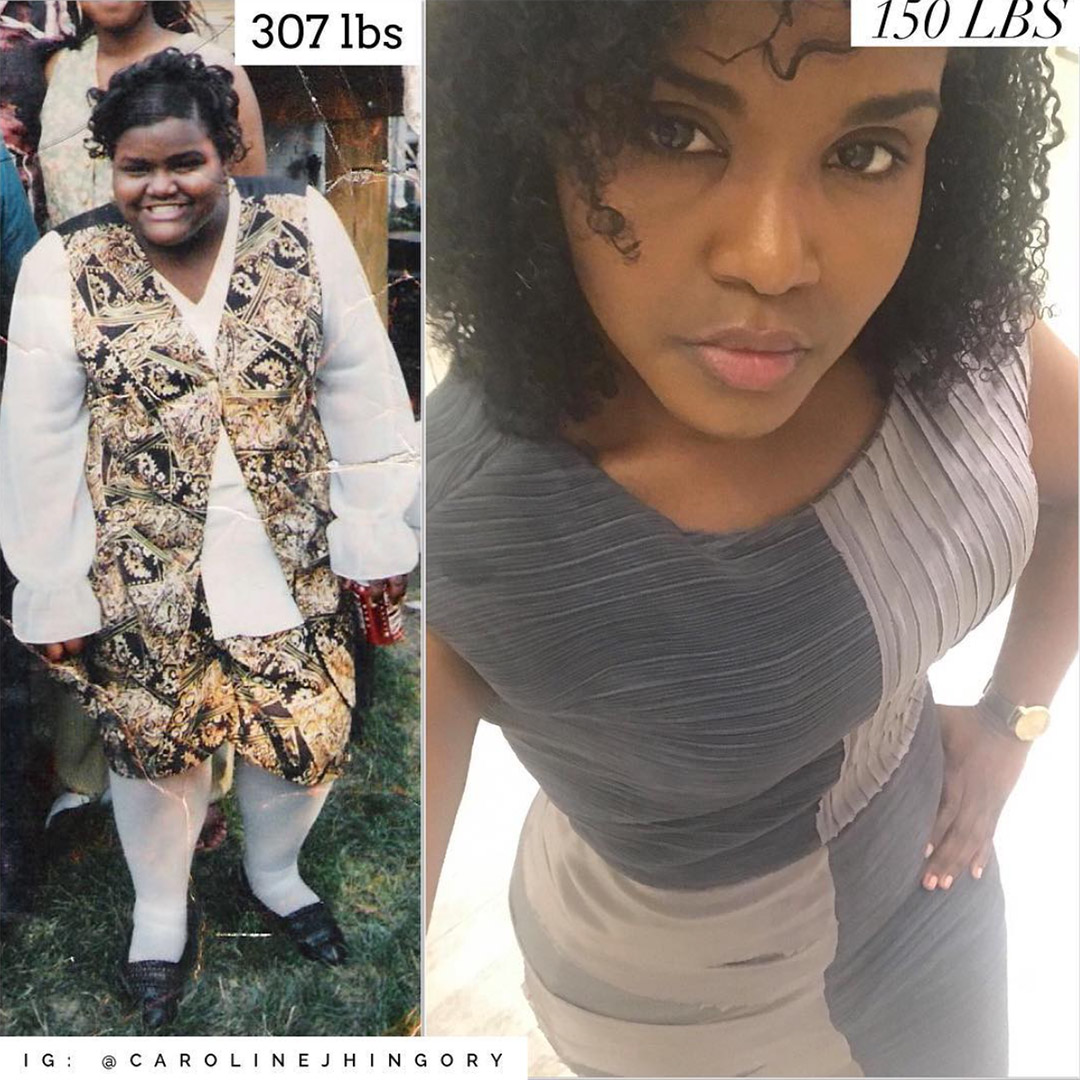 Update Sept 2018: "The best compliment that I ever received was from a doctor here in my hometown Washington, DC. "You are an African-American woman that has lost and maintained a 150+lb weight without weight loss surgery and kept it up for over 15+ years. I've been a physician for double that 30 years, and I have rarely seen that."
I will say that now in life maintaining my 150+lb weight loss is just as hard if not harder as it was too lose it. Metabolism and hormone changes, and it just seems food especially chocolate taste better and better in your 30's. Still a positive support system of people and positive self-talk keep me in line.
Power-walking everyday is a regimented part of my life just as taking a shower. And I don't bring any unhealthy foods into my home. I save indulges for dining out or family gatherings."
– @CarolineJhingory
---
Author and weight loss expert Caroline Jhingory is definitely a weight loss success story that you need to know about.  She has appeared on the Dr. Oz Show, TODAY Show, the Huffington Post, and in PEOPLE, ESSENCE and SHAPE magazines.  You may have checked out her book, Half My Size: How I Ate To Lose 150lbs.  I had the chance to ask her the questions we ask all of our featured ladies.  Check out what she shared with us: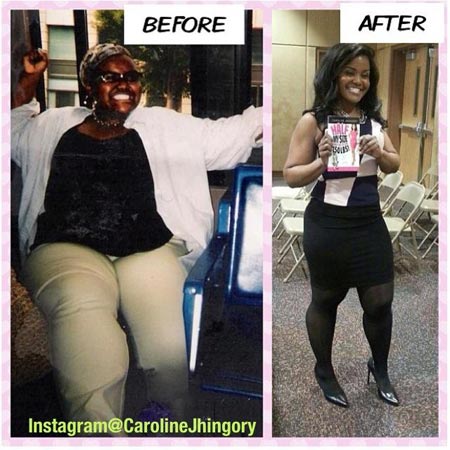 What was your motivation?
Ten years ago weighing over 307 pounds on a 5'2 frame a dermatologist told me that the dark blotches on my skin were an indication that I was pre-diabetic. That moment was what I call my rock bottom. I decided right then and there that I was going to make the rest of my life, the best of my life.
What did you do in terms of eating to lose the weight?
Being that I was pre-diabetic, my family doctor's recommendation was to eliminate, not moderate all white foods from diet. Although these foods are not technically white, this meant all sugar, products made with flour, bread, rice, pasta, potatoes and corn. My new way of eating involved lean proteins (all seafood, chicken breasts and egg whites) and non-starchy vegetables only. (All vegetables, excluding corn, potatoes, peas, plantains, squash and carrots.)
What did you do in terms of exercise to lose the weight? 
I could not afford fancy personal trainers or a gym membership. So, I began to walk everywhere instead of catching the bus and subway here in my hometown of Washington, DC. Over the years, my body needed more of a challenge and strength gym. Eventually ,I was able to afford a gym membership and swore by machines like the elliptical fitness trainer and circuit machines. Now my primary workout is running on my treadmill at home while watching a ratchet reality TV show. It makes the time fly right on by!
Caroline also shared with us about having skin removal surgery.
Caroline Jhingory on the Dr. Oz Show – www.doctoroz.com/videos/secrets-skinny-pt-3