Today's weight loss success story: Darlene lost 70 pounds with handwork, the help of workout buddies and great trainers.  This proud mom and Air Force wife has shared a tremendous amount of detail on how she lost the weight.  Here is what she shared: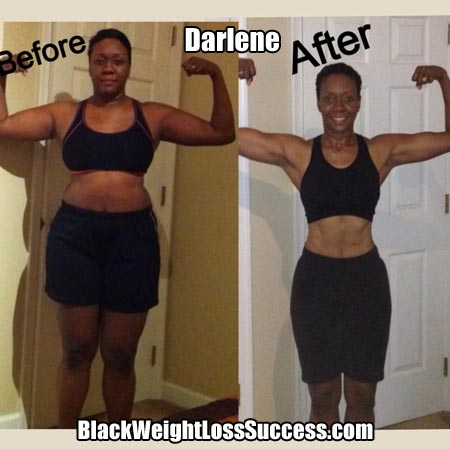 "Here's my story… Just like many people, I have dieted and exercised practically my entire adult life. I never struggled with weight as a child or adolescent. At 24 I was pregnant with my first son and weighed 118 lbs– 5'7". I gave birth to him at 136 lbs! I used every Buns of Steel VHS tape ever made in addition to joining Jenny Craig (20 lbs for $20 special). We had limited funds back then, so I could not afford to buy their food. I was down to 122 lbs again in 9 weeks. Somehow (as if I don't recall), I managed to gain more weight and was pregnant with my second son at age 28. Starting the pregnancy at 148 pounds and at the time of his delivery I was 203 pounds!!! I pulled out my VHS tapes again; added Taebo and lost most of the weight.
By age 30, I moved to Japan (Air Force spouse) and was in the 160 lb range. A coworker told me about the Atkins diet which promised to shed pounds quickly. It did! I practically ate zero carbs and dropped down to 140 lbs in a few weeks.  Low and behold, the weight came back again! I was definitely a yoyo dieter, trying other fads as well, such as cabbage soup. One Sunday, at church I met a group of ladies who were avid runners. They asked me to join them. I was not a runner, but they agreed to "help" me. Little did I know they met at 4:30 AM!!! I joined their group and eventually built up enough endurance to run three miles 3 days a week. I added 2 days of aerobics and was healthy and fit!! I maintained for several years, got comfortable again and was slowly gaining it back. By then I'm 35 years old!
In 2003, I did Atkins again along with a few gym visits. I managed to get down to 138 pounds! I was hungry as hell too! I think you can figure out what happened next-yes, a pattern had formed. Here's where things get blurry.  Life happened to me! In 2005 my parents lost their home (my childhood) home to hurricane Katrina. Total devastation!!! At the same time, my dad had become ill with Parkinson's disease, prostate cancer and a brain tumor! During this very difficult time, I lost all motivation to take care of ME! Fast forward—in 2008 my dad lost his battle after suffering a stroke. Although this was the worst hurt I've ever experienced (I'm a daddy's girl by the way), I felt as if I needed to be strong and accelerated my grieving process. After all, he'd be sick for years, so in my mind I was "ok." I had to be–I was a wife, mother of two and working on my master's degree.  NOT!!! I fell into a deep depression, gained more weight and was diagnosed with numerous ailments-depression, anxiety, arthritis, migraines, insomnia, fibromyalgia and hypoglycemia! I lost count of the meds I was taking.
By summer of 2010, I had lost complete control. To say I lacked discipline is an understatement. I ate in "secret" in my car at times due to the shame. I hid my weight well with all the right clothes and limiting my photos to head shots only. I was probably addicted to Krispy Kreme, Chick Fil A, Popeye's, in addition to sugary cereals, chips and cookies. Remember, I'm a southern native who believed in the term "comfort food." I consumed a fair share of wine as well! I remember a visit to the rheumatologist where the scale read a whopping 210 lbs!!! The nurse who attended to me commented "that's not bad." REALLY??? I couldn't believe that number and was just as blown away by her comment. Mind you, I'm still 5'7", 43 years old and 210 is "not that bad?" The next week, I went in for a sleep study.  The clerk checked at the desk commented, "Oh you remind me of one of the ladies from the movie "Waiting to Exhale." Hummmm, this was new. I'd been told that I favor the R&B singer Monica, but never any actress. I asked "which one?" She said "Loretta Devine." My mouth flew open. I said "really?" She could see that I felt insulted. In my mind, I thought, the fat one of the four friends? I fought back the tears as my hubby tried to console me by saying "she probably didn't mean it in a bad way."  He knew I was hurt. So, that was the day-the straw on the camel's back had been broken! I was sick and tired of being sick and tired. I slowly cut back from fast food and snacking and fell in love with Zumba. Within a few months, I'd lost about 15 pounds!
On March 28th, 2011, I started a new program through a Living Social special for Body By Ken Boot Camp for Women (BBK)! I remember thinking; there is no way I am going to survive a workout called "boot camp!" I imagined some guy (as pictured on the website) yelling and further humiliating me! But hey, it was only $25 for four weeks, so why not give it a shot.  I managed to trip and fall on the first day scraping my knee so badly I needed several bandages. I remember Ingani Franklin helping me and asking if I was ok to continue. Thanks to lessons learned from my daddy, the one thing I was NOT going to do was give up or punk out. I went back to join my team and survived day one. The workouts were so intense and challenging, yet we were highly motivated to always give it our best. We trained on the beach doing calisthenics and running across the sand in the summer heat and humidity. I met new friends who became my sisters (Jessica Abrahante, Angel Blackmon, Suzi Swims, Teneshia Nettingham, Angie Almond and Amy) just to name a few.  Ken, along with Traymond Hill, T-Marcus Whitney and David Long, never gave up on my potential! Initially, I lost nearly 15 pounds. I became discouraged each week thereafter when the scale would go up and down or remain the same. In May, I met a new teammate (Torrie Creamer) who joined us on the beach with a look of terror in her eyes. Remembering my first day, I decided to welcome her to the team and encourage her to try her best. She probably had no idea that I was just as encouraged by her tenacity. Week by week, we all bonded and pushed one another to stay strong and focused.
In August of 2011, my job transferred 25 miles away. Ugh!! Sadly, I had to drop out of boot camp and bid a very emotional farewell to my sisters. What in the world was I gonna do? I had become so dependent on the team spirit and camaraderie.  I didn't give up. I continued with Zumba and joined One Life Fitness gym. After a month or so of trying to get back on track, I decided to hire a personal trainer. I met Lenny Watson, who trained me for four months! OMG, he put me through hell and then some. I'd complain, whine, cry, moan, black out and even puke!! By December, I was completely on my own again. However, I stayed in contact with my BBK sisters via social media. I had no accountability to stay the course and no discipline to remain consistent. I hit another plateau. I read about my BBK sisters on Facebook and missed them terribly. I considered making the long drive in evening traffic to resume the program. I begged Ken to start classes on the peninsula, closer to my home.
Finally, in April of 2012, BBK began classes in Newport News! I had a new group of friends and sisters. David Long was our trainer. I was so excited. In fact, he whipped me into shape and motivated me to try out for my red shirt. I avoided this challenge for months. In my mind, correction, I would actually say out loud "I can't do regular pushups."
On May 25th, 2012, I accepted the challenge and became a red shirt. Since then, I've been determined to stay focused and motivate others to do the same. For the record, my weight was close to 175 at the time. Although I was stronger and probably gaining muscle, I knew that number was still too high. Before, during and after class, Ken or David would stress the importance of diet, discipline and preparation. I heard the saying, but didn't listen or apply the principle. Bottom line, I wasn't consistent. I knew exactly what to do; I just figured I could do it every now and then. In other words, it wasn't a lifestyle change.
Well, along came April Acosta as our new trainer in June of that same year. This was the blonde bombshell who I'd met a year ago during the Red Shirt Competition. I remember thinking, she's so tiny and petite, and what does she know about struggling with weight loss?  But Ken trusted her to be our trainer so obviously she was very qualified and certified to get the job done-so I trusted her as well. Almost immediately she became much more than a trainer. She went above and beyond to help us reach our goals. She stayed after class to offer individual advice and coaching.  I decided I had enough of just messing around. I said to myself, you know what to do, so just do it!! And I did. I began to ask more questions of April and track my diet through My Fitness Pal. I don't consider myself on a "diet." I eat clean, which entails eating chicken, fish and turkey; good carbohydrates, such as brown rice, sweet potatoes and whole grains. I consume real fruits and veggies versus canned or sugar added. I simply avoid processed foods as much as possible, particularly those claiming to be low fat or low calorie! Read the labels!!! I was never a soda drinker, so no issues there. For snacks I eat almonds, fruit or veggies. BBK also recommends consuming half of your body weight in grams of protein. Although you can take in protein from food, which is recommended, using protein shakes is a great supplement. I use protein powder mixed with unsweetened almond milk.  I also increased my water up to a gallon per day. I contacted a sister from my Zumba class (DeAngela) who introduced me to a wellness formula called Zeal for Life, which I love, by the way. It provides all the vitamins, nutrients and natural energy in one scoop of a convenient powder. It's helped me to push past my plateau and reach my weight loss goal. So I no longer take a hand full of vitamins and minerals.  Now I am fully committed to a new lifestyle. I stay active on non boot camp days with Zumba, Weekend Warrior, Delirio (African Latin Dance) and extra cardio.  As a result, I've eliminated several meds and had the best annual physical in years.  I'm not on a diet or in some program. I have a strong support system at home as well. My husband and sons (now young men) encourage me and hold down the fort during my workouts.  For that I'm truly blessed!  I've gone from 210 to 140 pounds and from size 16 to size 6 (sometimes 4 J)! My body fat is ideal and I haven't lost any muscle mass. Although some have commented that I'm too thin-their opinions of my body are theirs and not mine.
This is the new ME!  At 46 years old-I feel amazing, strong, fit and happy!! I hope MY story has inspired YOU to become the best YOU ever! ~Darlene Reed Roberts"