Update Jan 2017: Three years later, Tia wrote in to share an update on losing 107 pounds. She has had some set backs, but she continues to stay focused and practice healthy habits.
Despite having minor set backs, I have still managed to keep my weight under 200 pounds. I'm determined to get back to where I was in 2013. Get motivated, stay focused and be inspired. I continue to limit heavy starches and fried foods. I make sure to drink at least 64oz of water per day. As for my meat options, I still only eat seafood. I also continue with 30 day cleanses, one to three times through out the year. Moderate exercise for 30 minutes to an hour, five days per week works for me.
I've learned that healthy living and weight loss is a mental process first. I believe you have be mentally prepared and positive in order to reach your goals.  I'm human and I know setbacks may happen. I've learned to be my own motivation. My dedication to health living and not giving up, inspiring others is what stands out. When entering into this journey, I would tell others to go in with a positive mindset.
Instagram @MsTia___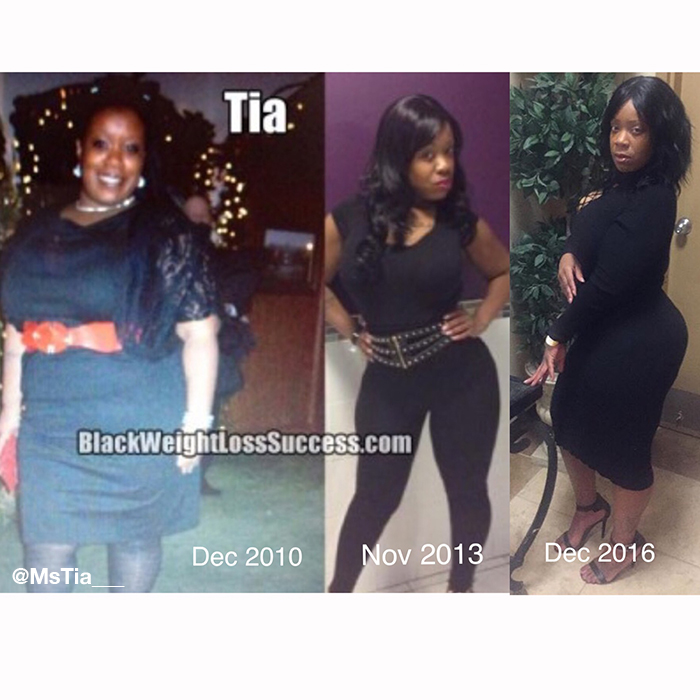 Jan 2014 – Weight Loss Success Story of the Day: Tia lost 107 pounds.  She found a weight loss plan that worked for her and made the decision to totally clean up her eating habits.  She also embraced juicing and smoothies.  Here is her weight loss story:
"My weight loss journey began February 2012. I was carrying 249 pounds on a 5'1", medium build body frame. I was uncomfortable and tired of not being able to wear what I wanted. I was also tired of heading to the plus size section and not finding anything I liked. I didn't want to develop any diseases or health issues as a result of me being overweight. I had enough! I was determined to lose weight and get healthy.
I signed up for Weight Watchers. I did the program for a for about five months. I got off track here and there. When July came, I had a talk with myself. I had to tell myself, "If you want a change to happen, you have to make it happen. You have to stay focused on meeting the goals you desire. You have to stop playing around." That's exactly what I did!
My first decision was to stop eating junk food. My almighty down fall is snacks and candy. The next was to stop drinking alcohol, which I stopped for about two months. I was never a huge water drinker, but I made it my business to drink more each day. Now that's all I drink when I get thirsty. I also cut back on pasta, potatoes, rice and breads. I also started doing moderate exercise 30-45 minutes a day five days a week at home with various workout DVDs and Wii games.
I stayed consistent and the results made me smile. I started to challenge myself month after month to meets certain goals. As the time went by, the journey became much easier for me. I now call it my lifestyle.
I was introduced to juicing/smoothies in the Winter of 2012. Juicing is a winner! I started to see the pounds come off even more. I stopped eating poultry and dairy products at the end of summer 2013. I opt for all of the healthy alternatives that are out there. I try to avoid frying foods, but when I do I use healthier cooking oils. I do still eat fish, so you would call myself a pescatarian.
I fell in love with healthy living. By doing all of this, I've lost a total if 107 pounds to date. Now, I just want to inspire everyone. I want to show them that staying consistent can get you results. My motto is get motivated, stay focused and be inspired! Follow me on Instagram for more before and after, inspiration, tips! #Beinspired
I was at my heaviest in this photo on the left at 255 pounds in December 2010.