Update December 2017: Dominique has lost 61 more pounds since July 2016 for a total of 122 pounds gone.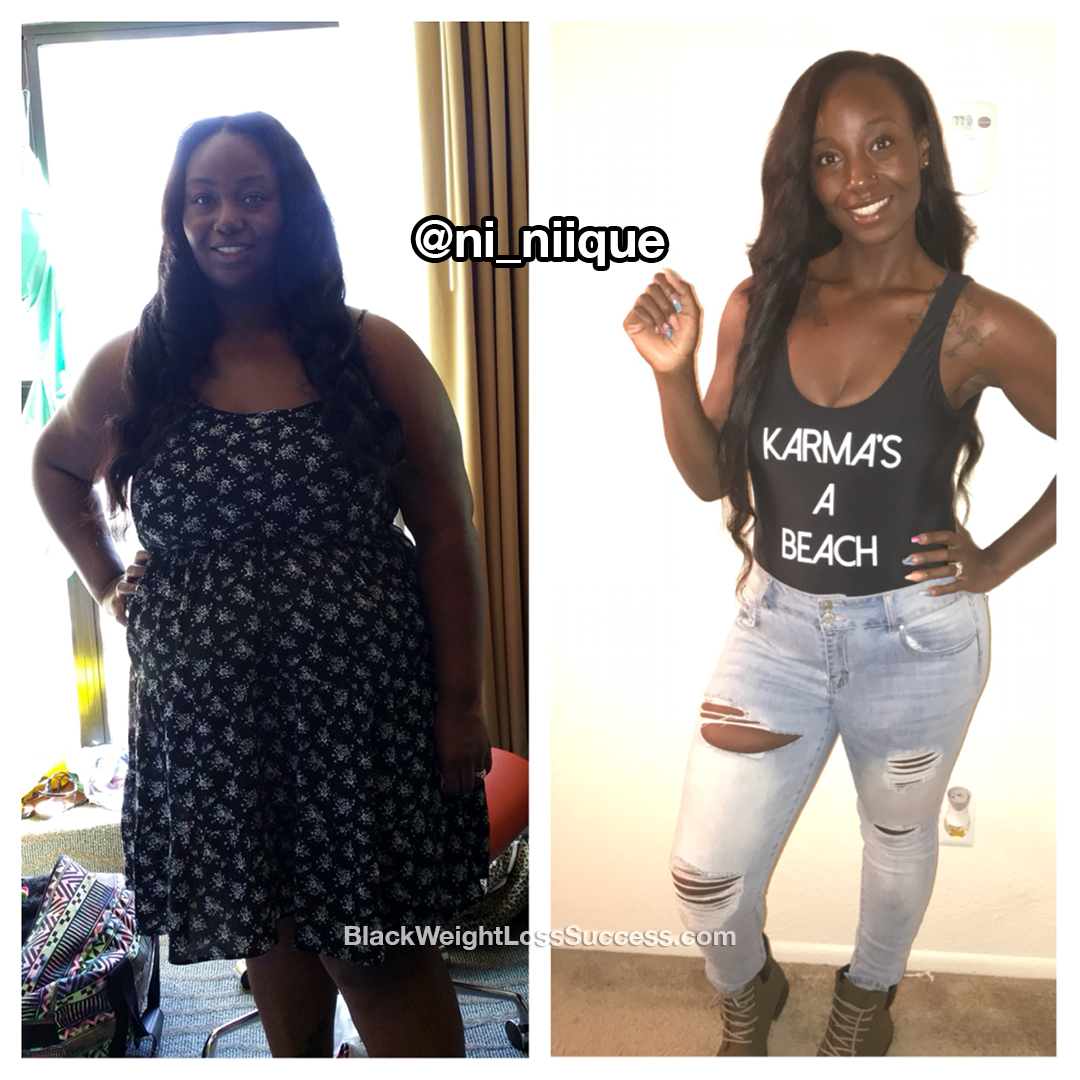 I started my journey in January 2016. By January 2017, I lost a total of 100 pounds. Then, I decided to lose 20+ more pounds, so I'm currently in the maintenance and muscle building stage phase.
How have you maintained your weight loss/continued to lose weight since July 2016?
During this time of maintaining, I've stayed on track with eating at every couple hours to keep my metabolism up. In terms of exercise, I am in the muscle building phase, so HIIT training and strength training are my go-to exercises.
What lessons from this journey stand out the most?
I learned that during this phase your weight goes up and down and that maintaining doesn't mean that you will stay at the same number on the scale every day or week.
At this point in your journey, what advice would you offer to those who want to lose weight?
Take your time, this is not a race, if you want it This will become your lifestyle. No need to rush.
– @ni_niique

---
July 2016: Transformation of the Day: Dominique lost 61 pounds in 6 months. She joined a workplace weight loss challenge and got a wakeup call when she stepped on the weigh-in scale. Clean eating, regular exercise and the love and support of her husband have been key to her success. Check out how this young lady took action and changed her life.
I started at 297 pounds (height: 5'8″). This process began as just a challenge at work to see who could lose the most weight in a certain amount of time. After stepping on the scale at the beginning of the challenge and seeing my weight, I knew it was time for a change. I started by eating more clean and lost 15 pounds with that change alone. Then, I signed up for the gym, went on my own and lost 30 pounds, but I knew I needed help so I got a trainer. Today, I'm at 236 pounds, which means I've lost over 60 pounds. I have only been doing this for 6 months! I'm sharing my story because I just want to be an inspiration to others.
What was your motivation?
I always wanted to get healthy and lose weight. I've been on the heavier side all my life. When we had a weight loss challenge at my job, I told them that I'd join depending on what this scale says. When I saw that the number was very close to 300 pounds, that was my breaking point.
Every time that I want to give up, I just think about how much courage it took me to start in the beginning, and that I never want to be that size again. Also my husband plays a HUGE part in keeping me motivated. There were times when I wasn't losing weight like I wanted to and would stress over the smallest things. He always helped me keep my eyes focused on my main goal, which is to be healthier and now I am.
How did you change your eating habits?
First, I stopped eating pork. Then, I cut out processed foods. I never knew how bad those things were for me. I started cooking all my meals and stopped eating junk food. I began incorporating more vegetables and fruits into my meals.
What did you do in terms of exercise?
I also started by using a weight loss yoga video at home for exercise. It was called "The Biggest Loser Weight Loss Yoga". After using the DVD for a while, I went to the gym by myself for a month and lost the first 30 pounds by myself.
I ultimately won the work challenge, but knew that I needed help. I have a trainer now who gives me a specific daily calorie goal and a weekly workout regimen. I workout 4 days a week doing mostly strength training to build up more muscle.
What advice would you give to people out there who want to lose the weight?
Honestly and from the bottom of my heart, I want to tell everyone who wants to lose weight is to start and keep pushing forward! I know that you won't miss anything about being unhealthy. I love my lifestyle now, and even though the unhealthy food is tempting I feel 10,000 times more better because I'm eating better. Also, when you feel like quitting ALWAYS think about where you started. Think about that first day you couldn't get through 3 push ups and as time passes you'll be able to do 15… progress! Lastly, always keep your goals in mind.
Instagram: @ni_niique
---
Previous update – January 2017: Dominique wrote in to share that she's lost 40 more pounds since July for a total of 101 pounds gone.
I finally made it to my goal. I lost 101 pounds in total and it took 2 weeks shy of a year. I continued my sessions with my trainer and I had to do more fat burning exercises. I believe it's called "high intensity interval training". In terms of my eating habits, I made a lifestyle change, as I like to tell people. I am not on a diet. This is the way I'll be eating for the rest of my life. I always made sure that I didn't feel deprived of anything. I feel that's why many people don't stick to healthy eating habits.
I have learned so much from this experience. The absolute number one thing is not to get caught up with the numbers on the scale! That will definitely break your spirit and your motivation if you let it. Right now, I'm just getting used to everything. Clothing is obviously the biggest change… nothing fits! My advice to others who want to lose weight is to just do it and don't stop. Always remember why you started and where you want to end up. Oh… and MyFitnessPal is your best friend.