Transformation of the Day: Keya lost 49 pounds. She realized that she had to dig up the dysfunctional roots and face the traumas and pain that connected her to a cycle of weight gain and loss. Her journey was emotional as well as physical. Now, she is a Holistic Wellness Coach. She shared a lot of great insights with us. Check out her journey.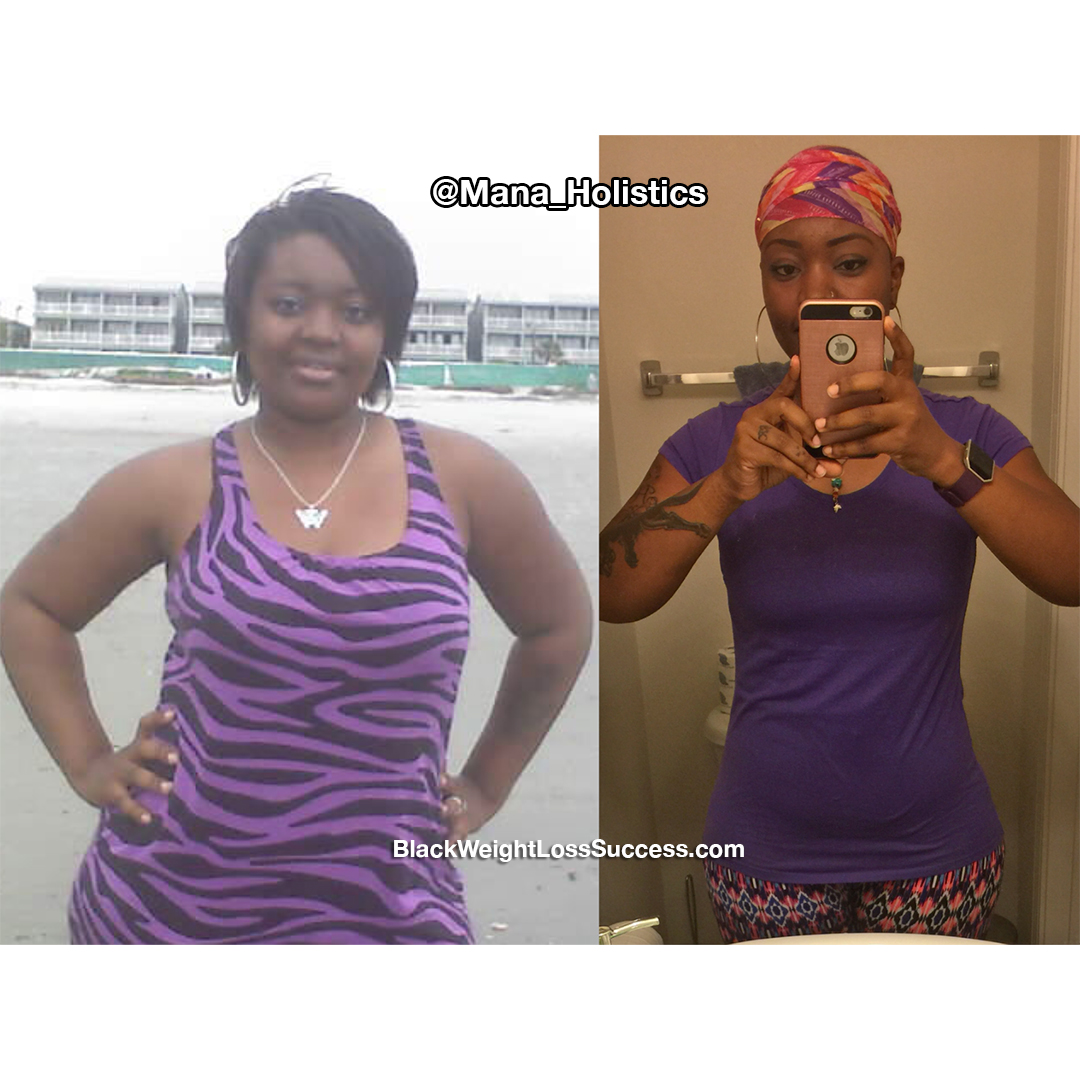 What was your motivation? What inspired you to keep going when you wanted to give up?
I had a few things to motivate me. Initially, it was the loss of my grandmother. She died 2 months after she was diagnosed with cancer. Seeing her take a turn for the worst so quickly motivated me to do all that I could to ensure I would not leave my children and loved ones brokenhearted like I was left feeling.
Although her passing left me with lots of motivation, after awhile it was not enough. I realized I had to dig up my dysfunctional roots and rid myself of the culprits for my continuous weight gain/loss. I was tired of the roller coaster. Once I faced my demons of childhood traumas, miscarriages, teen motherhood, depression and other people's negative marks that I had taken as my own, the weight wasn't as hesitant to leave my body.  It was like I had to not only lose physical weight but emotional and mental weight as well.
I also wanted to reverse all the torture that I had caused my body. I was diagnosed with pre-diabetes and high blood pressure. I had a mini stroke and was told I would need knee replacements. Your mid 30's is too young to live that type of life.
How did you change your eating habits?
I am now a plant-based vegan. However, I didn't take that step all at once. I cut chicken and turkey back in 2016 and I cut seafood and dairy and processed foods in 2017. I attempted a vegan transition in 2016 but because I was not educated I gave up. I was sick of only eating fries and a salad everyday, but I kept feeling deep inside that this was the route I needed to take. So, I studied every day about vegan living and researched recipes.
Then, I became certified as a Certified Holistic Wellness Coach. From there I have acquired several certifications which have taught me how to properly nourish my body and treat it as the temple that it is. I pass no judgement on anyone, but for me personally, I don't feel I can live my best life by consuming Dead animals.
What does your workout routine look like?
My workouts include cardio, HIIT, some strength and lots of yoga. I workout 5 days a week. I mix HIIT, cardio and strength training and alternate each on different days. For strength training, I use my own bodyweight. I have stretching/yoga sessions daily. In the beginning of my weight loss journey, I primarily walked/jogged. I recently incorporated strength training because it is not my favorite…lol
What was your starting weight? What is your current weight?
My starting weight this round (as I have gained and loss several times) was 208 pounds. My current weight is 159 pounds. I am 5'2″
When did you start your journey?
I began this last transformation in November of 2017.
What is the biggest lesson you've learned?
The biggest lesson that I've learned is that I must live for the life that I want, not the life I don't want. When I learned how meat was processed for our consumption and what is included in a lot of the toxic foods I was eating I thought "WOW!" My entire view point changed. I learned that if I say I love myself, then I must do everything in my power to treat my self as such.
What advice do you have for other people who want to lose weight?
My greatest advice is to always listen to yourself. Pay attention to how you feel after you eat something and if you feel terribly, then your body is telling you that it does not like that. Our bodies have a voice and we must listen to them. If most of us listened to our bodies, we would eliminate a lot of our issues. Also, find what works for you. What has worked for me may not work for you and therefore, I would never want you to take on something only because it worked for me. Find what YOU will be consistent with, because consistency leads to permanency and that is where your lifestyle is created. Never compare yourself to another, because there are no comparisons. Aim each day to be the greatest version of you that will ever exist.
Instagram: @Mana_Holistics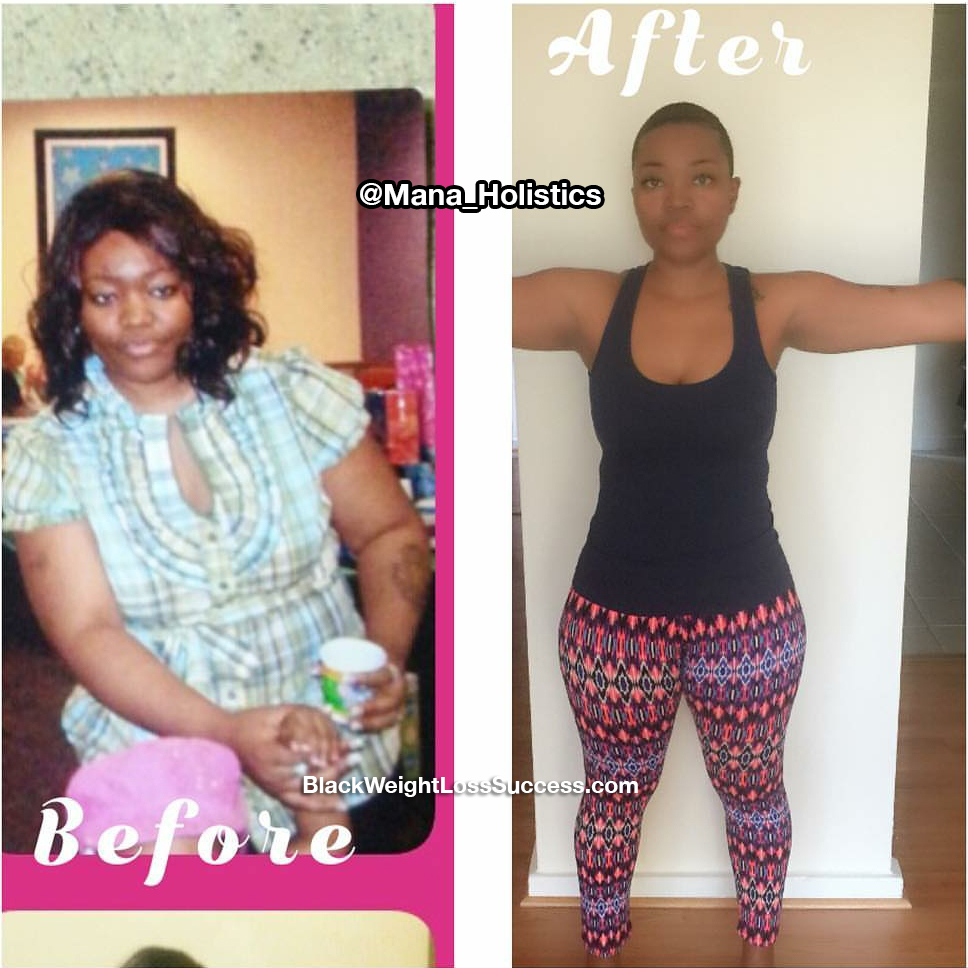 Disclaimer: Reference or link to any specific product, diet plan, exercise plan or service mentioned in the weight loss stories we share is for the information of our readers, and does not constitute an endorsement or recommendation by Black Women Losing Weight.