Transformation of the Day: Karen lost 42 pounds, going from a size 18 to a size 14. Her wakeup call came when she saw some unflattering vacation photos. After losing and regaining the weight in the past, she decided to do her research and find a plan that she could commit to for life. Read her story.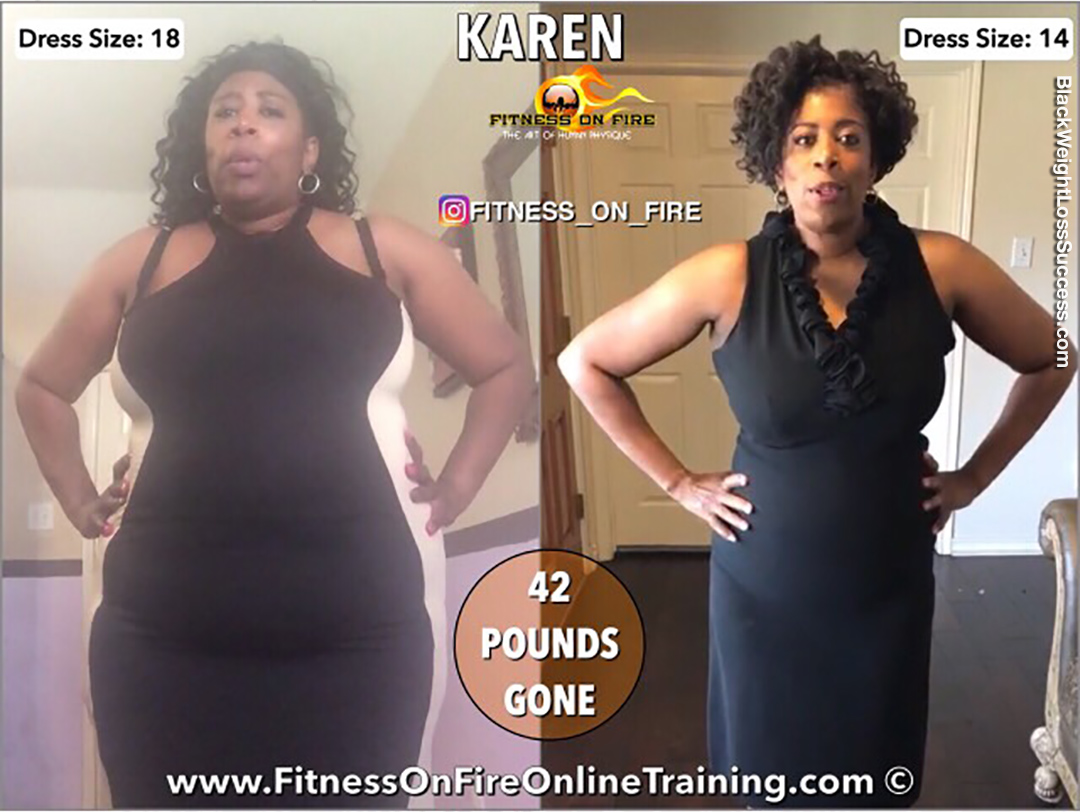 Age: 50
Height: 5'8″
Starting Weight: 251 pounds
Current Weight: 209 pounds
Starting Dress Size: 18
Current Dress Size: 14
Representing: Texas
What was your motivation?
My motivation for doing this program was to get healthy and look good. A few days before my birthday, I woke up and realized I didn't like the way I looked in the mirror and I didn't like the way I felt. I knew within a year that I will be an empty-nester. I wanted to be an example to my child and show her what it meant to be strong and to be dedicated to a goal.
What inspired me to start this weight loss journey was my daughter. We went on vacation to the beach where we had to wear swimsuits and do a lot of activities, including climbing stairs and hiking. I was tired and I couldn't keep up with her. She had no desire to exercise and neither did I. When I saw myself in the pictures from our vacation, I didn't like the way I looked. So, I started doing some research by searching for a program that would work for me. In the past, I've tried different things and I would lose weight, but I eventually gained it back. I wanted to try something that was natural and something I can continue to do for life.
How did you change your eating habits?
I joined Fitness On Fire and was provided with guidelines with regard to health and nutrition. I started eating better. Basically, I cut out the fried foods, alcohol, and all the sweets that I enjoyed too much. I started eating whole grain foods, lots of fruit, lots of vegetables and more protein, such as fish, chicken and turkey. I also cut out red meat and pork.
What did your workout routine consist of?
My workout consisted of resistance training. I would go to the gym 5 to 6 days a week. In the beginning, I only completed 60 minutes per workout, doing the resistance training routine designed by my trainer, King of the Fire, but progressed to 90 minutes per workout.
How long did your transformation take?
I have been on this journey for approximately 7 months. I started noticing my results after three months. I lost over 20 pounds in that time frame and was ecstatic. That's the first time in a very long time that I stuck with a routine and I was determined to keep it going.
The Fitness On Fire program worked for me because there was someone there who literally offered the help and support that I needed. Also, there was the accountability factor on my part. I checked in with Fitness On Fire and let them know my process along the way and whether I had any struggles. They truly guided me through this journey.
What advice do you have for other people who want to lose weight?
My advice for those who want to lose weight is to put it in your mind that you can do this. There are going to be a lot of struggles and challenges along the way. There will be days when you want to give up, but don't. Just press on. When you fall down (and there will be days when you will fall down), don't punish yourself. Just get back up and start again. Keep going!
Disclaimer: Reference or link to any specific product, diet plan, exercise plan or service mentioned in the weight loss stories we share is for the information of our readers, and does not constitute an endorsement or recommendation by Black Women Losing Weight.