Update Dec 2019: Che is down 150 pounds. She has maintained her success for the past 2 years. Check out her update.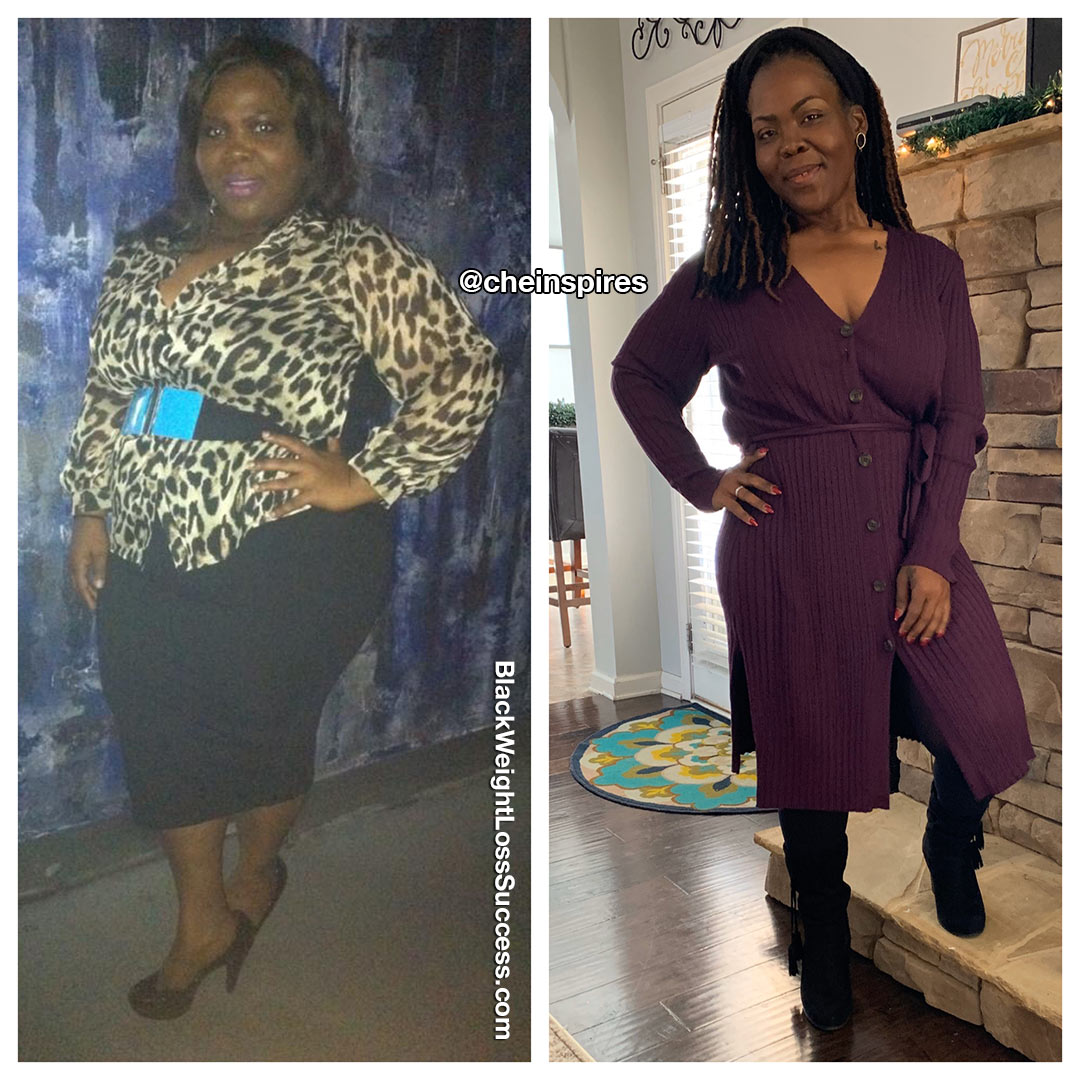 "I posted on my Instagram that this will serve as my last side by side comparison. I started this journey at 325 pounds and now I'm 175 pounds. I have maintained my weight loss for the past two years. What's ahead of me is so great. I am looking forward to new opportunities and new heights. Eating well and working out daily are now a part of my life, so there is no turning back now! My advice for everyone is to make this apart of your life! We have to feed our families well so they can live along with us! We have to make the right choices today for tomorrow! If I can do this, so can you!" – @cheinspires
---
Transformation of the Day: Che lost 127 pounds. Her whole life, being overweight had been an issue. Depression, stress, emotions and hip/leg pain made her feel miserable. Food was her comfort. This proud mom made the decision to seek not just help with weight loss, but also therapy. Check out her transformation.
Starting weight: 326 pounds
Current weight: 199 pounds
Height: 5'4″
Weight has been an issue my entire life. I am sure I was at my heaviest weight ever in high school. I suppressed my feelings and emotions with food. Food didn't judge me, didn't talk back and loved me, because it made me feel great in that moment but miserable after.
5 years ago, after I gave birth to my daughter at 325 pounds, I was fed up and at the lowest point in my life. Depressed. Stressed. Unloved. Enough was enough. I started therapy. I also started with Nutrisystem and jumpstarted my weight loss.
I started working out and bringing my daughter to the gym with me. Spin became my best friend. I stopped making excuses and dedicated my life to being pain free (I had severe hip and leg pain in the past). Doing activities that didn't involve food with family and friends was key.
I slowly began to find the confidence that I had never had before. Fitness, counting calories and adopting a high protein/low carb eating style (with little to no sugar) became a way of life. Food was no longer my crutch. I no longer eat for pleasure, I just want to live!
I created a blog to inspire others on this journey and to share my story, www.cheinspires.com. Many people think they can't change their lives, but if I can, so can you!  My advice to you all is first, BELIEVE THAT YOU CAN! Get mental help/therapy. A lot of us overeat because it helps to suppress something that is triggering the need to eat, so don't be ashamed of that. Last but not least, FALL IN LOVE WITH YOURSELF!
I set a goal of reaching 199 pounds and I hit that goal on Aug 6, 2016. That makes 127 pounds lost. Even though it took me 5 years to do it, I did it. Now it's your turn.
Instagram: @cheinspires
Updates
March 2018 – Che has lost a total of 160 pounds.
Jan 2017 – Che wrote in to share that she's lost 11 more pounds for a total of 138 pounds gone.
I submitted my story to you when I reached my goal of weighing 199 pounds. I was determined to get there! Since reaching my goal, I have focused more on shaping my body with my new lifestyle. I am still eating little to no carbs, working out 3-5 days per week (mainly weight lifting) and taking spin classes! I currently weigh 188 pounds and I'm comfortable at this weight. I have been so inspired by my journey that I've decided to do a weight loss summit in Atlanta to promote body positivity in March 2017! I am still on a mission to encourage, show and prove that you can lose weight. You can change your life, but only if you change your mind! – @cheinspires