Weight Loss Transformation of the Day: Kijana lost 155 pounds with weight loss surgery and hard work.  After battling an eating disorder, injury and thyroid issues and other obstacles, she has transformed her life and wants people to know that surgery is just a tool and not an easy fix for weight loss.  Here is what she shared with us…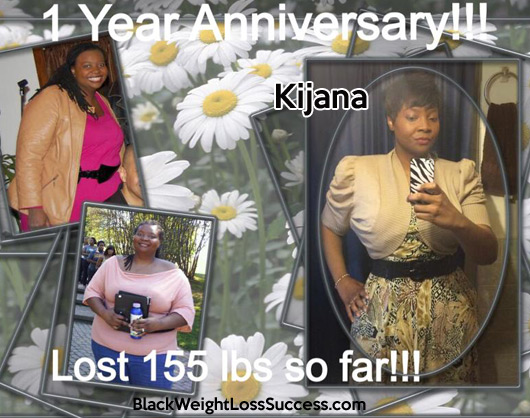 My name is Kijana C.
Height: 6'2″ (Yes I'm just SUPER TALL haha)
Highest weight: between 410 lbs and 415 LBS!
Current weight: 255 LBS! (I don't look it because I'm so tall.)
Goal weight: between 200 and 210 lbs.
I'd love to tell my story! Today was my 1 YEAR JOURNEY ANNIVERSARY (Feb 12th) !!! I didn't make my goal I had set for today, but hey, I'm still proud of myself. I'm mega bloated right now with water, so it's understandable.