Weight Loss Transformation of the Day: Gayna lost over 50 pounds and gained lots of muscle.  I'm excited to share her story because she's one of the people I love to follow on Instagram.  She is a fit mom who has transformed her body and is preparing for her first figure competition this summer.  Here is what she shared with us about her journey…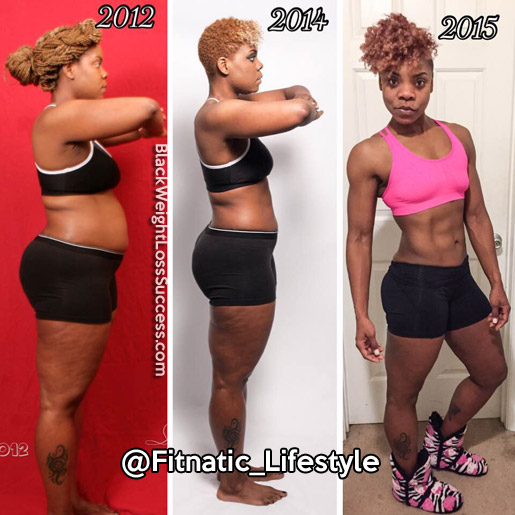 About Me: I'm a 39 year old mother who began her journey in August of 2012 on her own. Fast forward, May of 2014, I hired a trainer to help me pursue my goal of becoming a bodybuilder and looking forward to my first competition in 2015.
Say hello to the woman on the left, County Thick (aka) Home Grown. Here's what you don't know, I had 2 layers of tights on up underneath these white leggings sucking AND holding it in. Oh, and I dare eat a bite of food in fear of EXPANDING (EXPOSING) what I really had going on. In a nutshell, I was FALSE ADVERTISEMENT and an excellent chameleon of hiding my FAT. Not to mention, I would take laxatives regularly thinking it would help me lose fat and make my stomach smaller…I was all messed up.
Now meet the woman on the right, FIT SEXY SHAPESHIFTER. A happier and healthier woman who is dedicated to herself like never before. I no longer have to hide from myself (mentally, physically, and emotionally). Sure, my breasts and hips have gotten smaller, but the reality is it was all body FAT and I've gotten rid of it. What you should pay attention to is the fact that I'm LEANER (getting leaner) and more youthful looking. You have to give up something in order to gain something. I've gained a new GAYNA that is continuously surprising herself daily. It's not just about food. This is about the MENTAL part of living a healthier lifestyle.
When I began my journey in 2012 I was 200+ pounds. Currently, I weigh 148 pounds (height: 5'7″).
How did you change your eating habits?
I changed my eating habits by changing my relationship with food. I realized that food is for living and not living to eat. I had to do this in baby steps which is what worked for me. I began by cutting back unhealthy food options. Example; instead of drinking 2 sodas per day, I drank one. Instead of 2 cups of rice I ate one. I created a free account on www.myfitnesspal.com (web/mobile availability), which you enter your personal information and it calculates what your nutritional intake should be. I also incorporated using a food scale and measuring cups to ensure that I stay on track with my personal nutritional goals.
I pretty much cut out all processed foods but I do eat them every once in a while, like crackers and potato chips a few of my favorites. (Processed foods: They often come in a box or a jar, are can be high in added sugars, low in fiber and whole grains, processed with sodium, high in fat or include trans fat and lots of saturated fat.) I began eating more whole foods (foods that are as close to their natural form as possible.) I now eat:
Lean protein (skinless chicken breasts, fish, turkey, sirloin steak
Complex carbohydrate (Ezekiel bread, quinoa, brown rice, sweet or red potato)
Healthy fat (avocado, coconut oil, almonds)
Fibrous dark green leafy vegetables (romaine, kale, spinach)
What do your workout routines look like?
I am currently in preparation for my first bodybuilding show this summer as a figure competitor. I have a personal trainer whom I meet with 3 times per week and who always has his eye on me the other 3-4 days when I am in the gym to do my "homework" when I am not with him.
My current training schedule is 6-7 days per week. There are some mornings that I perform fasted cardio (working out before having first meal) at 4am, followed by strength training in the evening after I get off work. If I do not perform fasted cardio I will complete my cardio in the evening before or after strength training by using one of the following machines: Arc Trainer, Elliptical, Stairmaster, Treadmill.
When it comes to strength training I work no more than 2 body parts at a time. I don't necessarily have a set day on what body part I work as it depends on how I am feeling and what my trainer wants me to do. What I can tell you is that no workout is ever the same. It is intense and I am always left sore for about a week (lol), but I no pain no gain 🙂
Typical Schedule:
Sunday – Cardio & Legs (sometimes cardio only)
Monday – Cardio & Upper Body
Tuesday – Training Session (Back, Shoulders, Biceps/Triceps or Legs)
Wednesday – Cardio & Upper Body
Thursday – Training Session (Legs)
Friday – Cardio & Upper Body (sometimes a rest day)
Facebook: Fitnatic Lifestyle
Instagram: @Fitnatic_Lifestyle