Transformation of the Day: Michelle lost 121 pounds. This petite young lady had been overweight since the age of 10. Having heart palpitations, feeling depressed and being out of breath were some of the issues that motivated her to change her lifestyle. Calorie counting was key to her journey.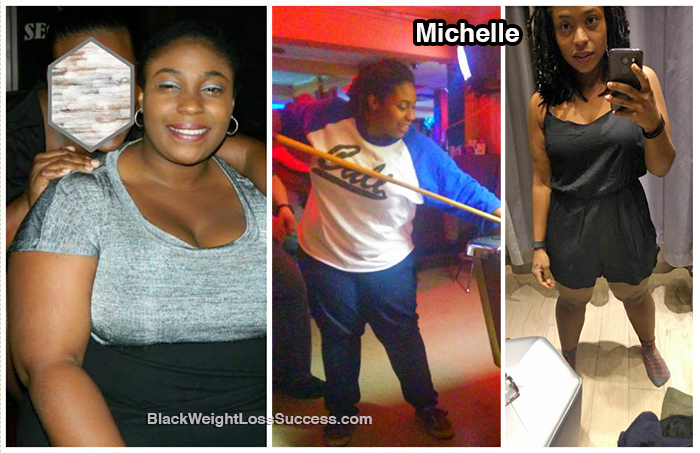 I started my weight loss journey in Summer 2013 at the age of 22 at 246 pounds. My height is 4'11". Today, I weigh 125 pounds and counting (trying to get to 115 pounds). My motivation was my health. I was out of breath, had heart palpitations, was depressed and was just not in shape. I didn't use any surgery or any specific diet. I just counted my calories and I still eat Oreos and Doritos in moderation. I use the website/app myfitnesspal.com to count my calories.
I'm 25 years old and I feel like my life is finally beginning. I've been morbidly obese since I was 10 years old, weighing in at 170 pounds. I really want black women to know that they are not stuck being obese. They can change their bodies if they want to. Obesity is not cute! I used to think it was, but now I look back and I was a hot mess. Lol. I love my new body and I'm loving it by taking care of it!
Calorie counting is so ridiculously simple. Don't quit eating bread or cut out any major food groups. All you need to do is moderate! It's not about what you eat but only about how much!
Eating Habits: I skip breakfast*, eat carbs for lunch and pack in the protein for dinner. Example of a day of meals; I have tea for breakfast, rice and peas for lunch, and chicken, black eyed peas and sweet potato for dinner. I eat half a bar of dark chocolate for dessert.
I eat a lot of beans, broccoli, cauliflower and purple carrots. My steamer is my life line! It's so easy to steam veggies. I work out 6 days a week. I lift weights every day, other than Monday. Mondays are for my long runs of 5-6 miles. On Sundays, I do yoga because it's my rest day.
*Many people skip breakfast as a form of intermittent fasting.